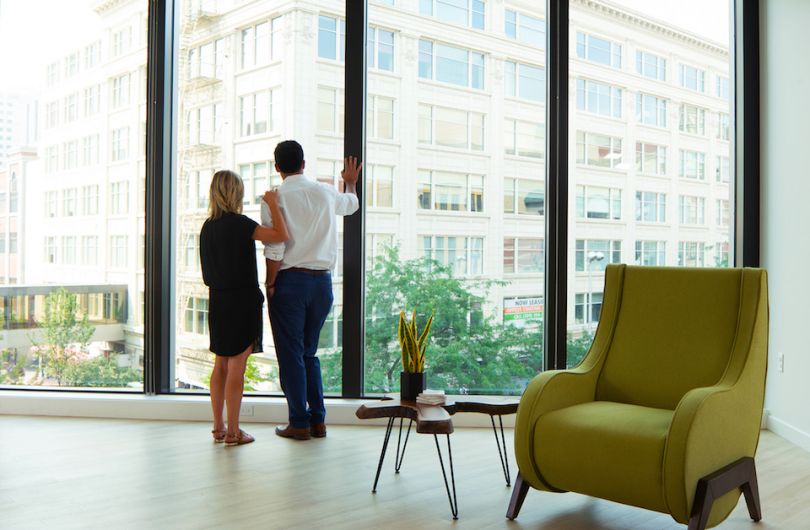 Attracted by the convenience and price of an Airbnb, but turned off by sharing someone else's space? Well, a Spokane company has just raised a ton of cash to expand its "best-of-both-worlds" solution in Seattle and roll it out across the country.
Stay Alfred announced a $47 million Series B Friday, with plans to expand its current markets and push its hospitality platform into new cities and regions in the coming year. Chicago-based real estate tech fund Nine Four Ventures led the round, which brings the company's funding total to $62 million.
Stay Alfred lists upscale apartments for travelers to stay in downtown neighborhoods. The company aims to combine the furnishings and price of an Airbnb-style homestay with the central location, 24-hour customer service and housekeeping of a high-end hotel.
Founder and CEO Jordan Allen told Built In Seattle the company would expand within the 28 cities where it currently has listings, plus expand into a handful of other domestic travel destinations.
"We expect to continue on our current trajectory of doubling our unit count each year, with a target count of 4,000 by the end of 2019," he said. "Where we choose to expand will depend, in part, on travel trends and market opportunities."
Stay Alfred's listings come from multi-floor and full-building partnerships with developers and property managers. Allen said his company's success comes from its operational and regulatory experience, its "next-generation" hospitality tech platform and its ability to customize flexible short-term rental programs for each building. Founded in 2011, the company currently employs 230 people full-time, spread across its Spokane headquarters and throughout the United States.
"We'll continue to add local city and headquarter staff as we continue to grow, ensuring that we provide the best experience for our guests and building partners alike," Allen said. "Our employee count growth will generally keep pace with our unit count."
"Spokane's talent pool is benefiting greatly from professionals looking for affordable cities that offer the kind of lifestyle we have here," Allen added. "There's great tech talent in Spokane. We're surrounded by major higher education and a vibrant startup environment."
Nine Four Ventures founder Jeff Elowe said he was confident in Stay Alfred's potential to scale its offerings nationwide.
"The company is executing on an extensive, thoughtful roadmap, and we're thrilled to be involved," he said in a statement.