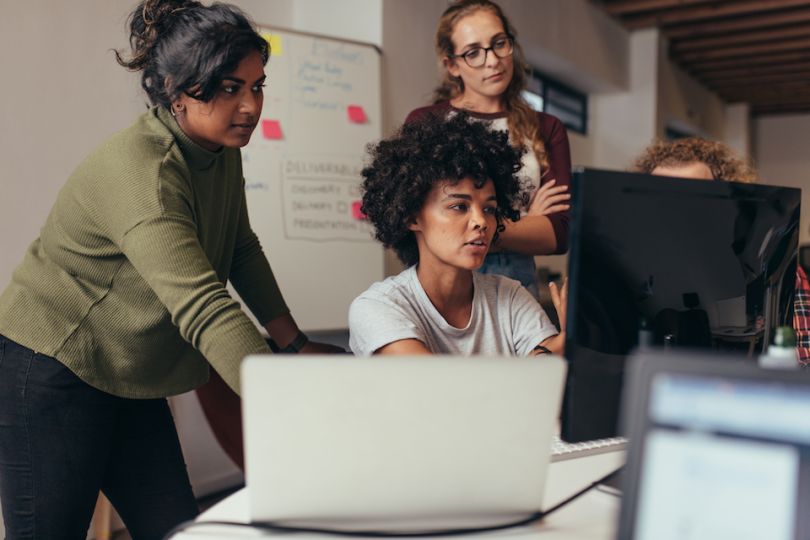 Seattle has a bit of a reputation as a not-so-diverse city. According to the Seattle Times, King County was 85 percent white in 1990. But in the decades since, the region has grown increasingly more diverse, especially in southern cities like Renton, Kent and Tukwila and in the Eastside tech hubs of Bellevue and Redmond. Meanwhile, Seattle itself is also becoming more diverse, albeit at a slightly slower clip than its satellite city neighbors.
However, cultural diversity that represents the population at large remains an elusive goal in the tech industry, and it can be a lonely road for tech professionals from historically underrepresented cultures. Here, we've collected a handful of active groups designed to help tech workers find, network with and learn from people in the industry who come from similar backgrounds.
Did we miss anyone? Let us know here!
American Indian Science and Engineering Society
Mission: The American Indian Science and Engineering Society, known as AISES, is a nationwide network of students, professionals and educational institutions. The group provides scholarships, internships, workforce development and career resources, along with regional conferences, leadership training, science fairs and other programming focused on science, technology, engineering and math. The group's Seattle chapter is based out of the University of Washington.
Learn more: Contact details can be found on the AISES Seattle chapter webpage, or find them on Facebook here.
Chinese Institute of Engineers — Seattle chapter
Mission: The Chinese Institute of Engineers seeks to inspire leadership, boost education and develop industry professionals through a series of awards, scholarships, seminars and events. Originally founded as a resource for Chinese engineering students in the early 20th century, the worldwide organization has since pivoted to focus on engineering as it relates to digital technology.
Learn more: Register with the Chinese Institute of Engineers on the Seattle chapter's webpage, and keep an eye out for upcoming events.
Hack Nation
Mission: Hack Nation connects entrepreneurs from underrepresented cultures to valuable resources and mentors with the goal of boosting opportunity for historically underrepresented communities. Originally conceived as an annual hackathon in the Central District, the event sought to help Seattle's African American community grow and prosper as part of the city's ongoing tech boom. The group now puts on a range of events designed to help budding entrepreneurs, including conferences, hackathons, pitch competitions and startup expos.
Learn more: On their website.
HERE Seattle
Mission: HERE Seattle formed in 2014 as a forum for professionals from underrepresented cultures within the tech industry. The group puts on events centered around networking, mentorship and education, and remains a consistent advocate for boosting diversity in the tech industry.
Learn more: Become a member on their website or peruse their upcoming Meetups.
Latinos in Tech — Washington
Mission: Latinos in Tech is a tech industry-focused initiative of the Latino Community Fund, looking to support diversity in the tech industry and access to the fields of science, technology, engineering and math for underrepresented communities. Latinos in Tech is centered around the group's Facebook page, which acts as a forum where members can share resources and opportunities and network with nonprofits, businesses and one another.
Learn more: Join the Latinos in Tech Facebook group here, or find out more about the Latino Community Fund on their website.
Society of Asian Scientists and Engineers
Mission: The Society of Asian Scientists and Engineers prepares professionals with Asian heritage for leadership in their industry, celebrates diversity in the workplace and provides opportunities for members to give back to their local communities. The society's Seattle chapter puts on networking events, mentorship programs, resume reviewing sessions, fundraisers, city tours and more.
Learn more: Keep track of the University of Washington chapter's upcoming events on its Facebook page.
Society of Hispanic Professional Engineers
Mission: Originally founded in Los Angeles in 1974, the Society of Hispanic Professional Engineers was originally designed to help professional engineers serve as role models in the Latino community. The group's Puget Sound chapter supports working innovators, scientists, mathematicians and engineers, and raises money to support local students in those fields.
Learn more: Learn more about the society and membership at their website.