"Agility is the fundamental driving force behind Ideoclick." 
Those are the words of the Amazon vet and Ideoclick CEO Justin Leigh, who, alongside Tom Furphy, founded the Seattle-based e-commerce consultancy company in 2009. The duo conceived the company as a resource for sellers to navigate Amazon's complex and ever-changing platform.
The resulting complexities from Amazon create difficulties for companies selling on the platform. For Furphy, the pivots companies might make aren't just accepted at the martech startup but embraced. 
"We realized early on that there's a real business for helping brands work better with Amazon, get connected with technology and manage Amazon's changes and requirements," said Furphy, who is also the chairman at Ideoclick. "From the start, we wired our company to be able to embrace those changes. As Amazon changes, we're able to be agile in our own right. It's the very essence of our value proposition."
Leigh added that Ideoclick's technology allows the company to monitor changes and apply strategies in ways that will help their clients.
"At the core, that's really all we do," Leigh said. 
To move in concert with the industry, Leigh and Furphy embrace a nimble, agile and test-and-pivot based approach.
In turn, that extends to key players like Client Success Director Melissa Ardavany, who can equip clients with strategies that help them thrive in a space that constantly shifts gears. 
"Our team is flexible, stays informed and applies learnings to our clients," she said.
Full steam ahead
What does it mean to be nimble on a daily basis? According to the trio, it's about looking ahead. 
"Being agile and nimble means not getting tied down with decisions from yesterday that no longer applies to our future," Leigh said. "Whatever we did yesterday matters less than what we're going to do tomorrow. As a result, we don't get stuck in set processes that don't drive value for our clients." 
Furphy added, "Once something doesn't work, we don't hold on to it anymore. We learn from it and let it go. In the past, some services we offered our clients were great. But as the world changed, and as their needs changed, we were willing to let go of those offerings."
For employees, Leigh said, this philosophy translates to them feeling like they have the ability to chart their futures.
"They know that they can grow within the company and that they don't have to go elsewhere in order to develop more skills," Leigh said. "They don't end up in a slog of repetition." 
Growth Opportunity
Ardavany is a retail vet, joining Leigh & co. after tenures at Blue Nile, beauty.com and Nordstrom. Her arrival to Ideoclick not only provided a bounty of industry expertise but a much-needed point person for managing and developing client relationships. "Back in the day we were very technology-focused," Leigh said. "As we grew, we needed to hire people that were more customer service-centric and give people the reins to own that customer experience. The gains from that were tremendous. Melissa has been a key driver of that."
Managing agility 
A quick-moving environment isn't without its challenges. Though the frequent pace of change at Ideoclick can be potentially daunting, Leigh said it also sets a tone where constant ideation is encouraged. 
"Working in a fast-paced environment is exhilarating because you can implement anything you want to if it's a good idea," Leigh said. "It forces you to prioritize the most important things and adopt the principle that failure is OK. We embrace it as an acceptable trade-off."
Ardavany explained that as a manager, she finds it easy and exciting to speak with team members about their ideas. Even if the ideas get tabled, there may be an opportunity to implement them at some point — especially considering how quickly the business evolves.
You can't let great get in the way of good. It can always be better."
Winning philosophies
Critical to maintaining nimbleness, the trio said, is an effective decision-making process that taps into other key internal stakeholders. 
Leigh leads with the belief that a team can't let great get in the way of good. 
"It can always be better. Get something good, move forward and iterate on it," Leigh said. "Secondly, share as much information as you can on it so that post-decision you're not surprising people with something they didn't know about."
Both Leigh and Furphy also believe in empowering employees by providing decision-making authority to others — otherwise, a bottleneck of decision-making within the organization might be created.  
"With decentralized decision-making down at the client touchpoint, we get more feedback from our team on what tech tools clients need," Furphy said. "That puts healthy, welcomed pressure on our product roadmap to develop new technology products and new offerings for our clients. For the benefit of the client, we create our own flywheel on agility and growth by having that decision-making process."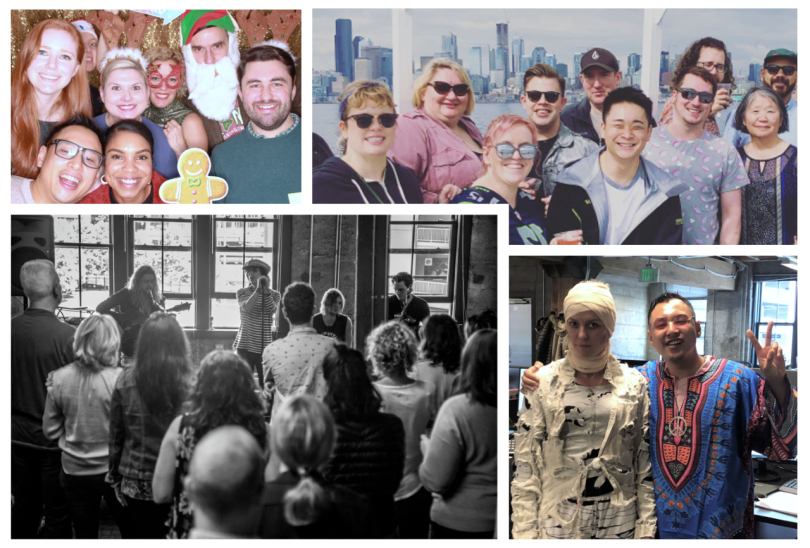 Words of advice
While Furphy and Leigh said the blueprint is always changing, there are a few core principles that have helped Ideoclick realize a nimble setting. 
In interviews, for example, Ardavany said she explains to candidates that the best attributes to have at Ideoclick are flexibility and humility. 
"In order to keep moving forward, you shouldn't be happy with where you're at. I find that I'm at my best when I'm happily dissatisfied," Furphy said. "As soon as we launch something, we will measure the effectiveness of it immediately. We're not afraid to say that something didn't work — instead of fooling ourselves that it is working — and have it come back and bite us later."
Leigh agreed: "Accept failure. Rethink tomorrow and care less about yesterday. Tactically, measure nimbleness by seeing a task through the organization to the very end. Watch where it gets hung up. If you can change what's blocking that from occurring, that indicates if you're nimble or not."