The Data Behind Successful Fintech Trends
How PitchBook Provides Transparency Into Capital Markets.
At PitchBook, "embrace and drive change" is a core value employees strive to exemplify through their work. And with the pace of current fintech trends, it's a standard that couldn't be more timely.  
Take, for example, ghost kitchens. The latest culinary trend is both a short-term tactic and a long-term business strategy meant to help relieve restaurant owners of the financial pressure associated with operating a physical space, a feature that's become especially important during the pandemic.
The trend's momentum has caught the attention of investors and venture capitalists who are doing their due diligence to ensure it's a valid business model and exploring who is investing (and how much).
Thanks to their value-focused work, PitchBook's VP of Product Paul Jaeschke said the product team at the company has the answers. 
"We have a really strong research team that's supported by proprietary technology we've built in-house," Jaeschke said. "That team collects data, conducts research, and helps build out a comprehensive database on private companies and deal activity." 
According to Jaeschke, who leads the product development, design and management functions at PitchBook, the company's secret sauce involves combining public datasets with in-house proprietary technology. The method allows researchers access to otherwise hidden fintech trends, statistics and insights, which they ultimately share with customers. 
Unearthing such data is a serious undertaking, but it's something Jaeschke feels strongly about continuing to iterate on. After all, as one of PitchBook's core values states: "There's always a better way — and we won't rest until we find it."
Tell me a little bit about how PitchBook's product has evolved since July when you started at the company.
Jaeschke: Our overall vision is to provide meaningful insights into the evolving capital markets. Ultimately, we're trying to bring greater transparency to the private markets — a space where it's traditionally been pretty difficult to get comprehensive, timely and accurate data. We approach this problem in a few different ways. We have a really strong research team that's supported by proprietary technology we've built in-house. That team collects data, conducts research and helps build out a comprehensive database on private companies and deal activity. 
We combine that with public datasets, a lot of which are supported by Morningstar research. Those datasets help us provide users with a view across both the public and private markets. Our analyst team provides thought leadership and analysis on activity and trends across the private markets. That research analysis is available in our platform, through tools, reports and features we build upon to help deliver insights to our customers. 
Our product team works to understand our customer needs and create solutions to deliver workflow tools and insights through the platform, built on that data and analyst research. With our unique dataset, we can help our customers discover trends and insights that aren't available anywhere else. As a company, we're investing a lot of resources in product development. So it's an exciting time to be at PitchBook.
Customers Are King
This mantra is especially important to Jaeschke, who, during his time at Amazon, learned to place customer obsession above all else. It's a value that he brings to PitchBook, where he steers his team to create clearer data sets for users by iterating on products and features before bringing them to market.
Can you give me an example of one of the kinds of trends that you provide your users with? 
Jaeschke: Institutional investors and venture capitalists want to see where new companies are forming. We have a tool called Emerging Spaces, where you can look at nascent areas in technology. Where is venture capital money flowing? What companies are being formed? How much money are they raising and who are they raising it from? Those are all important questions to answer if you want to uncover certain trends. 
For example, a big trend in 2020 was ghost kitchens, or restaurants without seating areas. On our platform, you can see which ghost kitchens are forming and raising the most capital, as well as who they are raising it from. Then, if you're an investor who wants to increase your exposure to ghost kitchens or directly invest in a ghost kitchen company, you can come to the PitchBook platform and find out what's going on with M&A or deal activity in that industry.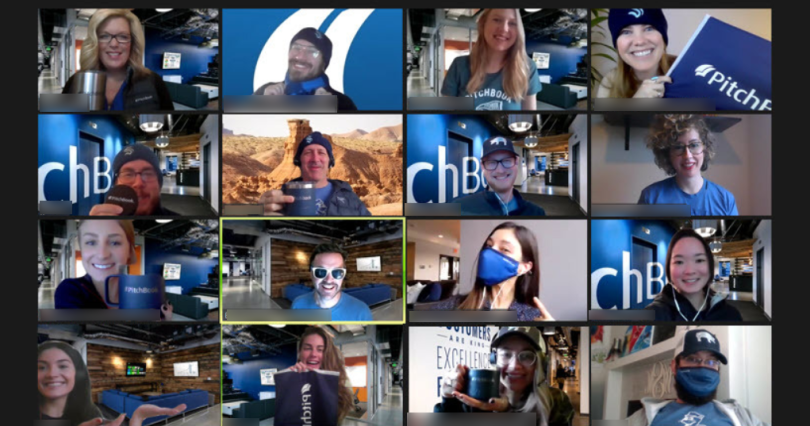 Tell us more about the proprietary technology the research teams use at PitchBook.
Jaeschke: Let's say a private company gets acquired. We pick up and release publicly available sources. But those don't always have all the data that our customers are interested in. Our technology scours the internet to see what else is out there, which our research team follows up on. We send surveys to the companies involved in the transaction. We reach out through email and over the phone to see what additional information we can get from all parties involved. 
We use some machine learning tools to help automate that process, including categorizing and grouping news events and surfacing the most relevant data points for our customers. That automation helps prioritize the work of our internal research teams.
Going the Extra Mile
"Excellence as a State of Mind," "Focus on Focus," "Customers Are King," "Embrace and Drive Change," and "Make It Fun" make up the core values team members keep in mind as they work with customers and colleagues alike.
What does the PitchBook product roadmap look like for you and your team? 
Jaeschke: Our overall objective is to bring tools to our customers to help them win deals. To focus those efforts, we're organizing around three primary strategic initiatives at the overall company level. 
The first one is empowering the success of limited and general partners. With the right information and workflow tools, institutional investors can more effectively allocate capital to the private market. On the general partner side, we help fund managers raise capital funds from institutional investors to invest in private companies. 
 
Our overall objective is to bring tools to our customers to help them win deals.'' 
We call the second major strategic initiative public-private market intelligence. This initiative improves our public company dataset and creates tools that allow our customers to understand company formation, market shifts, expansion and contraction of different verticals. That ghost kitchen example falls within that category. 
The third initiative is what we call core information tools. That involves building capabilities to identify investment opportunities, raise capital and conduct both intrinsic bottoms-up valuations on companies and comparables to help our customers who are engaging in M&A activity.
The Road Ahead
According to Jaeschke, PitchBook is uniquely positioned to provide visibility into company formation, deal activity and valuations across public and private companies. "We have big plans to continue investing and building out more capabilities to deliver value for our customers," he said.