Nearly everyone has an internship or entry-level job horror story where they spent a summer fetching complicated coffee orders and carrying out grunt work for little — if any — pay. 
In a competitive market like Seattle, ServiceNow recognizes the importance of incubating talent and helping individuals reach their full potential. Instead of irrelevant errands and menial tasks, interns and new engineers are given exciting, meaningful work and treated like the tech professionals they are.
Whether encouraging an intern to apply for a full-time role or helping a new engineer choose an area of concentration or giving, ServiceNow doesn't shy away from investing in the next generation of talent. 
"The culture is fantastic and the work is interesting," said Demietrich Baker, a software development engineer. "Every day is new. You can go from something straightforward to a project where you can create something revolutionary."
Three fresh-to-the-field engineers told us why, in a sea of tech companies, they picked ServiceNow to kick off their journey in tech — and why they plan to stay.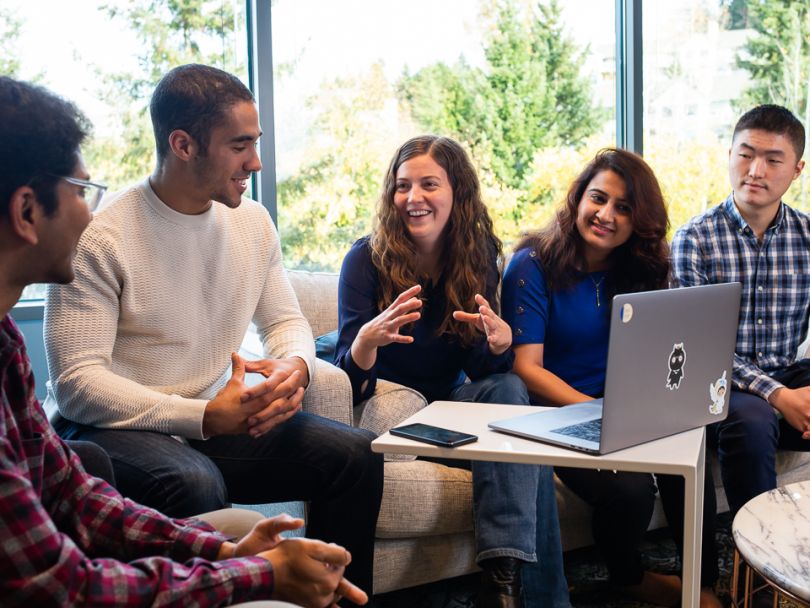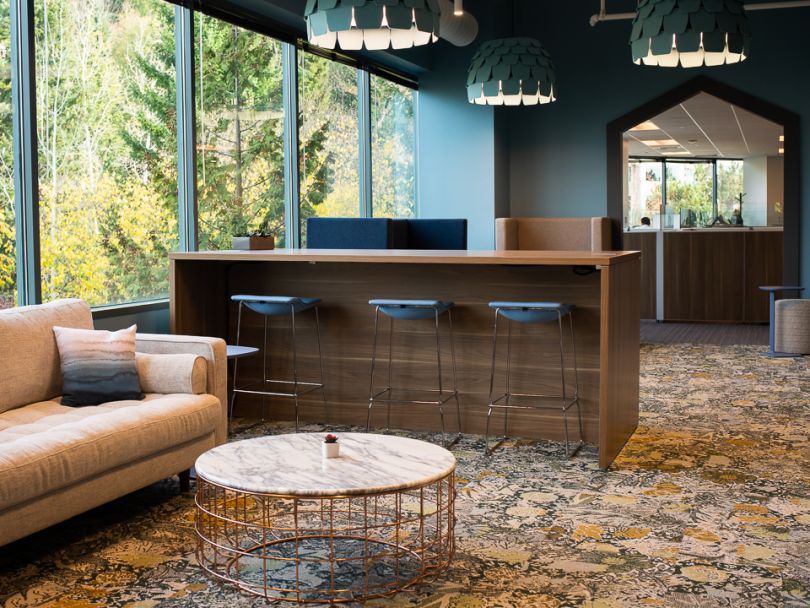 Growth Potential at Every Level
Managers at ServiceNow want the best for their interns: Through skill development and coding challenges, these new engineers are not only equipped to join the workforce after the end of their internships but potentially join the ServiceNow team itself.
Take Sapna Chandiramani. While completing an internship at ServiceNow's San Diego location, her husband got a job in Seattle. In an effort to keep her at the company, Chandiramani's manager recommended ServiceNow's Kirkland branch. 
Fast forward a few short months: Chandiramani now lives in Seattle and works as a full-time associate software quality engineer at ServiceNow. Thanks to her and her team, lag times and memory shorts are nowhere to be found.
Chandiramani's main responsibility, among many, is running tests to make sure the new features rolling out are working correctly.
She has found the transition from intern to full-time employee has been a smooth one. "The work is challenging, but everybody is friendly and willing to help you when you're unsure," Chandiramani said. "My teammates help out by guiding me to resources and giving me more background on my current work. The ServiceNow learning portal, LinkedIn Learning and the many boot camps held by the company have helped to grow my knowledge."
 
Interns and new employees don't just deal with someone's backlog. We do actual work with impact."

By nurturing talent instead of taking it for granted, ServiceNow gives new professionals a leg up and in return, benefits from the application of new skills that the interns have learned during their tenure.
"I haven't been in Kirkland long, but my work is already going into our next Now Platform release," Chandiramani said. "Interns and new employees don't just deal with someone's backlog. We do actual work with impact."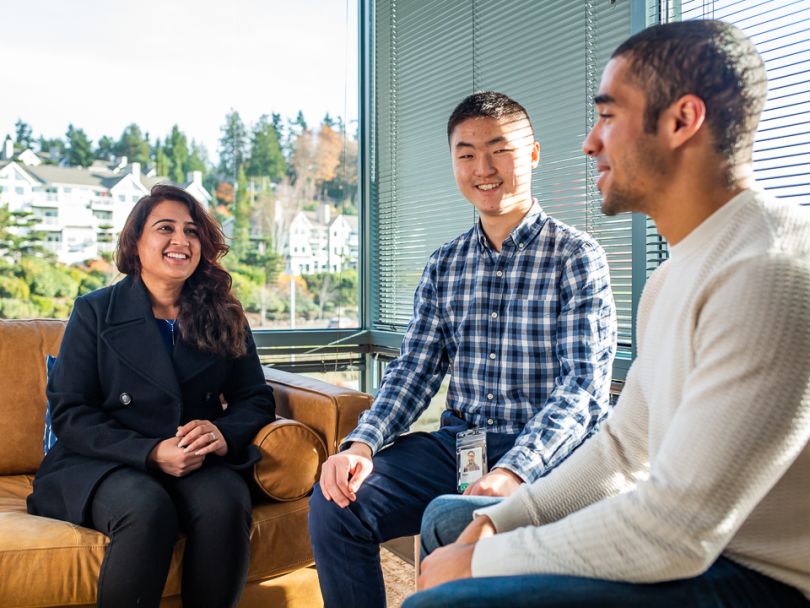 Collaborative, Exciting Work
Software Development Engineer Demietrich Baker is narrowing down his calling at ServiceNow. "I knew that I wanted a solutions-driven software development role but was very open to what that could be," Baker said.
At ServiceNow, he found a position he not only enjoys but excels in: working on automating internal workflows.
"I've come to love the nature of the position," Baker said. "We get real-time feedback from our internal clients that their jobs have improved because of our work. We're saving the company money and saving people time."
Although he didn't start out as an intern, Baker joined the team as someone new to engineering. Immediately, the culture of care and teamwork stuck out to him. 
 
Baker helps write code that automates internal workflow processes, saving fellow ServiceNow devs a lot of time and energy.

Collaboration can take many forms, but for the engineers at ServiceNow, it usually looks a lot like brainstorming sessions to problem-solve. Someone will send out a quick message on Slack for help, and quickly get the whole team's support.
"With the size of our team and the communication-focused culture, I have never felt a fear to speak up — whether that's for assistance or to give input," Baker said. "Our team and those around us are patient and value each other's perspectives."  
 
I feel like I'm close to the ground and I get my hands in projects in ways that I might not get in other companies."

If the collaborative learning environment is a draw for new engineers, the exciting work at ServiceNow keeps them around for the long haul.
"I feel like I'm close to the ground and I get my hands in projects in ways that I might not get in other companies," Baker said. "Here, the projects feel legitimate — they have an impact."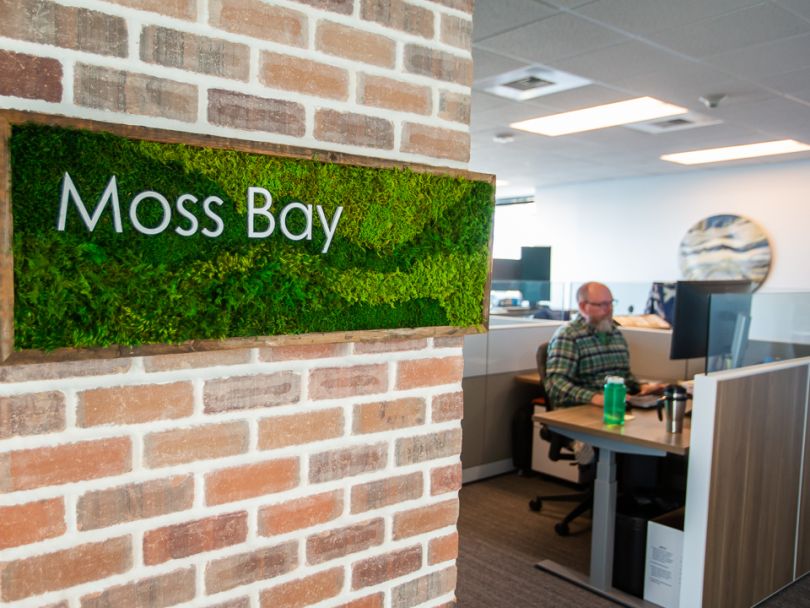 Space and Time to Figure it All Out
Siyou Li, a software engineer, started at ServiceNow as an intern before getting hired on full-time and currently works on the front end and back end for a product that helps customers better manage their IT environments. 
"As an intern at ServiceNow, I didn't experience summer camp like some of my friends at other companies," Li said. "From the time I started, I was really involved in the development cycle and sprint planning meetings — just like a regular employee. Now that I'm full-time, I find it to be really natural work."
 
Li works on both the front end and back end on the Configuration Management Database, which is a vital feature of the platform.

While Li can undoubtedly handle a more rigorous workload now that he's had some experience, he is still granted plenty of opportunities to figure out what he wants his career to look like.
"I haven't decided where I want to focus on in engineering yet," he said. "My team leader does full stack and understands how to help me build experience in lots of ways. He gives me front-end and back-end projects, and I figure out how to get them done." 
 
The environment here is fantastic, and everyone is willing to help each other."

By keeping young talent happy and engaged, ServiceNow is shaping a new generation of engineers who can feel empowered and encouraged to try new areas of engineering — without needing to job-hop. "ServiceNow is no doubt a fast-growing company and I can see a lot of opportunities here," Li said. "The environment here is fantastic and everyone is willing to help each other."