We all love the connectedness and collaboration of coworking spaces, but in a city that tends to hibernate for half the year, that's only part of the story. Those shared desks, communal kitchens and built-in bars also ensure that freelancers, coders and other solitary types get some daily human interaction during the winter months. You could say they help keep Seattle sane.
So it's no wonder that coworking spaces have taken off in the Pacific Northwest — witness WeWork's growing domination downtown. What's more, a swarm of independent, locally-owned coworking spaces has appeared in the New York giant's wake, reflecting the diversity and irresistible quirkiness we all love about Seattle. Here are 19 of them, and if we missed your favorite, let us know!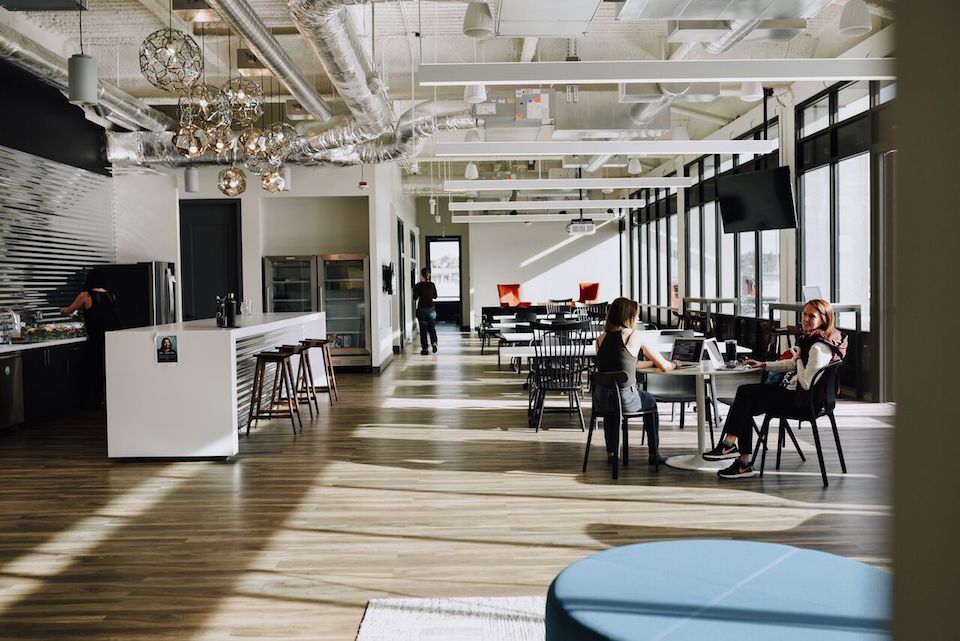 The Lowdown: Thinkspace emulates a traditional office right on South Lake Union, complete with a staffed front desk, administrative support and a directory. Its many perks include happy hours, a dog-friendly policy and free consultations with experts in residence on anything from IP law to meditation.
Fun Fact: Thinkspace sits right on Lake Union, and they keep a few stand-up paddleboards for warmer days.
Located: 1700 Westlake Ave. North, Seattle
Damage: Floating desks are $300 per month.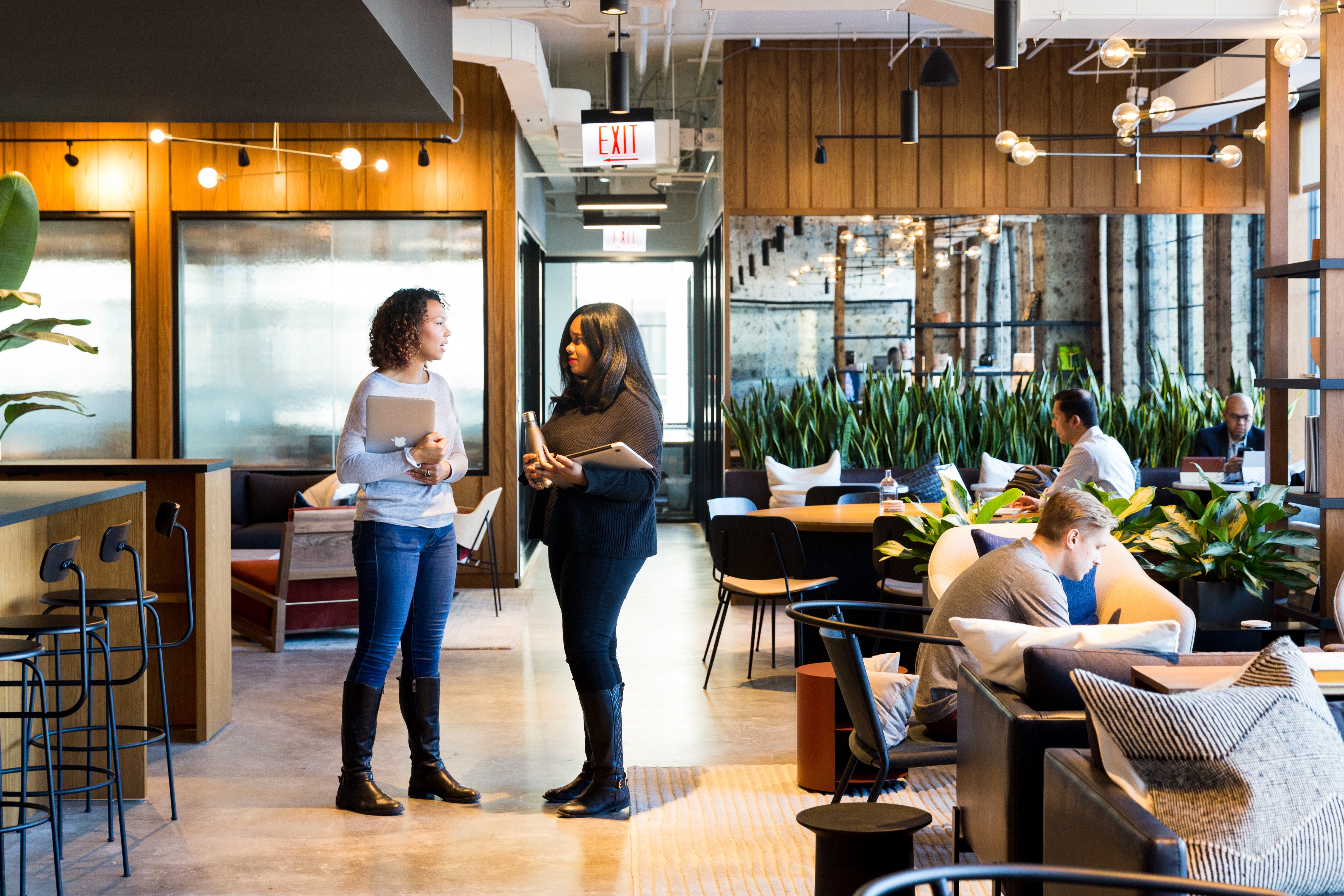 The Lowdown: Coffee bars, lounges, parties, unlimited printing and relaxation rooms are all on offer at Industrious Office locations nationwide. The Emerald City is home to two: one in downtown Seattle and another on the Eastside.
Fun Fact: For motivational material, Industrious' downtown Seattle location overlooks the Amazon spheres from the corner of 6th and Lenora.
Located: 2033 6th Ave., Seattle; 500 108th Ave. North East, Bellevue
Damage: Private offices run from around $819 per month.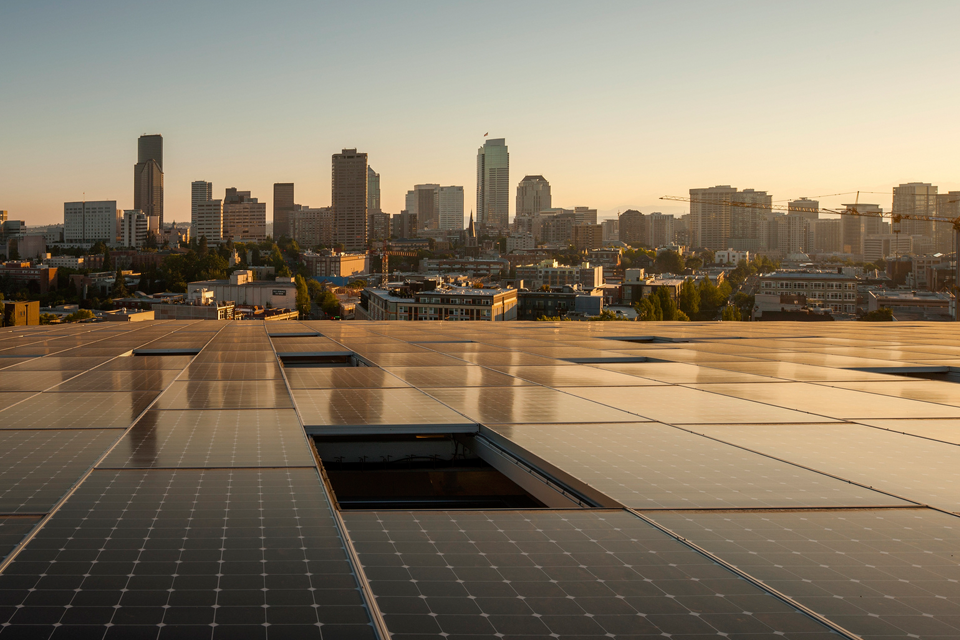 The Lowdown: Located at the junction of Capitol Hill and the Central District, the Bullitt Center was designed to be the "greenest commercial building in the world." The building's first floor has an open office space with showers, secure bike storage, a dog-friendly policy and, of course, ping pong tables.
Fun Fact: The Bullitt Center has a catalog of fun facts, but here's a sampling: The building collects all its own rainwater, has a green roof of native plants, doesn't contain any "red list" hazardous or toxic materials (lead, mercury, PVC and so on) and has a solar array which, in 2014, generated 60 percent more power than the building actually needed.
Location: 1501 East Madison St., Seattle
Damage: Floating desks are $375 per month, while dedicated desks are $500.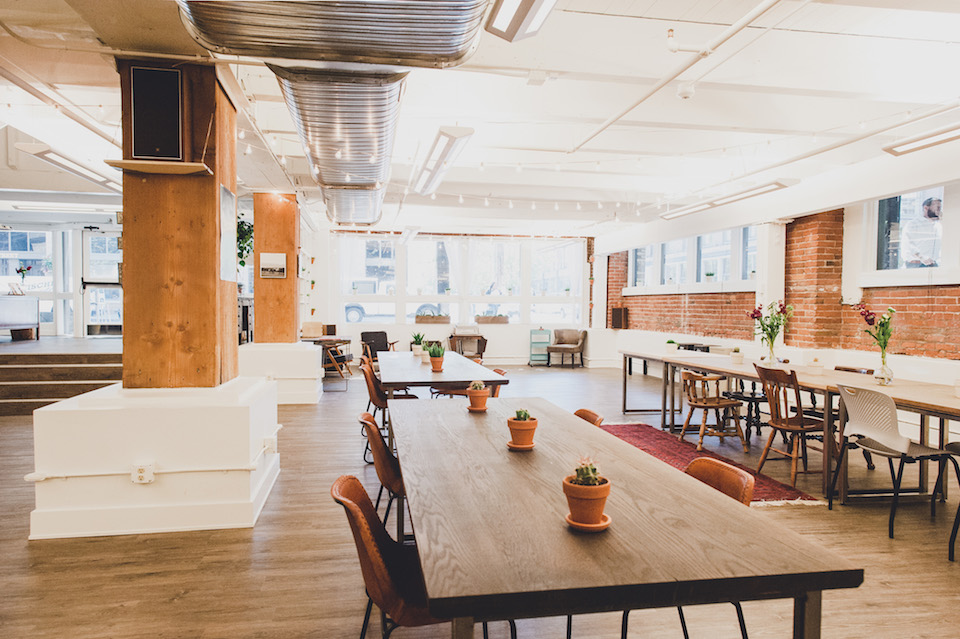 The Lowdown: The Pioneer Collective — or tPC, as they like to call themselves — is owned and operated by a dynamic designer duo. The result is an atmospheric 6,600-square-foot space nestled in historic Pioneer Square.
Fun Fact: That dynamic designer duo also happen to be married to each other.
Located: 100 South King St., Seattle
Damage: Starts at $225 per month.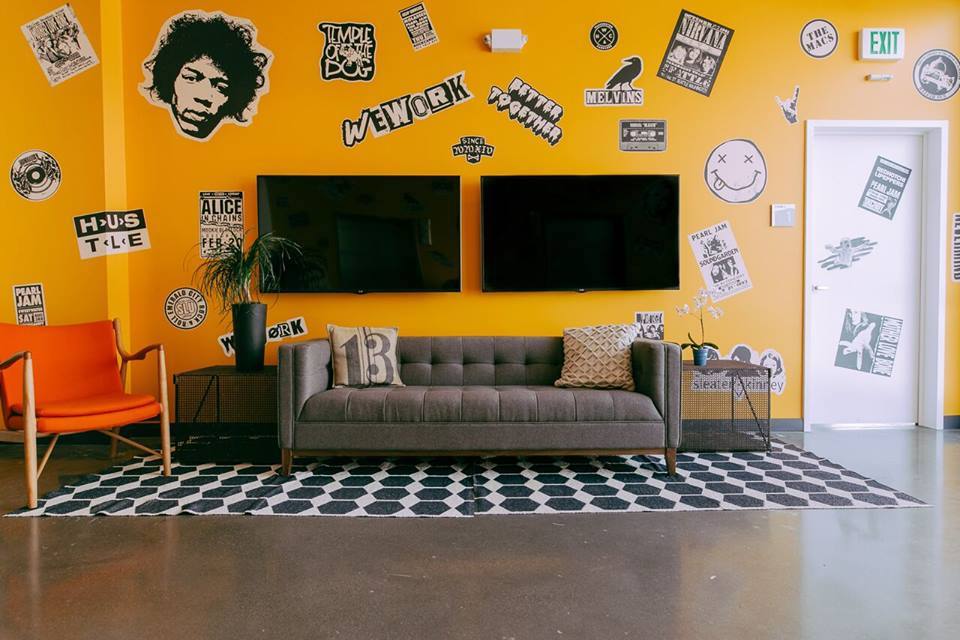 The Lowdown: The coworking juggernaut has been in Seattle for a while, now boasting five locations in the city and a sixth in Bellevue. Conference rooms, bike storage, all the events and too much coffee — it's all there.
Fun Fact: With four more locations on the way (one downtown, one by CenturyLink Field, one out Ballard way and another in Bellevue), WeWork may someday outnumber Starbucks in the Pacific Northwest.
Located: 925 4th Ave., Seattle; 1601 5th Ave. Seattle (Westlake Tower); 10400 North East 4th St., Bellevue; 500 Yale Ave. North, Seattle; 1099 Stewart St., Seattle; 107 Spring St., Seattle
Damage: Hot desks start at $300 per month.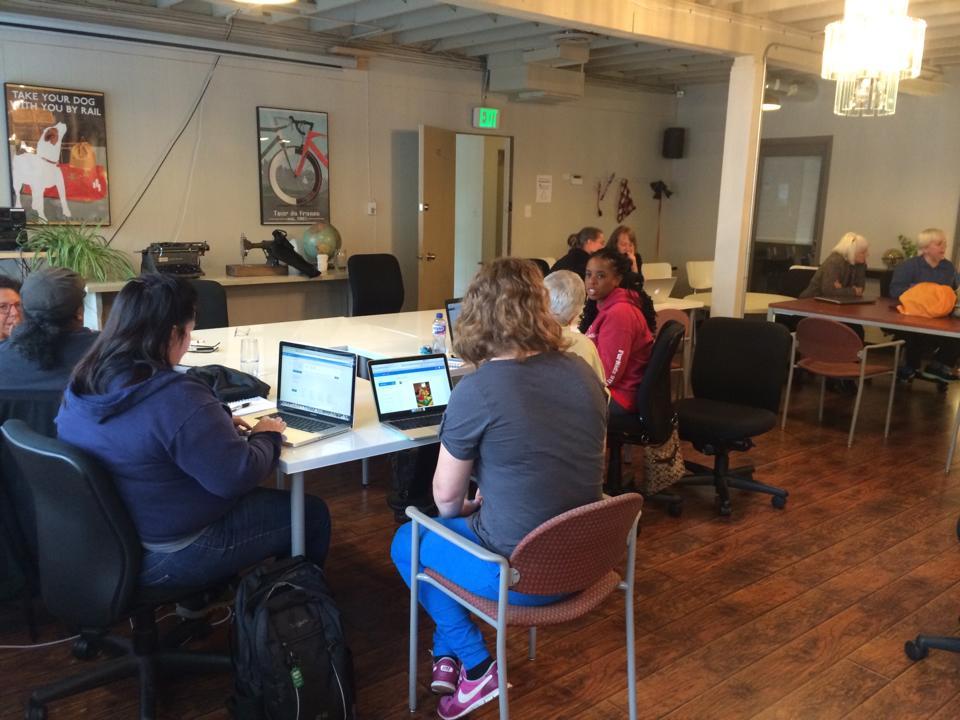 The Lowdown: Works Progress aims to create communities in its airy Greenwood space. Co-founders Marnee Chua and Mary Watts are careful to reuse and recycle as many resources as possible, and include conveniences like unlimited printing, kitchen space, private call rooms, reservable conference rooms and the usual coffee, tea and snacks in all memberships.
Fun Fact: Works Progress includes a small interactive room to entertain children when they need to accompany you to the office. It's called "The Burrow."
Located: 115 North 85th St., Seattle
Damage: Full time membership starts at $300 per month.
 The Lowdown: Black Dot offers working spaces, support and sense of community to black entrepreneurs in Seattle's Atlantic neighborhood, aiming to address the continued absence of venture capital-backed startups founded by African Americans. Full membership gets you access to all of Black Dot's events — and there are loads of them.
Fun Fact: Multiple coworking areas and a gallery exhibition space
Located: 1437 South Jackson St., Seattle
Damage: Apply here to learn about pricing.
The Lowdown: In addition to their shipping, mailbox rental, scanning, printing, photocopying and fax services, the folks at Vybe have recently branched into the coworking world. While we might charitably describe their website as "a throwback," super competitive rates and glowing reviews show they mean business with a capital B.
Fun Fact: Once known as Eastlake Mail, a new startup-y name and coworking space has launched Vybe into the 21st century.
Located: 2226 Eastlake Ave. East, Seattle
Damage: Starts at $175 per month for 24 hour access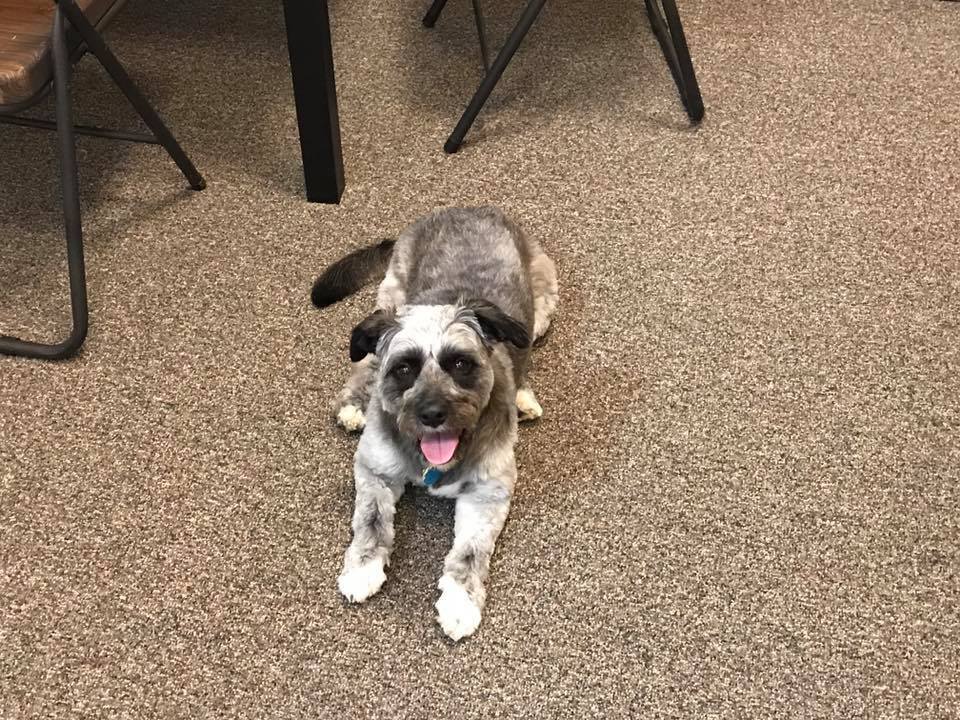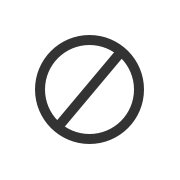 The Lowdown: An open floor office plan ringed with a conference room and a lounge area, My Branch Office is designed to facilitate interactions between entrepreneurs, remote workers and consultants — like any good coworking space should.
Fun Fact: My Branch Office is tucked into Capitol Hill's historic Broadway Market building.
Located: 401 Broadway East, Seattle
Damage: $295 per month for a full-time dedicated desk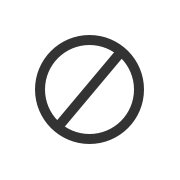 The Lowdown: Creatives and entrepreneurs come together in Ballard's own coworking office overlooking the Lake Washington Ship Canal and Salmon Bay. They promise a diverse community and "carefully curated" spaces.
Fun Fact: Would it really be Ballard without, as they put it, "ridiculous amounts of exotic coffee"?
Location: 1416 North West 46th St., Seattle
Damage: Part time shared space goes for $299 per month.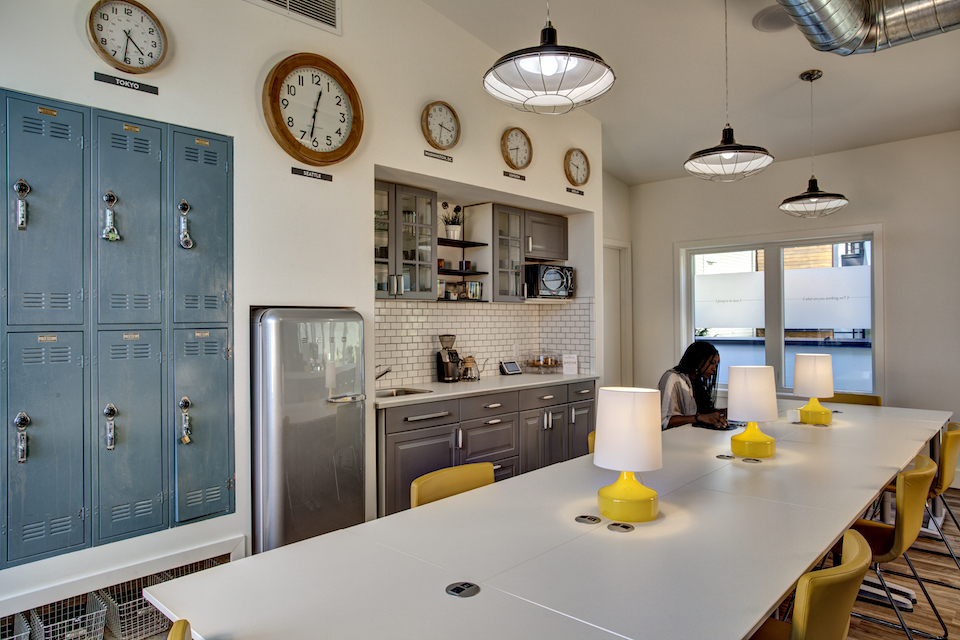 The Lowdown: Ada's started life as a Capitol Hill bookstore and cafe called Ada's Technical Books and Cafe. Started to "help geeks find the knowledge they seek," it seems natural that they've since added a coworking space upstairs to help those geeks act on their ideas.
Fun Fact: We should also mention The Lab at Ada's, an event space for meetings, parties, lectures and workshops, as well as their own coffee brewing and cocktail mixing classes.
Location: 425 15th Ave E, Seattle.
Damage: Monthly spaces are currently sold out, but you can rent space by the day for $20 between 8 a.m. and 9 p.m.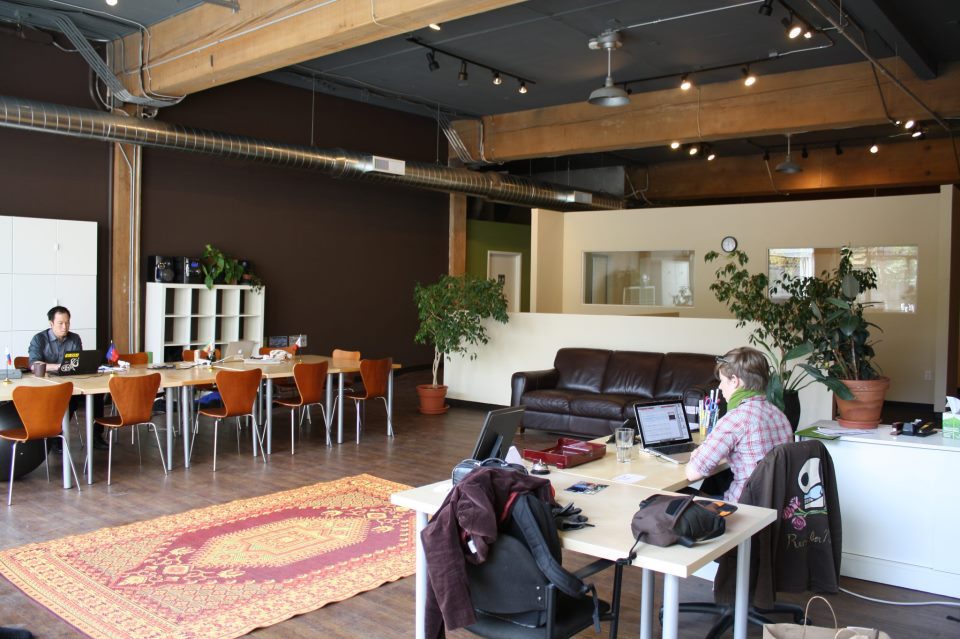 The Lowdown: A large space full of shared desks and cozy corners for solitary workers, this Capitol Hill coworking space is all about "individuality without isolation." Artists, writers and designers frequent this one, along with the usual crowd of entrepreneurs and remote workers.
Fun Fact: The company is founded on a belief that "the inherent good nature of people is more powerful than the perceived fears we may hold about strangers." Don't you just love Seattle?
Location: 1617 Boylston Ave., Seattle
Damage: Part time access starts at $100 for five days per month, while dedicated desks run at $395 for unlimited access.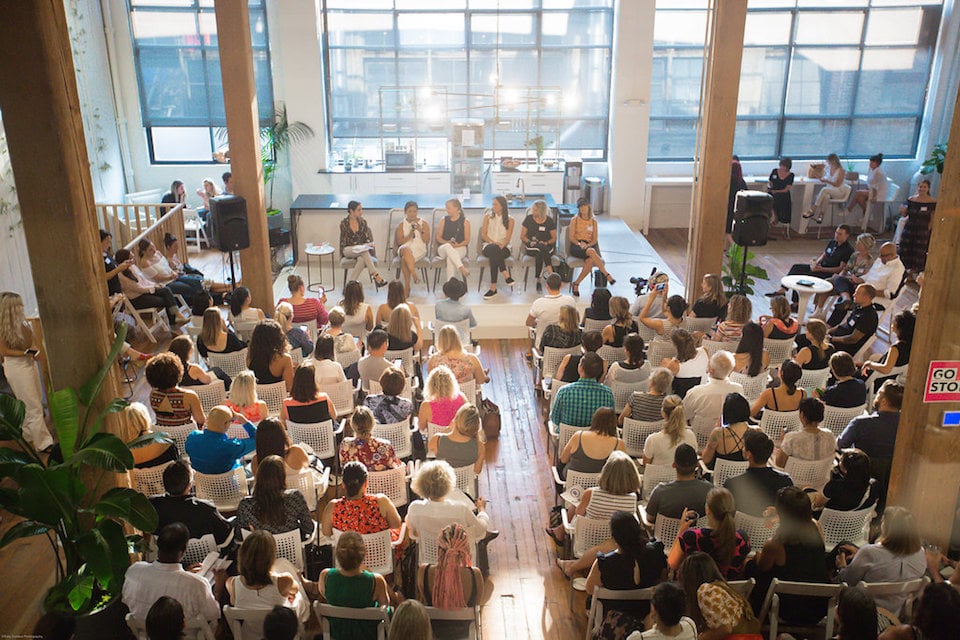 The Lowdown: Launched in Capitol Hill to help female entrepreneurs gain traction in the tech world, The Riveter has now expanded to Fremont. Fitness classes are a feature, including pilates, guided meditation and yoga.
Fun Fact: The Riveter completed a venture round of funding in March, raising $4.8 million, which may explain the new location they're about to open in Los Angeles.
Location: 1517 12th Ave., Seattle; 1300 North Northlake Way, Seattle
Damage: Floating desks start at $375 per month, dedicated desks go for $450.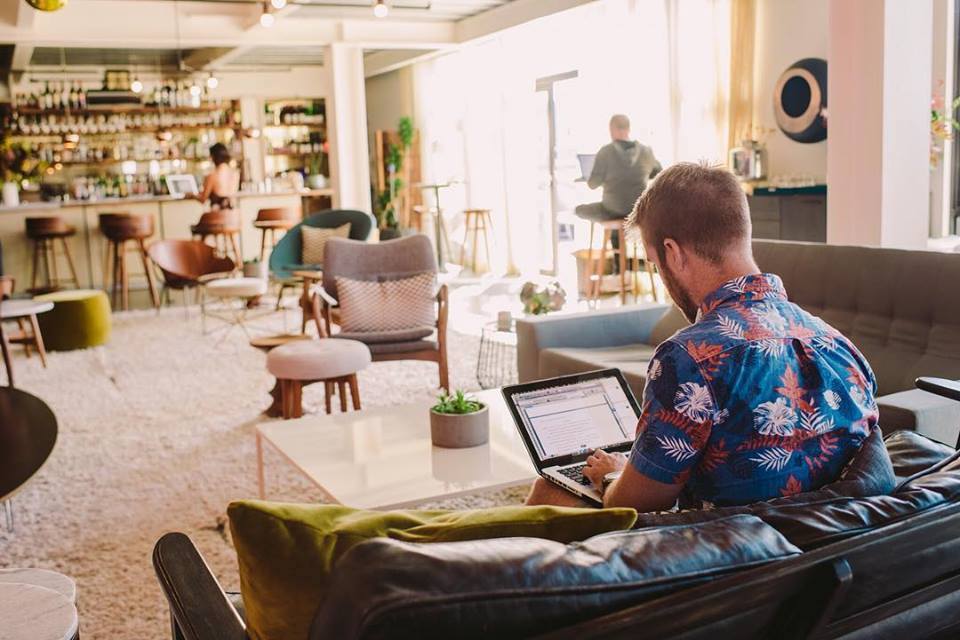 The Lowdown: Centered around an airy, naturally-lit coworking space, Cloud Room's main attraction is its swanky bar. Bartender Jay Kuehner (of Ballard's now-shuttered Sambar) focuses on vermouth, sherry and aperitifs to lubricate the space's plethora of events.
Fun Fact: Cloud Room prides itself on being women-owned and operated.
Location: 1424 11th Ave., Seattle
Damage: Floating desks start at $330 per month, or test the waters with a five day per month "Conversational Membership" for $125.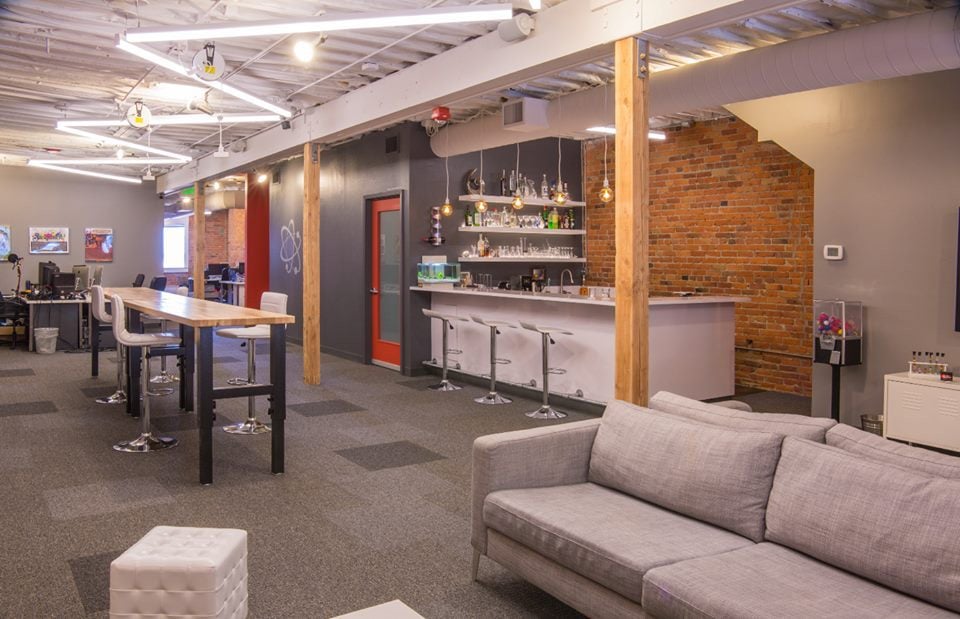 The Lowdown: Founded by a pair of "freelance video dudes," Collective Chemistry — formerly known as Red Element Collective — was born from the freelancer's eternal frustration with working from home. Designed with creatives in mind, the space is all about "freelancers supporting freelancers."
Fun Fact: In addition to the usual coworking features, memberships include access to a bike rack, screening room, bar and backdrop studio.
Location: 625 1st Ave., Seattle
Damage: "Laptop memberships" include use of common desks and work areas, as well as a monitor, keyboard and mouse on request, and cost $250 month-to-month.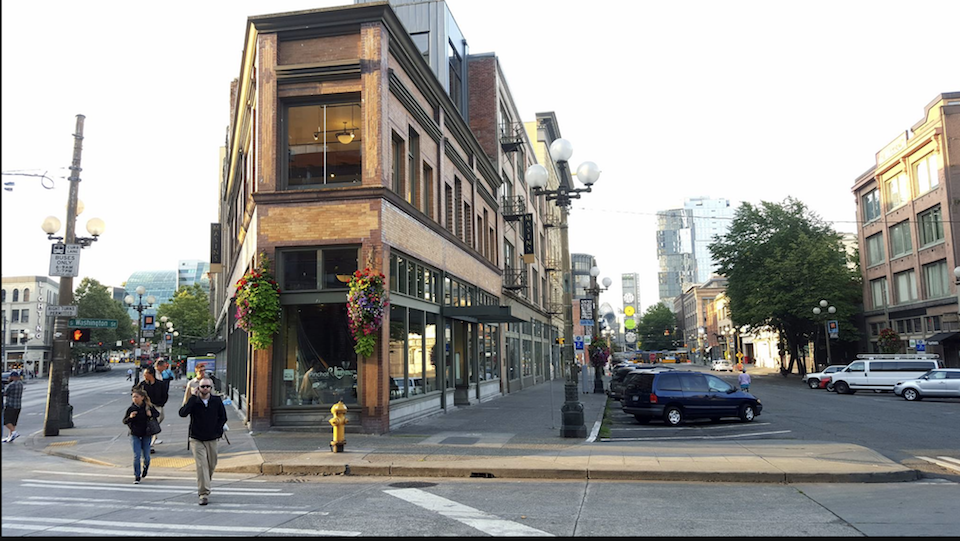 The Lowdown: Seattle is full of organizations trying to make positive changes both in the world writ-large and in their own backyards. Impact Hub in Pioneer Square is a coworking space built specifically for those do-gooders, and is chock-full of small nonprofits, community organizations and social enterprises.
Fun Fact: The space spans two buildings and more than 40,000 feet of floor space, so don't be surprised if you get lost on your first few visits.
Location: 220 2nd Ave. South, Seattle
Damage: Impact Hub has a range of accessible plans from $35 for two days per month, while full-time 24/7 monthly access runs for $345.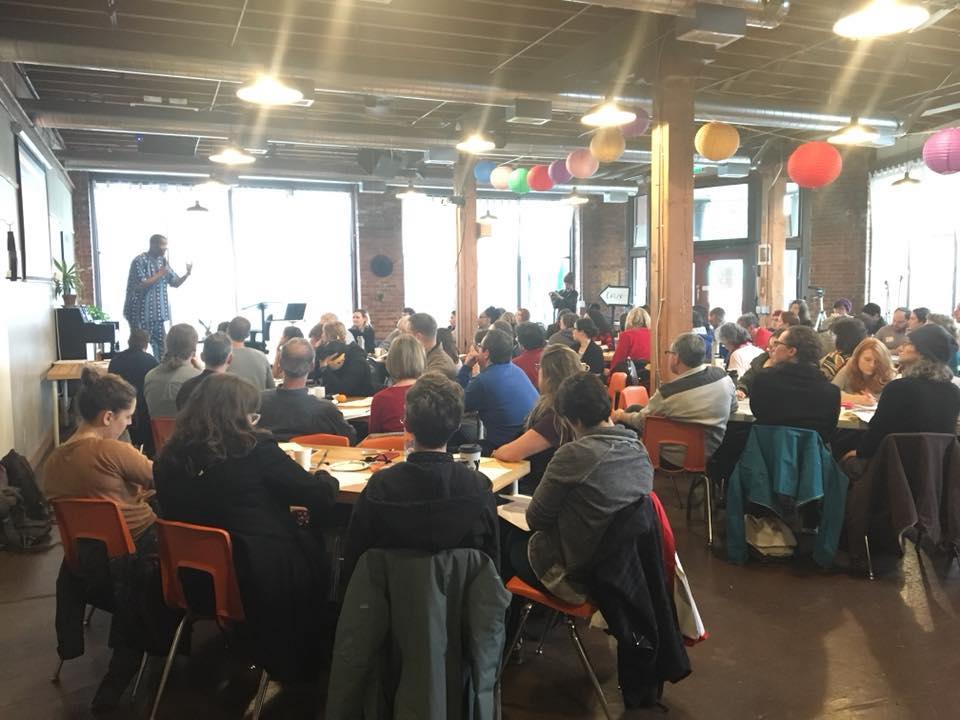 The Lowdown: The Collaboratory is a "social change incubator" that provides facilities and events for nonprofit and social enterprise startups. There's a garden, a kitchen, as well as 24-hour access, meeting rooms and phone booths.
Fun Fact: The Collaboratory charmingly describes itself as a "compost bucket where positive social movements blossom."
Location: 5623 Rainier Ave. South, Seattle
Damage: Full-time membership is $275 per month.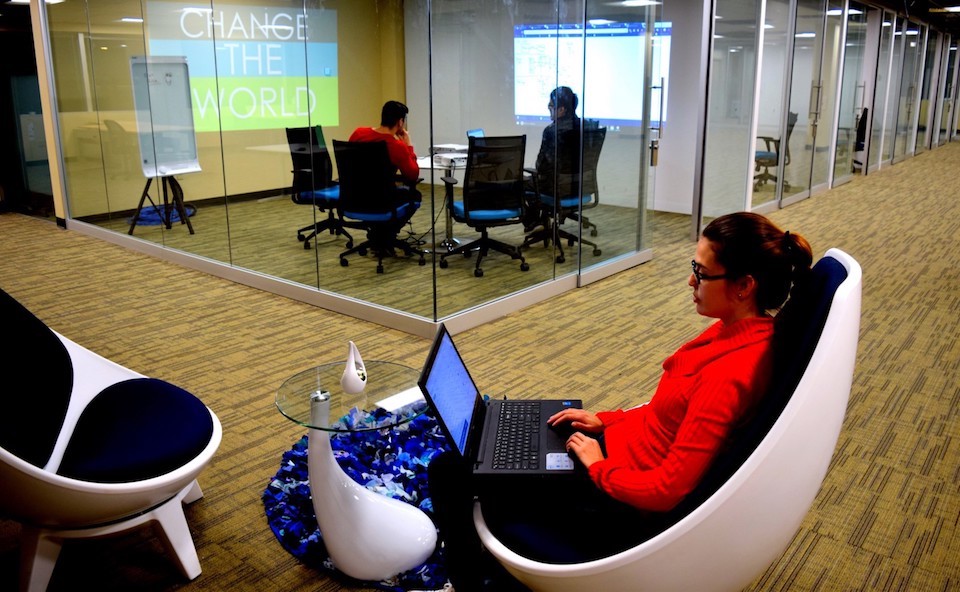 The Lowdown: Founded by software engineers, extraSlice hosts training providers to help its community of entrepreneurs. The space is sleek and open with a host of meeting rooms available.
Fun Fact: We're not sure how to feel about their assertion that the team is "all human, no robots yet." Isn't that exactly what a covert robot team would say?
Location: 3600 136th Pl. South East, Bellevue
Damage: Floating desks start at $220 per month.
The Lowdown: Savor (or escape) the infamous "aroma of Tacoma" at Surge, a coworking space offering all the coworking staples from 9 a.m. to 5 p.m. or 24 hours for full-time members. Conference rooms are free, projectors are available and there's even a giant chessboard in the spacious kitchen. In addition to this Tacoma Avenue location, SURGE also operates coworking spaces in South Tacoma and in the historic Union Club building. 
Fun Fact: On a clear day, you'll get stunning views of Mount Rainier from their Wi-Fi-enabled rooftop garden.
Location: 2367 Tacoma Ave. South, Tacoma
Damage: 9-5 access starts at $50 a month, while a dedicated desk goes for a handy $199.