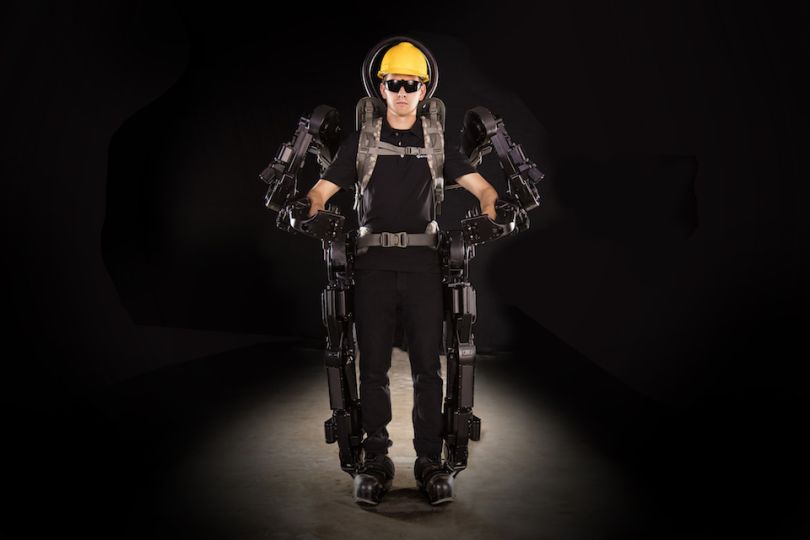 You've seen them in the movies — now they're coming to an industrial workplace near you. Robotics company Sarcos has raised a $30 million Series B to continue the development of its robotic exoskeleton technology. Headquartered in Salt Lake City — with a second office in Bellevue — the company is working on its "Guardian" line of robotic exoskeletons that allow human beings to perform superhuman physical tasks.
In a statement, the company said it would use the funding to expand its team and scale the production and deployment of a mobile inspection and surveillance robot dubbed "Guardian S." The funds will also help Sarcos Robotics prepare for the commercial launch of its "Guardian XO" exoskeletons next year.
Sarcos Robotics chairman and CEO Ben Wolff said the company was growing rapidly.
"We've doubled our workforce in the last year as we realize our vision of delivering robotic systems that simultaneously reduce the risk of workplace injuries, while also increasing productivity and efficiency," he said in a statement. "This new funding will allow us to continue to grow our team, scale our production and deliver our products to customers around the globe."
The company says its technology is applicable in manufacturing, construction, mining, oil and gas, power, aerospace, maritime, petrochemical and mining industries. And, as anyone who has seen sci-fi blockbusters like Terminator, Matrix Revolutions or Edge of Tomorrow will tell you, there are obvious military applications for such technology, too.
Sarcos Robotics says its exoskeletons enhance workers' strength and stamina and combine the intuition, intelligence and adaptability of humans with the strength, endurance and precision of machines. The company aims to bring the powered exoskeletons to industrial workplaces across a range of industries.
Sarcos spun out of defense contractor Raytheon in 2015 and has raised a total of $56.1 million in three rounds since then. This round was co-led by DIG Investments and Baltimore firm Alex. Brown and Sons. Past investors Microsoft, Caterpillar Ventures, GE Ventures, Cottonwood Technology Fund and Schlumberger also participated.