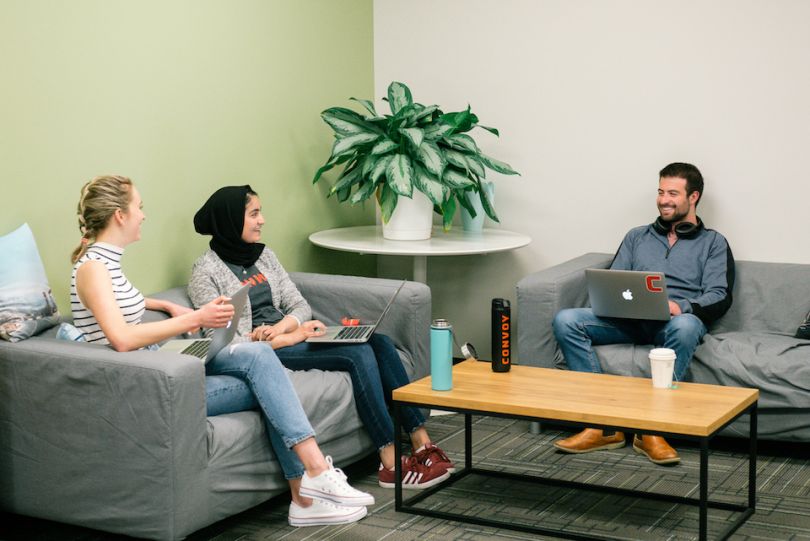 Did you know that 40 percent of trucks on the road right now are towing empty trailers? That means a huge percentage of the fuel, time and greenhouse gas emissions consumed or created by the trucking industry are essentially wasted.
That statistic is what inspired Dan Lewis and Grant Goodale — a pair of ex-Amazonians — to start Convoy, a Seattle company that's connecting truckers with shippers through its app and, thereby, creating more efficient routes. The company announced today that it raised a $185 million Series C round of funding led by CapitalG, the growth equity fund of Google's parent company Alphabet.
"Trucks often sit idle due to inefficient scheduling," Convoy co-founder and CEO Dan Lewis said in a statement. "This is a drag on the economy, the environment and the bottom lines of shippers and carriers alike."
"Convoy's ability to serve our shippers and carriers with ground-breaking, innovative technology is already having an impact on these critical problems, and our partnership with CapitalG and other leading investors will accelerate this," he went on. "We are very excited about what lies ahead."
As part of the funding, CapitalG Partner David Lawee will join Convoy's board of directors.
"Convoy has the potential to transform the trucking industry," Lawee said in the statement. "The team has built a leading tech-enabled marketplace that provides shippers with a more efficient freight solution and truck drivers with increased access to work."
The funding brings Convoy's funding to more than $265 million, which it has raised in four rounds since it was founded in 2015. The company will use the money to accelerate product innovation and scale its operations to meet the demand of its carriers and shippers.
Along with new investors T. Rowe Price and Lone Pine Capital, Convoy's star-studded list of existing investors also joined in, featuring a veritable pile-on of the biggest names in West Coast tech.
The company's list of existing investors includes the private investment funds of Bill Gates and Jeff Bezos, local Code.org founders Hadi and Ali Partovi, former Starbucks President Howard Behar, Salesforce's Marc Benioff, eBay's Pierre Omidyar, Dropbox's Drew Houston, Instagram's Kevin Systrom and more. Bono and The Edge of U2 and former U.S. Senator Bill Bradley also participated, along with a long list of New York and Silicon Valley venture capital funds.