If you're standing on a street corner in South Lake Union or Belltown, chances are you're standing in front of an Amazon office building. You'll be surrounded by blue badges but, if asked, you might struggle to point out the exact building where the people wearing them work.
Even as it has transformed a once-sleepy neighborhood of warehouses and shipyards into a buzzing technology hub, Amazon prefers to blend into its surroundings wherever possible. The now-famous Spheres are a rare architectural showpiece from a company that prefers to operate under the radar, and even the central office buildings arranged around the Spheres at Amazon ground zero — dubbed Day 1, Doppler and Meeting Center — are pretty inconspicuous. At least, that's how they look from the outside.
It's been a big year for Amazon. The company released a truckload of new Alexa skills and integrations, opened more Amazon Go locations across the country and brought its AWS technology to several large government departments.
Where is Amazon Located in Seattle?
Amazon has a sprawling headquarters in Seattle, with more than 40 state-of-the-art buildings in South Lake Union, Denny Triangle and Downtown.
Oh, and there was that whole HQ2 saga.
So with all that focus on the company's future plans, we thought we'd take a peek inside the engine room of a business that employs over 45,000 Seattleites. Here are some of the coolest features of Amazon's hometown headquarters.
Common Areas
Cool features: Startup staples, rotating art displays, themed buildings and rooms, independent local vendors, and more dogs than you can shake a blue badge at.
Tell us more: We started off in the Day 1 building, so named for founder Jeff Bezos' "never rest on your laurels" startup philosophy that has become a kind of mantra at the company. Bezos keeps an office in Day 1, and his sayings — which employees affectionately refer to as "Jeff Quotes" — adorn the walls.
There are loads of open common areas speckled throughout Amazon's office complexes. We're told that the company tries to avoid filling workers' days with meetings where it can, giving many the freedom to migrate between offices and common workspaces throughout the day — and spend relatively little time at their desks.
We visited one of those common rooms on Day 1's 16th floor, which is decked out with a rotating art display and the usual tech favorites: foosball, shuffleboard and the unmistakable tack-click-tack of a product manager challenging a UX designer's ping pong supremacy.
Over in Doppler — named after the Amazon Echo's R&D code name — there are six eateries, a coffee stand, video game lab, art studio and a market. The company sees itself as a part of the surrounding community, which is why you often don't know that you're walking past an Amazon building, even though there are over 40 of them in central Seattle alone. This, coupled with the company's self-image as an important source of revenue for small businesses, is why it has filled its common spaces with independent coffee shops, food vendors and marketplaces. And unlike other tech giants like Google and Facebook, which provide free on-campus meals for employees, Amazon encourages its workers to venture out into the neighborhood to find lunch.
How Many Amazon Employees are in Seattle?
Amazon employs more than 50,000 people in the Seattle area.
Doppler is full of small flourishes showcasing some element of the company's often-quirky company culture. There's a small Harry Potter-themed library room (they started as a bookseller, after all) and a so-called "Post Alley" designed to be a slightly more hygenic version of Pike Place's gum wall. A large common workspace is decorated with dividers that, upon closer inspection, are made from the rollers found under conveyor belts at the company's fulfillment centers.
Offices
Cool features: Small teams, few meetings, stylish surrounding and dogs.
Details: The migratory nature of an average Amazon employee's day means the offices themselves tend to be more peaceful than your average white collar workspace — at least, that's based on what we saw. The company tries to avoid siloing its departments off into different buildings, mixing teams among one another.
By the way: Amazon tends to keep those teams small enough to be fed on two pizzas. The so-called "two pizza rule" has become company lore.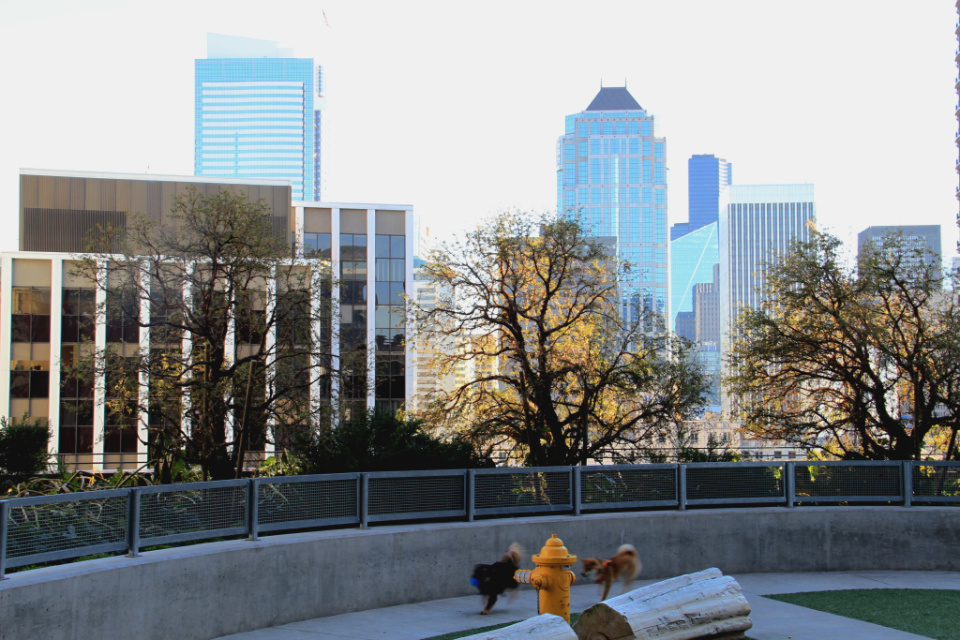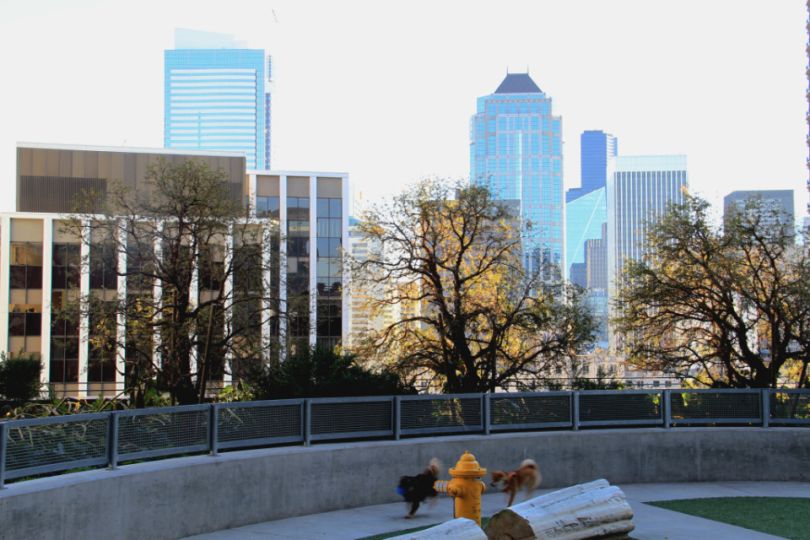 And then, of course, there are the dogs. Anyone who has watched the hordes of pampered pooches mincing the streets of South Lake Union or scampering in the public dog park by the Spheres knows that dogs are an important element of Amazon's culture. The company's first office dog was a corgi named Rufus — perhaps explaining that breed's enduring popularity in Seattle today — whose paws launched some of Amazon's first webpages and software products. Today, Rufus is immortalized with a building named in his honor in South Lake Union, along with numerous shrines of artwork and tennis balls throughout various offices.
In addition to the public dog park between Day 1 and the Spheres, Amazon's dogs can also exercise at an employee-only park suspended 17 stories above 7th Avenue. Around 6,000 dogs keep Amazon's tens of thousands of employees company every single day.
Access
Cool features: Talks with your favorite creatives, pre-screenings of Amazon content.
Details: Meeting Center is a squat building next to Doppler that fulfills a large company's traditional needs, like conferences and all-hands meetings, as well as talks with some of the biggest names in film and literature.
Amazon started out as an online marketplace for books, and literature runs pretty deep at the company. Authors regularly make pilgrimages out to Amazon to give exclusive talks for employees — first to sign up gets a seat — and now that the company has started creating its own original movies and TV shows, actors and filmmakers are starting to appear, too. What's more, Amazon often rents out entire movie theaters around Seattle to put on advance screenings of its original shows and movies for its team. And in one hallway, you'll find a costume worn by Rachel Brosnahan in "The Marvelous Mrs. Maisel."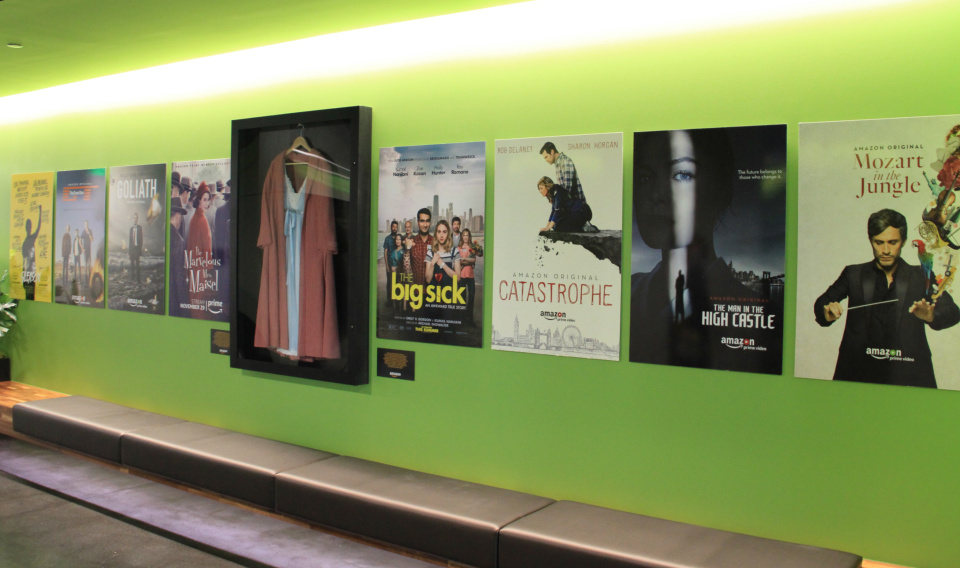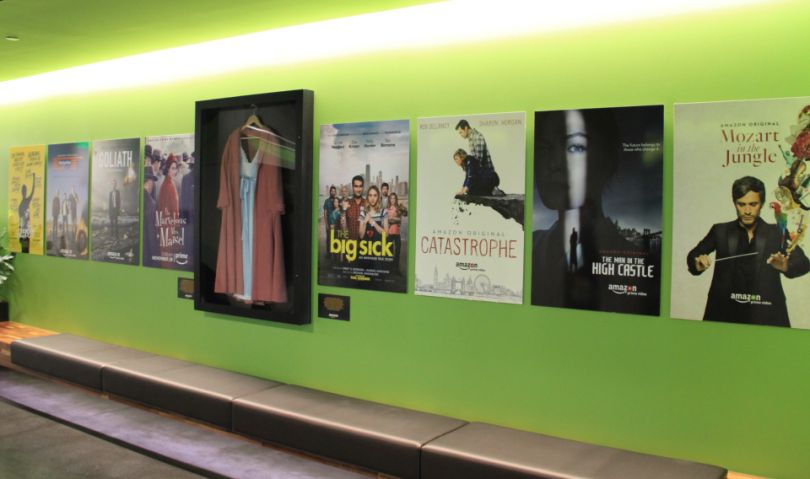 The Spheres
Cool features: Well, they're giant transparent spheres housing an indoor rainforest in the middle of the city. Every feature is a cool feature.
Details: The Amazon Spheres have the feel of a tourist attraction, with columns of snap-happy corporate visitors and blue-shirted guides whose job it is to answer questions like "What's the temperature in here?" "How many feet of dirt under that big tree?" and "Where are the restrooms?" (Answers: 72 degrees, up to four feet and downstairs.) The building is Amazon's main architectural contribution to the city of Seattle, a marvel of engineering and horticulture. Over 40,000 plants live in three interlocking balls four stories tall, a jungle handpicked from the cloud forest regions of over 30 countries.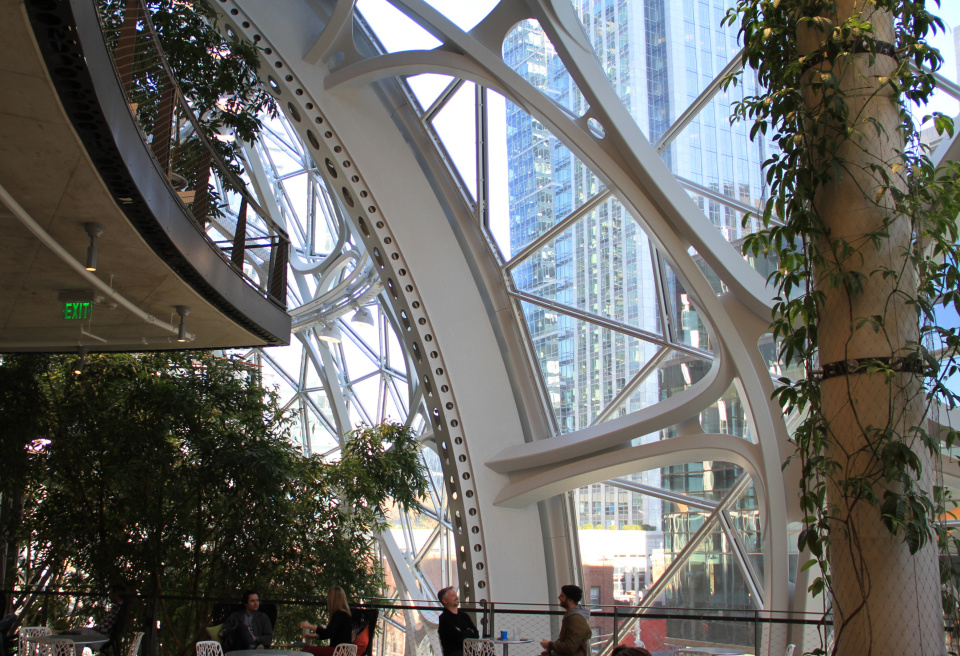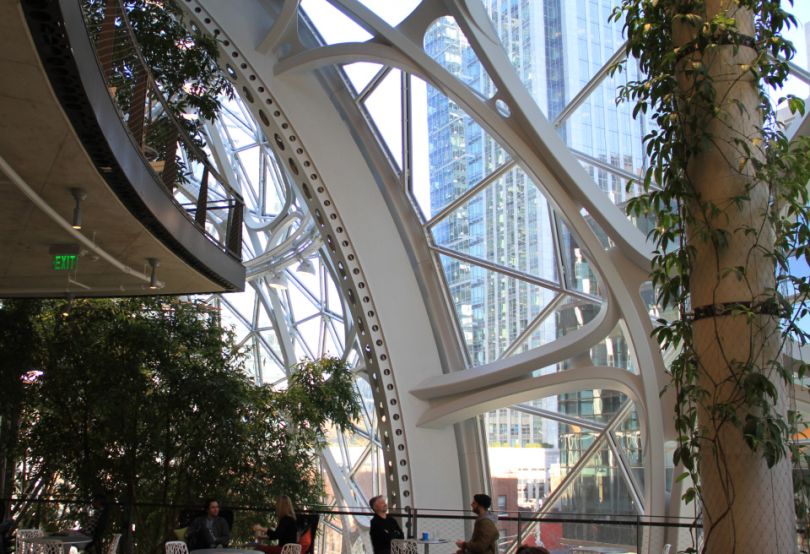 While the Spheres are becoming an essential stop on the Seattle tourist trail, Amazon has guarded the building to maintain it as a tranquil workspace for its employees. While the exotic plants — including a 55-foot-tall Port Jackson fig from Australia named Rubi, tubs of aquatic plant life and a huge living wall of ferns and other climbers — breathe a sense of calm into the place, the Spheres hum with the conversation-and-keystrokes noise of Amazon getting its work done.