They call it a campus. And as you wander through Microsoft's sprawling headquarters in Redmond's Overlake neighborhood, it's impossible not to compare the encompassing bustle to the energy of a major university.
The company employs over 50,000 people in the Puget Sound region — most of whom work in Redmond — and during lunch hours you'll find a lot of them lounging in Microsoft's many cafes and eateries, strolling between buildings and browsing the shops like it's the weekend in a small town. 
Over the last few years, reporters have written many tens of thousands of words examining Microsoft's latest technological offerings, its cultural reorientation and the ongoing construction of a new-look headquarters. With all that focus on the company of late, we decided to take a closer look at Microsoft's Redmond home, and how its sprawling campus influences its ongoing cultural transformation.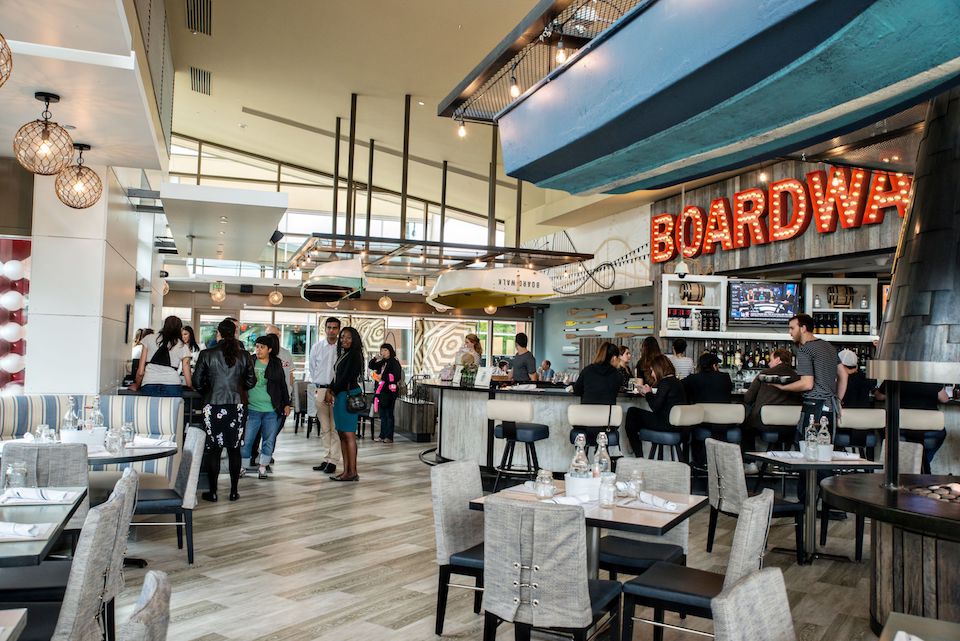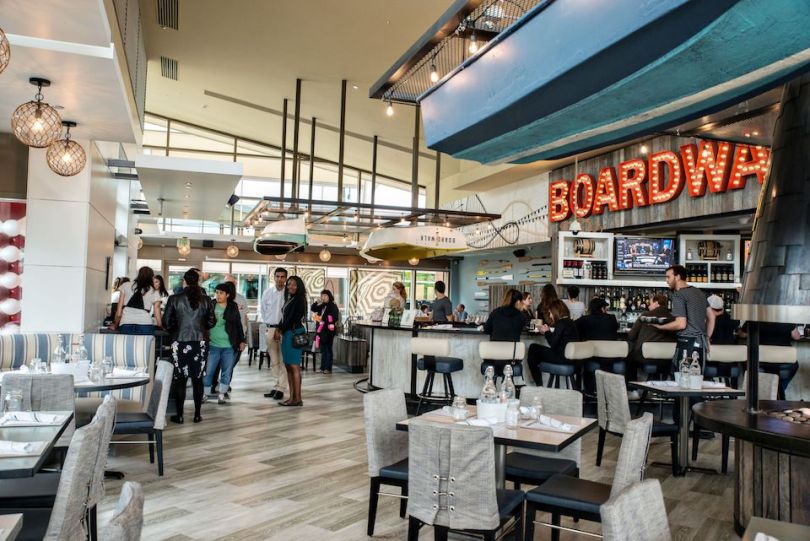 At the heart of it all
Known as The Commons, Microsoft HQ's central complex is home to cafes, banks, phone service providers, package shippers, the popular Boardwalk bar and restaurant, and a sports store that services bicycles in the summer and switches to skis and snowboards when there's snow on the Cascades. The Commons spills onto one of Microsoft's several sports fields, where employee soccer and cricket leagues are hugely popular.
A global cross section of the world's varied culinary tastes sprawls across the lower floors, while delegates for this conference or that lecture hurry to and from event spaces upstairs. Unlike many of its Silicon Valley rivals, Microsoft does not provide free food for employees at its Redmond headquarters. The company says people place less value on free meals, so it instead subsidizes the meals on campus to reduce food waste, reflecting a sustainable sensibility distinct to the Pacific Northwest.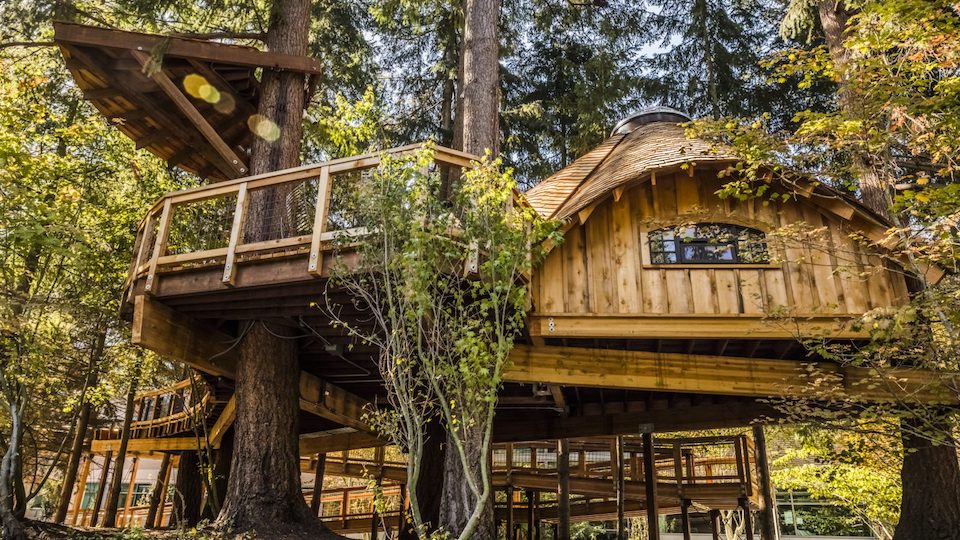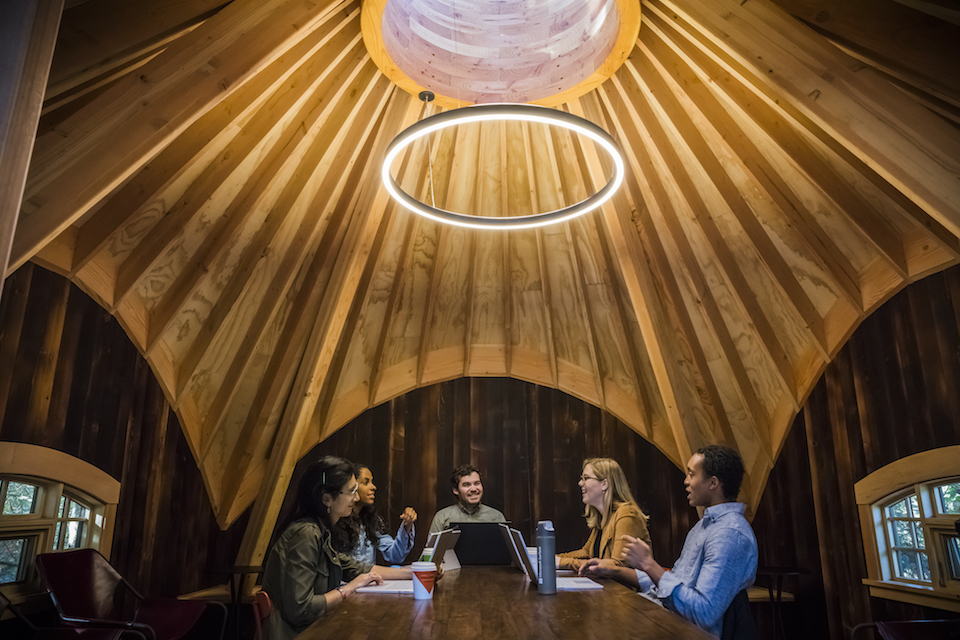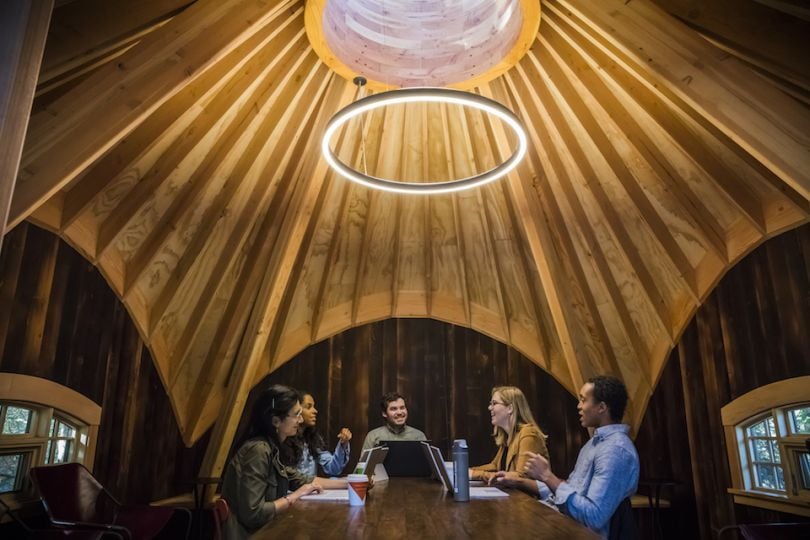 Tech among the trees
The snow-clad peaks of the Cascades — including mounts Rainier and Baker — are often visible above the evergreens from certain points all over Microsoft's campus, and the company appears to place great value on the landscape it inhabits. Walking trails meander through the clutches of evergreen forest that fill space between office buildings, few of which are over six stories tall in an effort to preserve a natural skyline.
One of the most obvious examples of the company's emphasis on harmony with nature is a set of so-called treehouse meeting rooms, built in and around clutches of Douglas fir trees. The timber rooms are designed to inject a little calming green into employees' workdays.
The treehouses are hot property, of course, but that doesn't mean the rest of Microsoft's employees lack a daily connection with the natural world. Many workspaces and cafes sit adjacent to little patches of shady evergreen woods, or feature picture windows that can be dark and moody on an overcast day or dappled with sunlight when the weather brightens.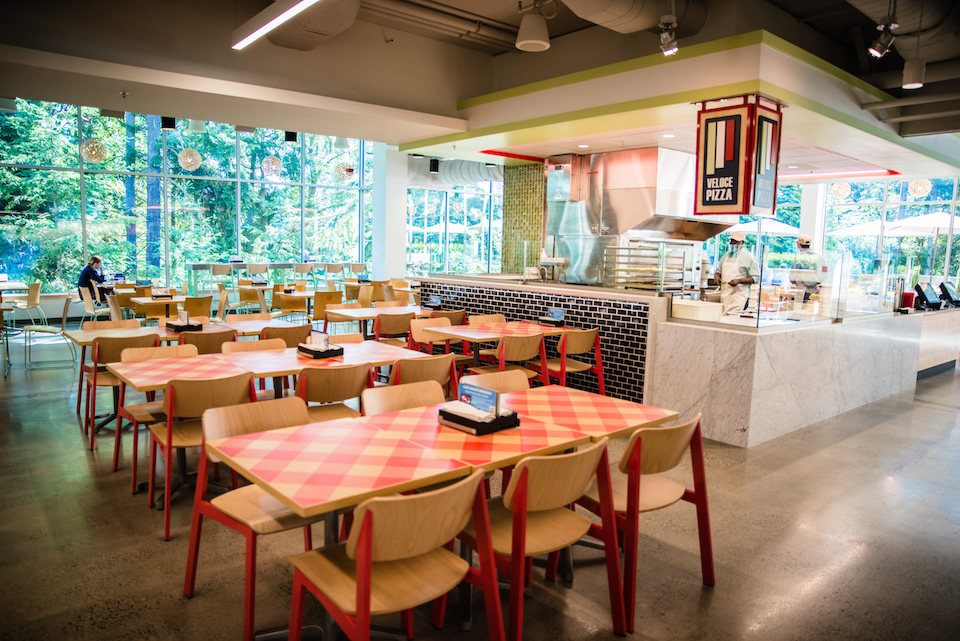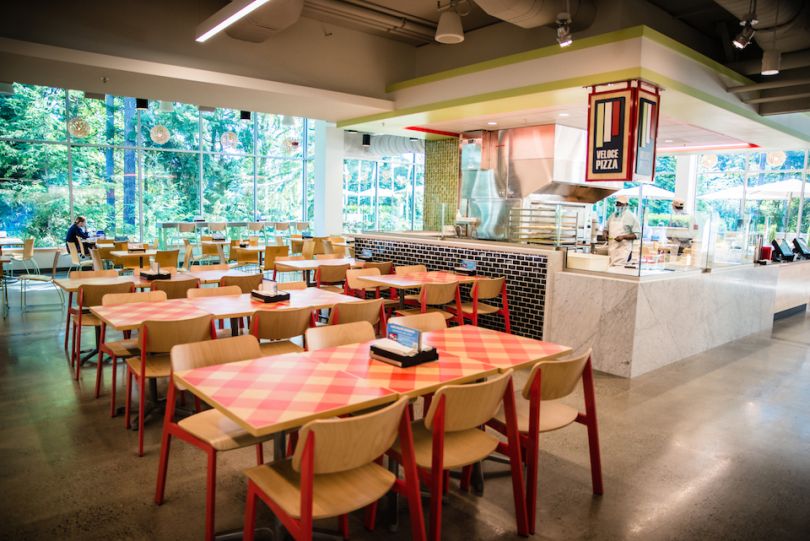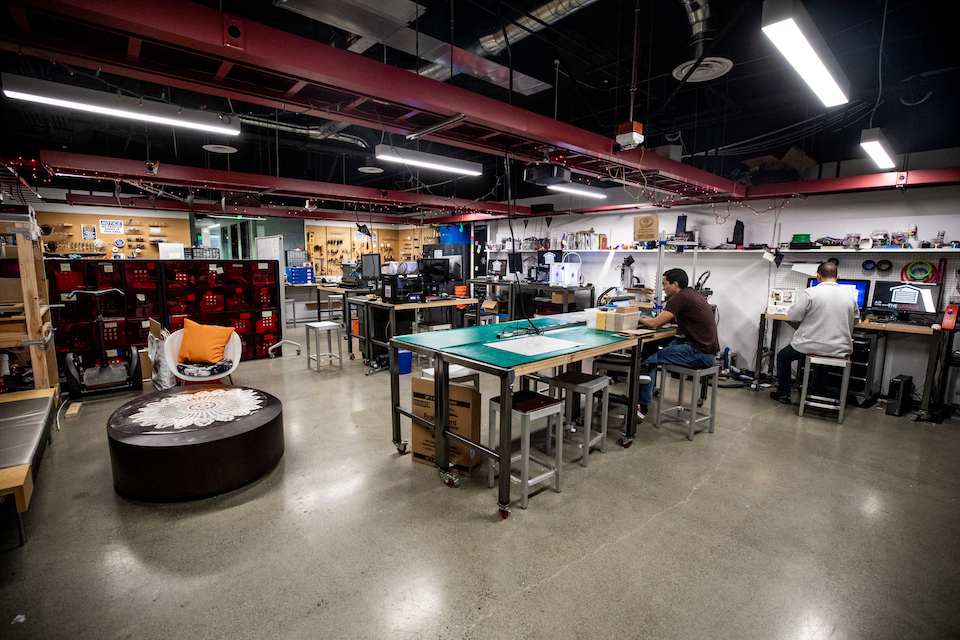 Where the work gets done
The original iteration of Microsoft's campus featured a series of X-shaped buildings — now undergoing demolition to make way for the campus renovation — designed to maximize the number of offices with windows. Aside from being an inefficient use of space, the layout reflected a now-antiquated philosophy at the company, where teams and individuals were siloed and encouraged to compete with one another. In the early years, the company's mission statement simply desired to put a PC on every desk, and in every home.
During the latter part of Steve Ballmer's tenure as CEO, Microsoft began to change. The mission statement evolved into a more aspirational slogan: "empowering every person and every organization on the planet to achieve more." And recently, much has been made of current CEO Satya Nadella's role in shifting the mindset of some 50,000 employees in the five years since he took the job: performance reviews now emphasize collaboration as well as individual achievements, company-wide hackathons have replaced the traditional day-long annual meeting. And with a new emphasis on collaboration across teams, the old office layout is disappearing.
In Microsoft's newer workspaces — which offer a glimpse at the offices that will dominate once the renovations are complete — teams of eight to 12 work together in large pods, with a clutch of phone booths and conference rooms available nearby. Buildings are speckled with informal lounge areas, cafes, games facilities and even music rooms filled with instruments. Timber and glass abound, with atriums designed to deliver as much natural light as possible to every nook and cranny of the space.
This is speaking generally, of course, for Microsoft sprawls across almost 100 buildings in Redmond alone, and there are plenty of notable aberrations from this new rule. The Garage hosts workshops, VR lounges and tools for employees to tinker with personal projects in their spare time. A cybercrime center detects and report harmful activity to the relevant authorities. And a prototyping building hosts, among other things, the quietest room in the world. The ambient noise inside it is only marginally louder — like, a couple of decibels — than the sound of atoms colliding, just one surreal corner of what is a rather surreal corporate headquarters.