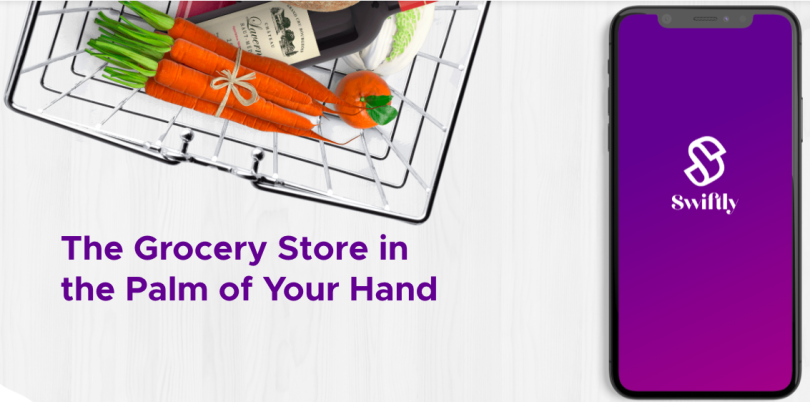 Swiftly, a Seattle startup aiming to usher brick-and-mortar stores into the age of Amazon, just entered the scene in a big way.
Founded just last year, Swiftly describes itself as an "operating system for supermarkets," helping brick-and-mortar stores reach their customers through features traditionally associated with e-commerce. These features include subscriptions for items purchased regularly, digital loyalty programs and deals personalized on the individual customer level.
According to Swiftly's website, users of the app spend 50 percent more than other customers.
Notably, Swiftly also lets customers use their smartphones to scan items — including produce — as they add them to their shopping carts, eliminating the need to wait in line to check out. The concept is in some ways similar to Amazon Go — a chain of cashierless convenience stores launched to the public by Amazon last year. However, according to a spokesperson for the company, Swiftly's cashierless shopping tools differentiate themselves with features like in-app shopping lists and a store locator, as well as the fact that it doesn't require supermarkets to retrofit their locations with additional hardware.
On Tuesday, Swiftly announced that is has raised a whopping $15.6 million in seed funding, according to GeekWire. Swiftly already has Zion Market, a grocery chain with stores in Texas, California and Georgia, lined up as a customer, the publication reports. (Zion's website prominently features a branded version of Swiftly's app under the tagline "Be a Zion Insider.")
Long thought of as a cornerstone of in-person retail, grocery shopping is increasingly going the way of the shopping mall, with online sales projected by some to reach $100 billion by 2022. Major players in the digital grocery game include Walmart, Kroger, Albertsons and Amazon, of course. 
By offering a white-label tool to drive foot traffic and online orders — and make going to the store feel like less of a hassle — Swiftly aims to help smaller players keep up with the industry's biggest players. And judging by the size of today's seed round, it appears that investors think they're onto something.