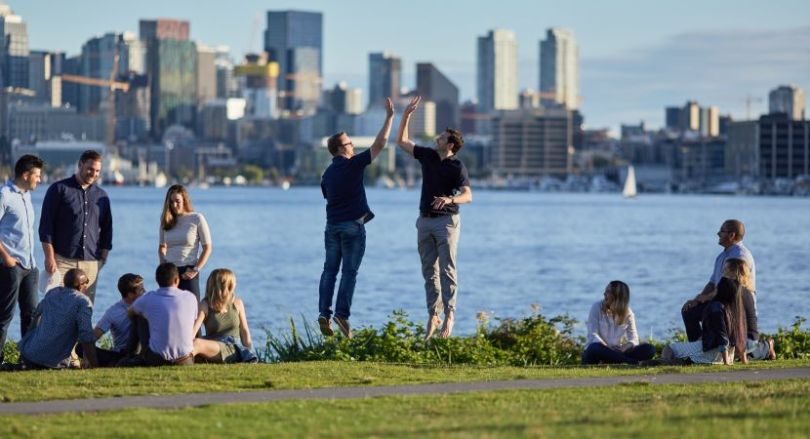 If you ever catch yourself awake at night wondering who the fastest-growing technology companies in Seattle might be, wait no longer. Global accounting and consultancy firm Deloitte just released its 25th annual Deloitte Technology Fast 500 ranking, and 18 local companies made the list.
The Deloitte Technology Fast 500 ranks companies by revenue growth over a three-year period. Deloitte gathers information directly from companies, as well as from public databases. To be included in the ranking, companies have to be headquartered in North America, have been in business for a minimum of four years, and be operating in the technology, media or life sciences. 
Unlike rankings like Inc. Magazine's Inc. 5000 ranking, which is limited to privately held companies, the Fast 500 includes both privately held and publicly traded companies.
Here's who made the list, and how much they raised.
4. Outreach, 16,069 percent.
38. FLEXE, 3,338 percent.
41. Highspot, 3,172 percent.
62. Quadrant Resource, 2,123 percent.
73. Auth0, 1813 percent. bellevue
124. Discuss.io, 1,013 percent.
150. Remitly, 780 percent.
170. Zenoti, 669 percent.
181. Adaptive Biotechnologies, 614 percent.
182. Snap Raise, 608 percent.
188. Zipwhip, 584 percent.
192. Icertis, 573 percent.
233. RiskLens, 470 percent. Spokane
286. Smartsheet, 378 percent. Bellevue
287. Apptentive, 377 percent.
324. Yapta, 312 percent.
357. iSpot.tv, 273 percent.
440. Biolife Solutions, 206 percent.