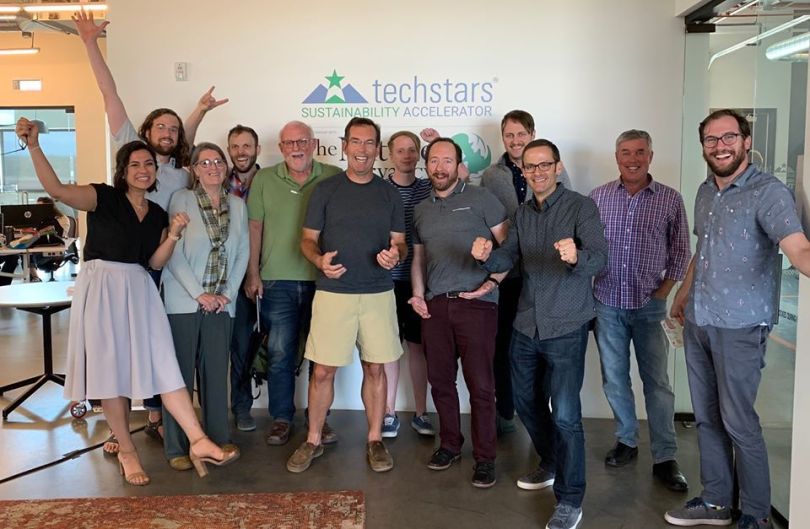 Nori, a Seattle-based startup that operates a blockchain-based carbon removal marketplace, just raised $1.3 million in a "pre-seed" funding round. The company plans to double its team by the end of the year to meet rising demand.
The problem Nori was created to solve is straightforward: there are too many greenhouse gases in the air, which is causing the world to heat up at a dangerous rate. The solution is simple, too: remove the greenhouse gases. 
"Carbon dioxide isn't evil or immoral, it's just in the wrong location," CEO Paul Gambill told Built In. "Nori is a platform that allows people to pay for verified carbon removal from the atmosphere in an easy and simple fashion. We want carbon removal to happen invisibly and automatically in the background of everyday life."
Here's how it works: Farmers adopt various regenerative agriculture practices that pull carbon out of the air, like no-till farming, cover cropping and crop rotations. The farmers then provide operating data to quantify the amount of carbon that gets stored in their soil, which is verified by an independent third party. Once this data is verified, Nori issues a single-use cryptocurrency token. One token is equal to one metric ton of CO2 removed from the atmosphere, and costs about $15 according to market price.
A buyer, Google for example, can then buy these tokens from the farmers in order to negate a certain amount of past carbon emissions. The buyer is then given a certificate that says how many tons of carbon they paid to have removed, who did the removing and how their data was verified. 
Carbon removal has become a priority for the world's most prominent companies. For instance, Microsoft announced last week that it would be "carbon negative" by 2030, meaning it plans to remove more carbon than it emits each year. Amazon made a similar pledge last year, vowing to net zero carbon by 2040 and run on 100 percent renewable energy by 2030. Google claims it has been "carbon neutral" for more than a decade. 
Gambill attributes this interest in carbon removal and being "carbon negative" to the the fact that, for the most part, the damage has already been done. 
"Even if tomorrow, everywhere around the world, we were able to immediately and magically turn off all sources of greenhouse gas emissions, there's still far too much CO2 and other greenhouse gases in the atmosphere," Gambill said. "The only option is to emit less and remove the rest."
What's more, it's essentially impossible for a company to not produce greenhouse gases in its everyday business activities — employees need to fly to meetings, the lights in offices need to stay on. So, companies like Microsoft and Amazon plan to fulfill this goal of being "carbon negative" by investing in the removal of the greenhouse gases they emit from the atmosphere.
Gambill says the reciprocal relationship facilitated by Nori between the two ends of America's economic spectrum — farmers and corporate America — could also be the solution to another issue: food production.
"All the big food companies are recognizing that, if they don't get their farmers to start adopting these practices, then the problem of soil erosion is going to become a runaway issue. It's going to get more and more expensive to produce food and it's going to require more and more fertilizer, which continues to exacerbate the problem," Gambill explained. "The solution to that is to adopt practices like no-till, cover cropping and crop rotation. It's this amazing two-for-one right now where the solution to fixing the food system is the same as the solution to fixing climate change." 
Gambill says Nori chose to go the farming route because it's the easiest to quantify right now, thanks to a partnership with the U.S. Department of Agriculture's tool, COMET-Farm. Also, farming has a massive amount of carbon removal potential.
"American croplands could remove 1 billion tons of CO2 every year if we were at full scale," Gambill said. "The world emits about 50 billion tons with CO2 every year. If we applied just croplands worldwide, we could probably remove about 10 billion tons of CO2 per year. We''re talking about enormous amounts of greenhouse gases coming out of the air potentially."
However, Gambill says Nori is solution-agnostic, and hopes to move on to other areas in and out of agriculture, from forestry to direct air capture technology. The idea is to create competition among the various methods of carbon removal. Monetizing the practice will then create an incentive for private companies, and even governments, to participate which will, ideally, do away with the resistance to climate change solutions we so often see today. 
"Climate change should not be a political problem, because it's just an engineering problem," Gambill said. "If we [have] the opportunity to produce a solution that can be amenable to most people, then we believe this can finally break the log jam and get action happening on reversing climate change faster."