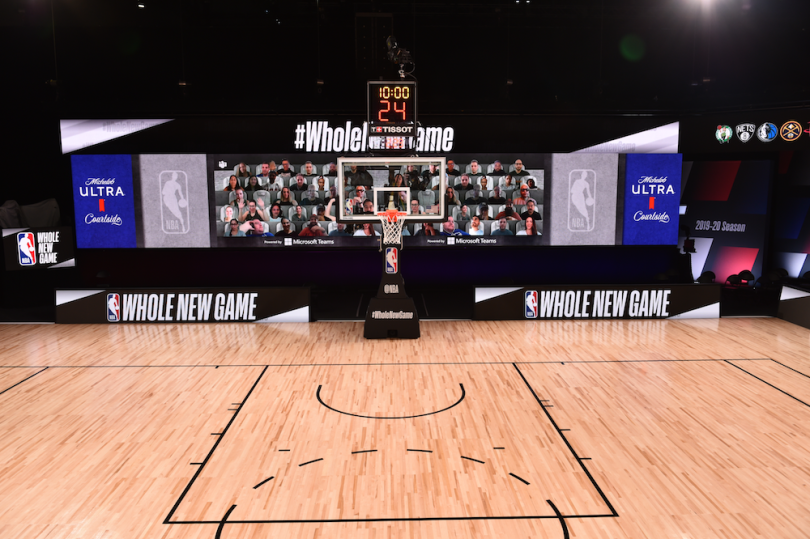 The NBA is scheduled to resume its 2019–2020 season on July 30, but it'll be missing one important thing: fans.
Due to the ongoing COVID-19 pandemic, large indoor gatherings are prohibited. But the NBA has found a way to create a similar experience for basketball fans using technology from Microsoft.
Thanks to a partnership between the two, the NBA announced that it'll use Microsoft Teams's Together mode to virtually bring fans to games. Together mode is a built-in feature within Microsoft Teams video calls. It uses AI to recognize a person's face and shoulders in a video call, and then digitally place that person in a communal virtual space. So instead of being on a video call with a bunch of people trapped in their own little squares, it looks like you're in a room with all the people you're talking to.
To make this happen, the NBA will build 17-foot-tall LED screens to wrap around three sides of each basketball court. These screens will then show virtual bleachers, which will be populated by over 300 fans who are calling in via Microsoft Teams Together mode. People watching the games at home will be able to see the fans in the virtual stands, and players will be able to see and hear them as they react to the game.
The NBA and Microsoft both hope that this partnership will help bring up the energy for the remainder of the season.
"We are excited to partner with Microsoft to virtually incorporate NBA fans into our season restart," Sara Zuckert, NBA's head of Next Gen Telecast, said in a statement. "This unique live game experience will allow fans to maintain a sense of community as they watch their favorite teams and players."
Earlier this year, the NBA announced a multi-year partnership with Microsoft in order to create a new tech-enhanced experience for fans. This partnership will leverage technology like Microsoft's cloud capabilities to deliver fans engaging and personalized content.