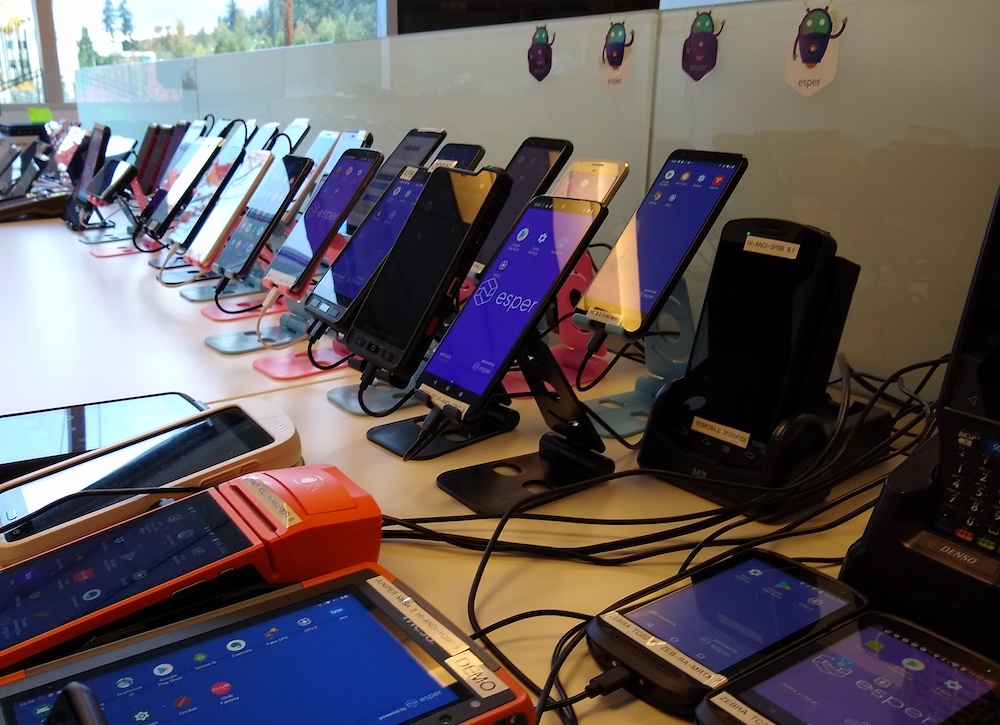 IoT devices are a core part of so many businesses, whether it's a retail shop's point-of-sale terminal or Peloton's connected exercise bike. These IoT devices allow companies to sell a more competitive product or streamline their business, but they also require upkeep in the form of software updates or continuous monitoring.
DevOps startup Esper allows companies to manage their fleet of connected devices. On Thursday, the Bellevue-based company announced the closing of its $30 million Series B funding round. Scale Venture Partners led the round, which brings Esper's total funding to $40.6 million since it was founded in 2018.
Esper cites a study that projects the number of IoT devices to grow from 14 billion in 2021 to 31 billion in 2025. Because of this, not only is it important for a company to be able to manage a large number of connected devices, it's also important to have the infrastructure in place so it's easy to scale.
Esper's platform allows customers to keep track of the Android devices they operate and helps them provide remote support. It also has scalable APIs and SDKs so its customers can develop their software, test it out and then deploy it across all of their devices.
Companies across a variety of industries — including CloudKitchens, Spire Health, Intelity, Ordermark, Inspire Fitness, RomTech and Uber — use Esper to manage and maintain their connected devices.
"The pandemic has transformed industries like connected fitness, digital health, hospitality and food delivery, further accelerating the adoption of intelligent edge devices. But with each new use case, better software automation is required," CEO and co-founder Yadhu Gopalan said in a statement. "Esper's mature cloud infrastructure incorporates the functionality cloud developers have come to expect, re-imagined for devices."
With the Covid-19 pandemic pushing companies towards tech adoption, Esper experienced considerable growth in 2020. The number of IoT devices using Esper grew 15x last year. The company's revenue also grew an impressive 70x year over year.
This new funding will allow Esper to continue this rapid growth. That involves investing in its product portfolio and expanding its platform to support larger workloads. The company also says it will be growing its employee headcount. It has over a dozen open positions for jobs based in the Seattle area, including roles in engineering, sales, product and more.
In addition to the funding, Andy Vitus of Scale Venture Partners will be joining Esper's board of directors.
"The world of edge devices is growing daily — from the ubiquitous tablets in retail, restaurants and warehouses, to fitness equipment and kiosks. All these devices need provisioning, scaled deployments, and frequent and remote updates," Vitus said in a statement. "Esper is the DevOps infrastructure for the millions of fleets of devices out there in the hands of non-IT users – consumers, restaurant workers, shoppers, and more. We led their Series B because we see parallels with other highly successful DevOps companies and Esper has already established themselves as the leader in the burgeoning need for device DevOps."