Pushpay was started in 2011 in Auckland, New Zealand, by co-founders Chris Heaslip and Eliot Crowther. At the time, they were hoping to create a company that could make donating money as easy as buying a song on iTunes. Over time, this idea evolved into a full tech platform that helped churches, charities and other organizations process donations, engage their community members and grow their online presence.
A few years later, after the company moved its headquarters to Redmond, Pushpay doubled down on building custom apps and providing other digital services for churches. The company set its sights on catering to the countless medium-to-large churches in the U.S. that were underserved by the tech world. The company believed that churches would begin to rely more on digital services to connect with their communities.
That was around five years ago. At the time, Pushpay had no way of predicting the COVID-19 pandemic and how it would cause churches to close their doors. But that's what happened. Local government restrictions forced many churches to stop in-person services, which was met with controversy in those communities. Churches across the world had to adapt to a lack of in-person services, but churches that already used the Pushpay platform were at an advantage.
"[Last year] we had new customers coming in who were desperate for a digital solution. But we also had current customers looking to purchase more of our product," Pushpay CEO Molly Matthews told Built In.
This challenging time for churches meant that Pushpay had more to offer them to help them get through. As a result, demand for the Pushpay platform increased significantly and the company grew.
Pushpay served more than 11,000 churches in 2020. It processed 35.2 million transactions from 2.5 million unique donors. Altogether, the company processed $6.9 billion in transactions last year, a 39 percent increase from the year before.
This was a big deal for Pushpay, and it resulted in the company's revenue growing by 39 percent as well. But the money processed on Pushpay platform went beyond the company — it was money being spent by people that went toward their communities.
On the backend, Pushpay was able to see where this money was going. 2020 was a very difficult year for countless people, but churches and local organizations stepped up to help their communities during this time — whether that meant helping a family pay rent, feeding people in need or something else. And individuals helped their churches and local organizations as well, by donating money or tithing.
"It was really incredible seeing how generous people were being to their church communities in a time of crisis," Matthews told Built In. "We could see that, when stimulus checks came through, people were tithing with those checks. [On the flip side,] as people were losing jobs or unable to pay rent, our churches stepped up, donated and cared for thousands if not millions of people throughout this last year. You could see people really coming together and donating to those causes through our customer organizations."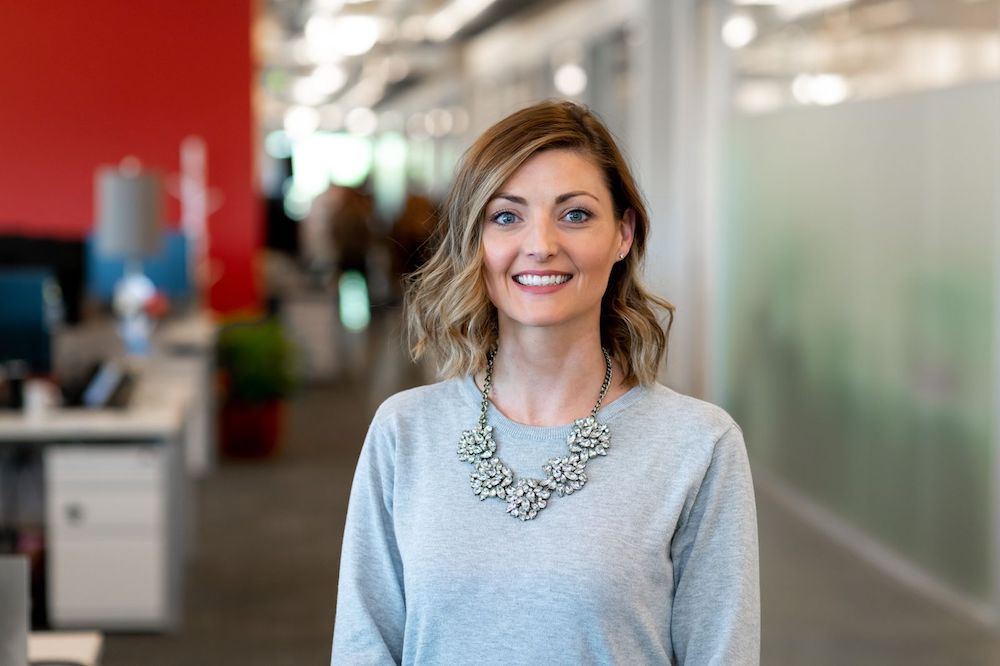 Matthews has been working at Pushpay for about five years, but became the company's CEO in January of 2021. Prior to that, she was the company's chief customer officer, and before that she was the VP of customer success. While she enjoyed working in those customer-facing roles, she looks forward to leading the company toward its future.
"I've been just incredibly blessed to have had great leaders throughout our company's history, and was truly honored to be offered the role of CEO," Matthews said. "When you strip away all of the responsibilities — whether it be financial responsibilities, market reporting, vision casting and so on — at the end of the day, it's my responsibility to guide and build our company culture. And that's the thing I'm most excited about moving into the future."
This culture building will be important moving forward. Matthews takes the helm of the company as it's building off of its 2020 momentum. To keep this growth going forward, Matthews plans a large company-wide initiative to provide its services to the Catholic church community in America. But in order to do that it will have to hire aggressively.
Pushpay has about 400 employees, but Matthews says it's looking to hire an additional 50 in the near future. These new jobs will be for roles across all sides of the business — in product, engineering, design, marketing, customer success and so on. These roles will split between the company's Redmond headquarters and its offices in Colorado Springs and Auckland.
"I really feel like we have an opportunity to make a mark here in the Seattle area and beyond. In that, we get to have a high-growth company that genuinely is doing good for its community. It's a really unique and amazing opportunity," Matthews said. "We also get to hire people who are aligned and passionate about our mission. People who are experts in their field — high-end technologists, incredible developers, engineers, product people and salespeople, that all get to work for us and earn their living doing this is something truly special."