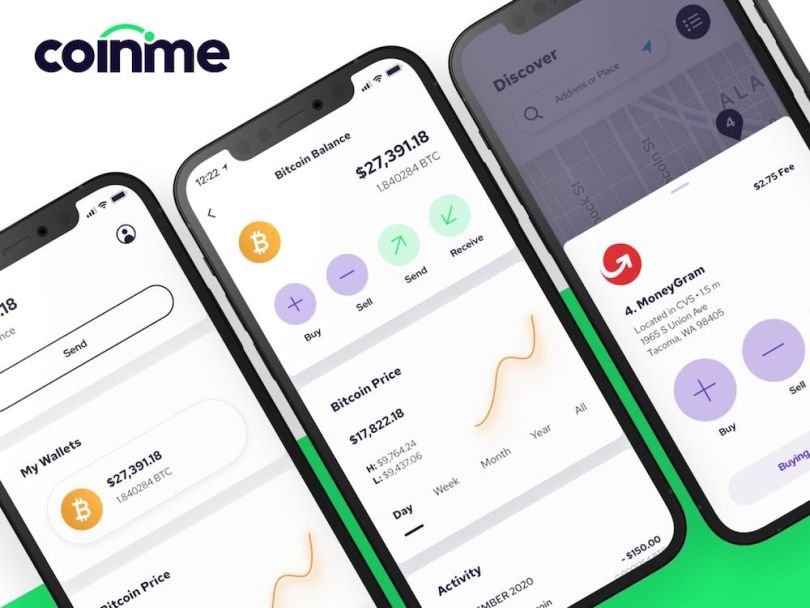 Although some people may be intimidated by buying bitcoin, one Seattle startup wants to make it as easy as going to an ATM.
Seattle-based Coinme launched in 2014 with just a handful of bitcoin ATMs, but over the year it grew its ATM network into the thousands and partnered with some leading financial companies. It has also developed a mobile app to create a digital banking-like experience for its customers. That way people can buy or sell bitcoin both in-person or online.
Coinme recently raised $10 million in new funding from existing investors, including Digital Currency Group. The news was confirmed to Built In by Coinme CEO Neil Bergquist. He said that this new funding will be used "to accelerate product and market expansion," adding that it will also help grow the team. According to Bergquist, Coinme is currently hiring for roles in corporate development, customer support, engineering, finance, human resources, marketing and product management.
Built In spoke with Bergquist in May 2020 following Coinme's $5.5 million raise. At the time, he stressed the importance of everyday people investing in bitcoin.
"We have an economic situation where the supply of dollars is increasing while the supply of bitcoin is decreasing. As the U.S. prints and injects more cash into the economy, it will take more of those dollars to buy goods and services. On the other hand, bitcoin's halving is reducing its supply by decreasing the mining rewards by 50 percent," Bergquist told Built In. "People are starting to understand this, and it's causing a sharp increase in people buying bitcoin since it is a deflationary asset. In our case, people are buying bitcoin at the grocery store at a Coinstar kiosk, while they also stock up on other essentials."
Around that time last year, the price of bitcoin was about $9,000. Since then, it has climbed to a high of over $60,000 and now sits at around $37,000.
Also in that time, Coinme has made its bitcoin network available to a lot more people through a handful of partnerships. Coinme joined with coin-cashing machine company Coinstar to make bitcoin available at Coinstar kiosks. By December 2020, the network of Coinme-enabled Coinstar kiosks expanded to over 5,000 locations, and it has continued to grow since. Coinme also recently partnered with money transferring company MoneyGram in order to allow bitcoin transactions on the MoneyGram platform.
By bringing bitcoin to these well-known financial service companies, Coinme is bringing the cryptocurrency to a demographic of people who might not have had access to it earlier.