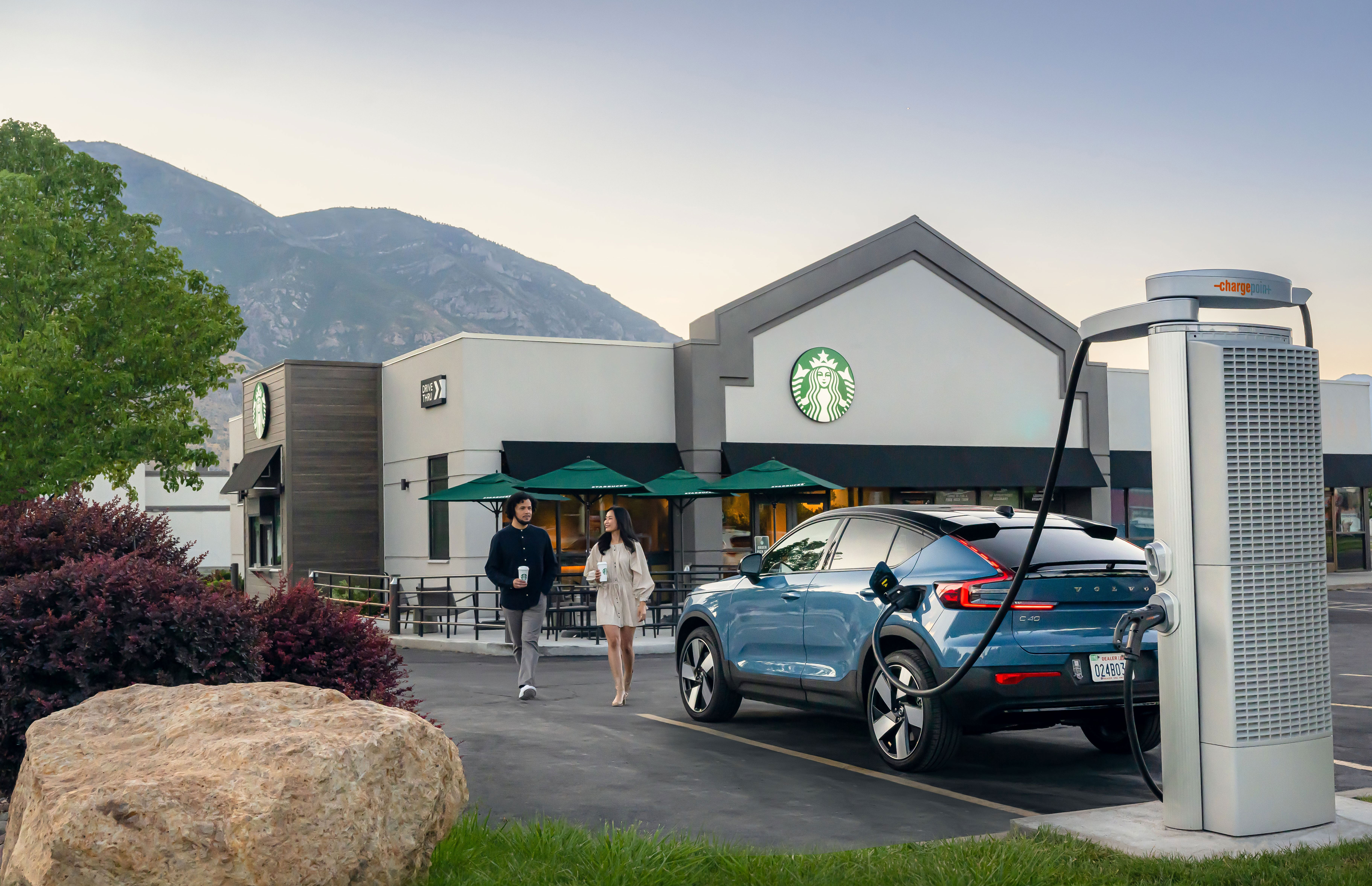 Electric vehicles (EVs) now make up 5 percent of all new vehicle sales in the U.S. While that number might not seem significant, it puts the country past the threshold of mass adoption of EVs. Government subsidies have played a role in getting shopping trends to this point, however, as more EVs hit the road, the addition of charging stations will be essential to keeping them powered.  
In an effort to aid the EV movement, Starbucks, Volvo and ChargePoint are partnering to install fast-chargers at up to 15 Starbucks locations along a 1,350-mile route from Seattle to Denver. The route will cut through the Rocky Mountains and end at the Starbucks headquarters in Seattle.
"With Volvo and Starbucks, we're creating a premium EV driving experience between the Rocky Mountains and the Pacific Northwest," Pasquale Romano, CEO of ChargePoint, said in a statement. "Through our partnership, EV drivers will have the opportunity to quickly fuel their vehicles at Starbucks locations along one of America's most scenic byways."
According to Starbucks, charging stations along the route will be spread out every 100 miles and be powered by ChargePoint. By the end of the year, the coffee shop hopes to have 60 stations up and running at the selected locations. 
The chargers will be free to use for Volvo vehicle owners. Vehicles such as Teslas, Rivians or other EVs will be able to use the chargers for a fee and might need an adaptor to connect to the charger. 
While the route of chargers installed by Starbucks and Volvo is ideal for road trips between Seattle and Denver, the fast chargers also aim to help alleviate a shortage across the country. According to the Wall Street Journal, there are only 5,000 fast-charging locations in the U.S. And despite federal money given to states for EV use, many states and companies are hesitant to install chargers due to the perceived low demand for them. However, as more car manufacturers continue to develop electric vehicles, fast chargers will be essential.  
"Access to EV charging should be as easy as getting a great cup of coffee — and now, it can be," Michael Kobori, chief sustainability officer at Starbucks, said in a statement.