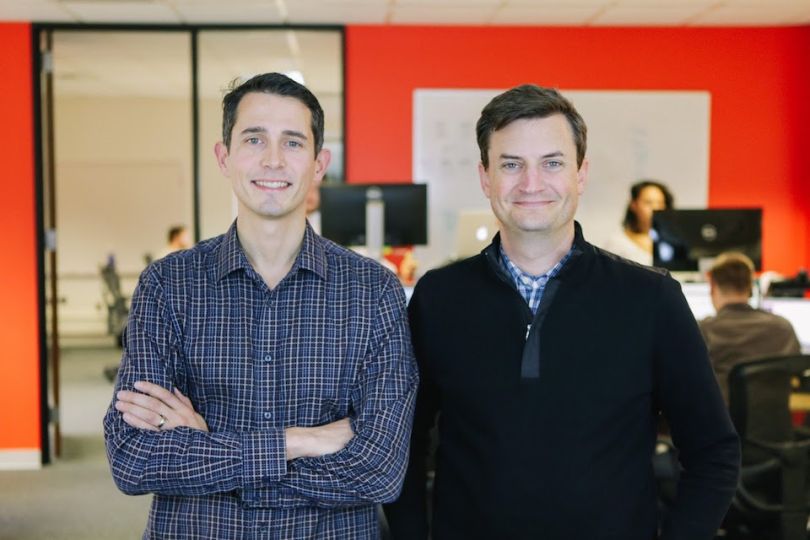 A little over a week ago, freight routing software company Convoy announced a $185 million Series C, 2018's biggest investment raised by a private Puget Sound tech company thus far. The round was led by CapitalG, the growth equity fund of Google's parent company Alphabet. A star-studded list of investors also participated, featuring everyone from the private funds of Bill Gates and Jeff Bezos to U2's Bono and The Edge.
Convoy connects shippers with a network of over 10,000 trucking companies, allowing carriers to book, request and bid on loads within a mobile app. By facilitating communication between shippers and carriers — the process traditionally involves convoluted phone calls between shippers, brokers, dispatchers and drivers — the company looks to boost efficiency in an industry that sorely needs it. Convoy says 40 percent of truck mileage goes to towing heavy loads, while some anecdotes put the figure closer to 50 percent.
With a ton of cash and a huge vote of confidence from the VC community in its back pocket, we asked Convoy CTO Grand Goodale about what's next for Seattle's newest unicorn.
We suspect that this funding takes Convoy beyond a $1 billion valuation. Can you confirm this? What does such a huge valuation mean for the company?
This funding does put Convoy at a valuation of over $1 billion. We've always been thoughtful about how we've grown our business. We think about how we can scale in a sustainable way — whether it's in the way we build our technology infrastructure or how we build teams to support our growing number of customers. We have massive goals for ourselves month-over-month and quarter-over-quarter, but we don't take shortcuts.
We assume you've fielded some acquisition offers. What made you continue down the private track?
We have received them in the past, but we have a big vision and we're in an ideal position to go after it and see it through. We can do that as Convoy. Raising money is the best way to do this quickly via technology investment and rapid scaling to build our network and pool of data.
I'm particularly excited to invest in the growth of our product, engineering and data science teams."
How will the funding be used? What kind of product features are you building or refining?
We're using cutting-edge technology to solve the age-old, fundamental problems that shippers and carriers face. These problems have shaped the ways our shipper and carrier partners have built their businesses. For example, carriers have long been asking: where do I find more loads? When will I get paid? How do I reduce empty miles? Can I avoid brokers hassling me? These aren't new problems, but we believe that Convoy can reduce or eliminate all of them.
For example, this year we launched a feature called No Hassle detention to make it easy for carriers to get paid when they're forced to wait more than two hours to load or unload their trucks. It's normally very difficult for carriers to claim this money — they have to make multiple phone calls to try to get paid, and it's far from guaranteed they'll be successful. Since our technology knows when they arrive at a dock, we can track the time a driver is stuck waiting and if it lasts more than two hours, they can request detention from us with the tap of a button.
How many people does Convoy currently employ? Will the team grow over the next year?
We currently have 300 employees in Seattle. We plan to grow aggressively in 2019 across all departments. I'm particularly excited to invest in the growth of our product, engineering and data science teams.
How is Convoy preparing for the coming of autonomous vehicles? How do you think it will change the way Convoy does business?
Autonomous trucks have attracted a lot of attention in the last few years. There are several companies with very sophisticated technology that are in various stages of bringing it to market. However, the process of rolling that technology out across all 50 states — across all kinds of roads, in all kinds of weather — is going to take time.
Even as autonomous driving begins to extend the hours of service for trucks, there will still be a lot of operations in trucking that require a person. Near term, those autonomous trucks will still have a person in the cab fulfilling roles other than driving, like connecting the trailer or weighing in at a weigh station. When fully autonomous trucks are here, we'll be open to partnering with them. We can certainly help them go to market with our marketplace.
We believe the really big opportunity is increasing efficiency in the networks and in the brokerage process. Autonomy will play a part in that in the near future, but Convoy's technology is having an impact today.