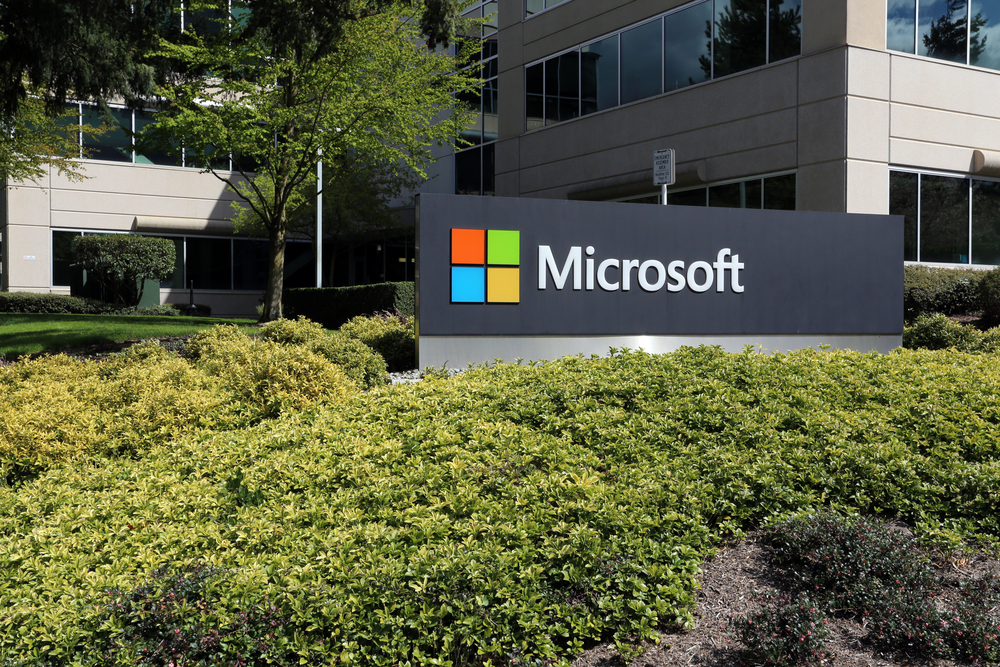 Since its humble beginnings in 1975, Microsoft has become a force in global technology, developing products that are now household names: Windows, Surface tablets, Office, XBOX — this list goes on. 
With a laundry list of services and products used around the world, Microsoft requires a home office to match the scale of its brand. All of the big tech companies are known for large, open offices with sprawling campuses full of perks, and Microsoft is no exception. Take a look and find out what life is like at Microsoft headquarters.
Microsoft's Redmond Campus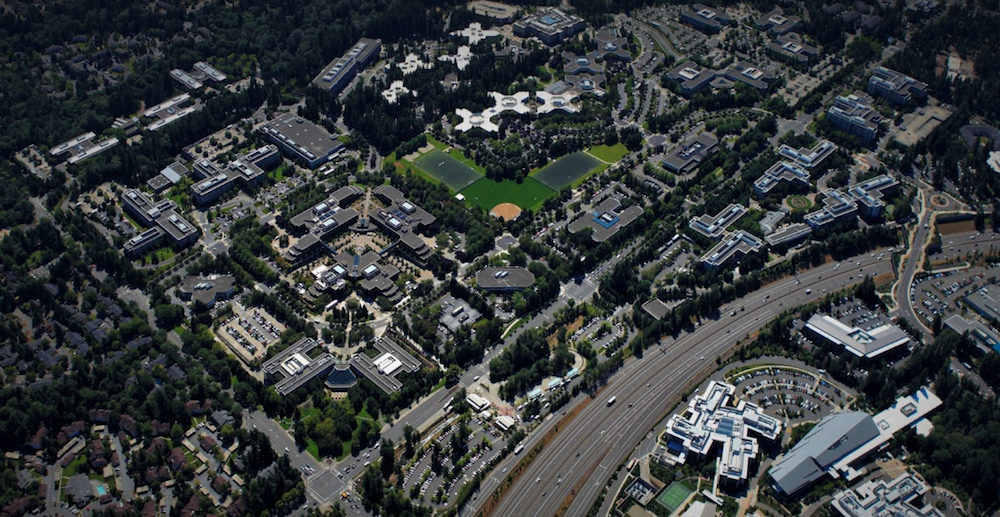 Where is Microsoft headquarters?
Though Microsoft has many offices — more than 600 worldwide — its main headquarters is about thirty minutes outside Seattle in Redmond, Wash. Originally located in Albuquerque, N.M., the company relocated to Bellevue in 1979 and then to its current Redmond location in 1986, less than a month before going public.
The Microsoft Redmond campus is located in the southern part of the city in northwest King County. The company straddles SR 520, bordered by Bellevue-Redmond Road, 148th Ave NE and NE 51st Street. Because of its size, Microsoft provides employees with hybrid bus and sedan shuttle services called "Shuttle Connect" between campus buildings.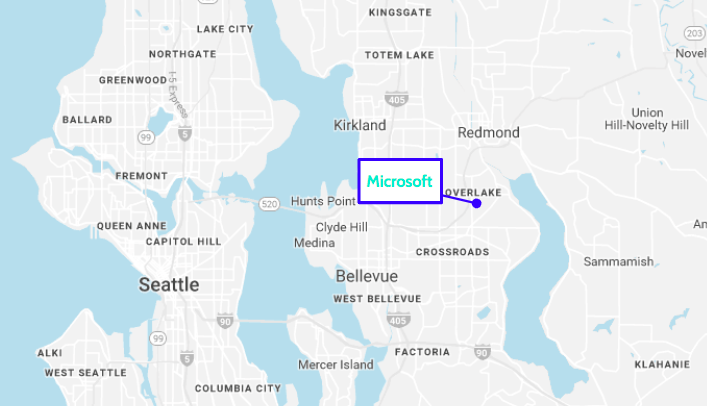 How Many Employees Does Microsoft Have?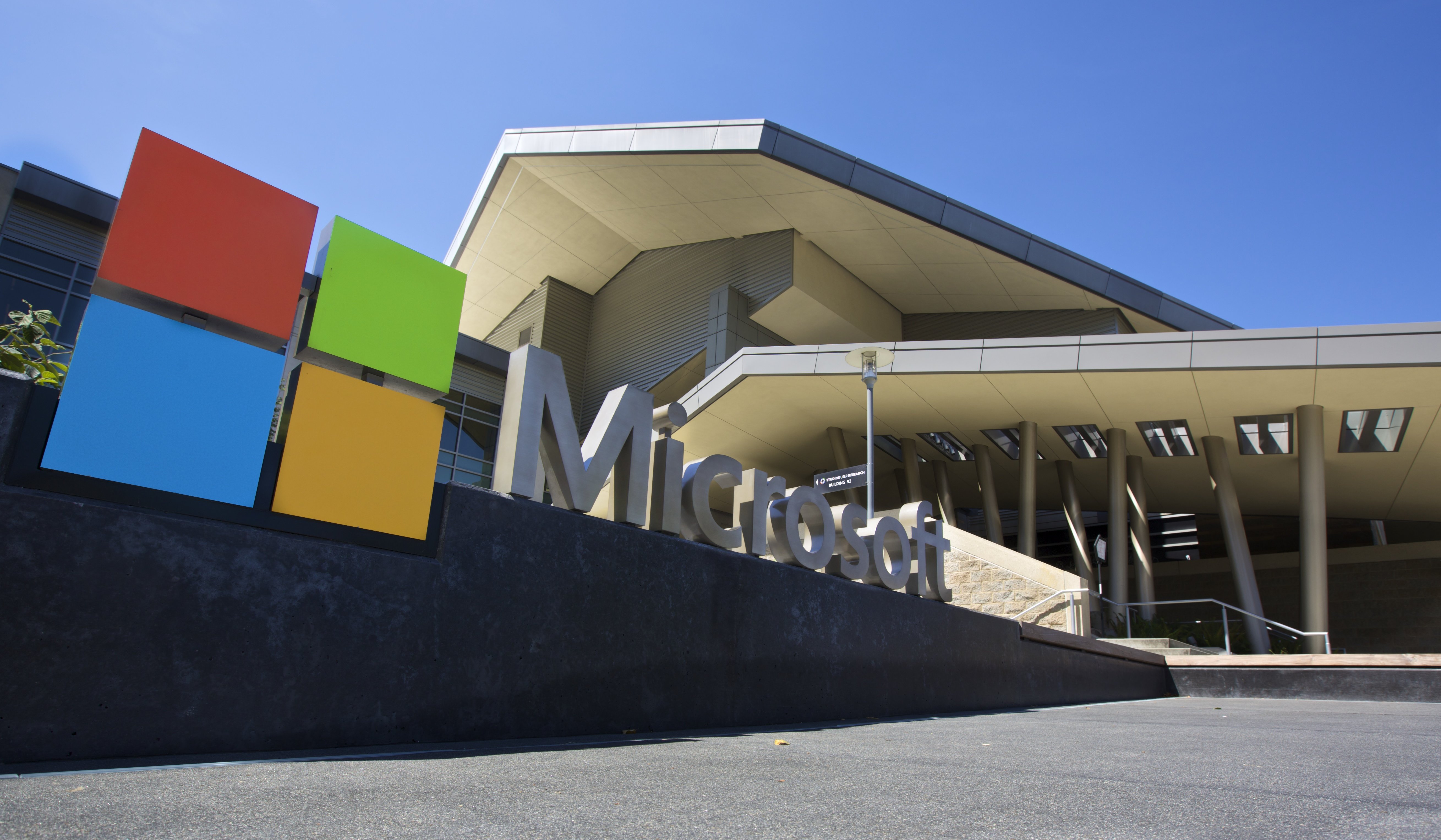 The company houses an employee count of 134,944 around the world, 80,283 of which are in the United States, 50,294 in Washington State and around 47,000 at the Redmond headquarters.
If Microsoft's Redmond headquarters was a city in Washington, it would be the 27th largest in the state by population.
What's on Microsoft's Campus?
The Redmond campus spans 500 acres and is made up of a network of 125 buildings and outdoor spaces consisting of offices, workplaces, event spaces, recreational spots, restaurants, shops and common spaces.
Within this network of collaboration, work and recreational spaces are places specifically designed for employees to enhance their lives at Microsoft. Here are a few examples:
Treehouses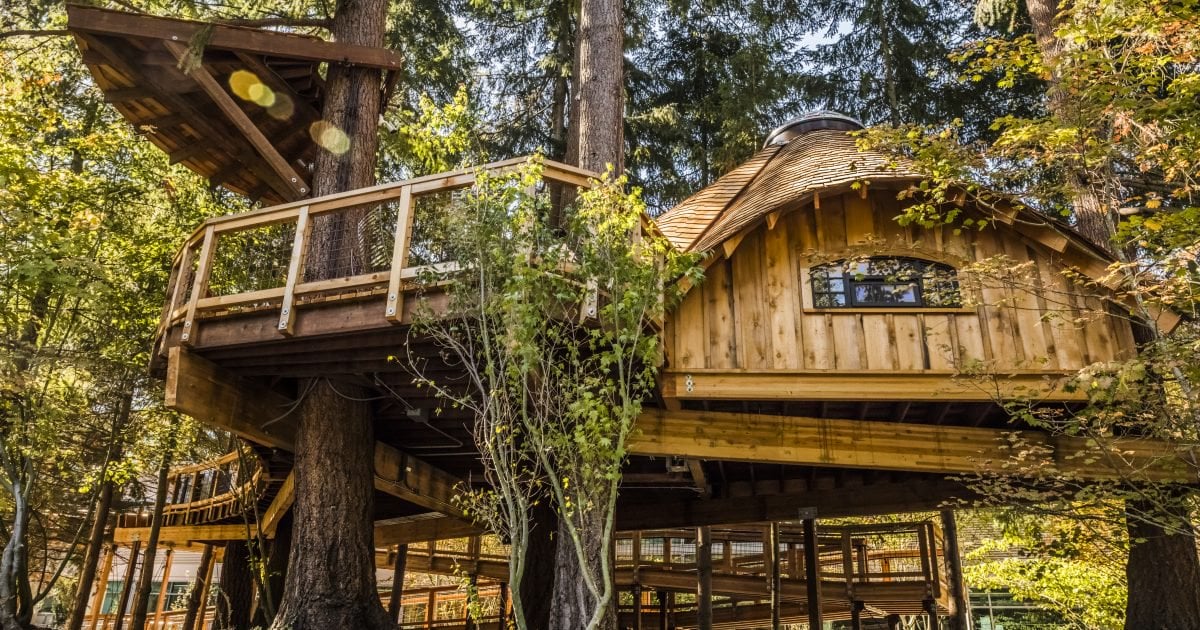 Apart from the 100 plus buildings, the campus has a set of treehouses (yes, there's WiFi but no word on bugs). The treehouses consist of two enclosed meeting spaces as well as one elevated space called the "Crow's Nest."
Research shows nature immersion can enhance creativity, so Microsoft took advantage of the beauty of the Pacific Northwest and created a new kind of meeting spot for its employees.
The Commons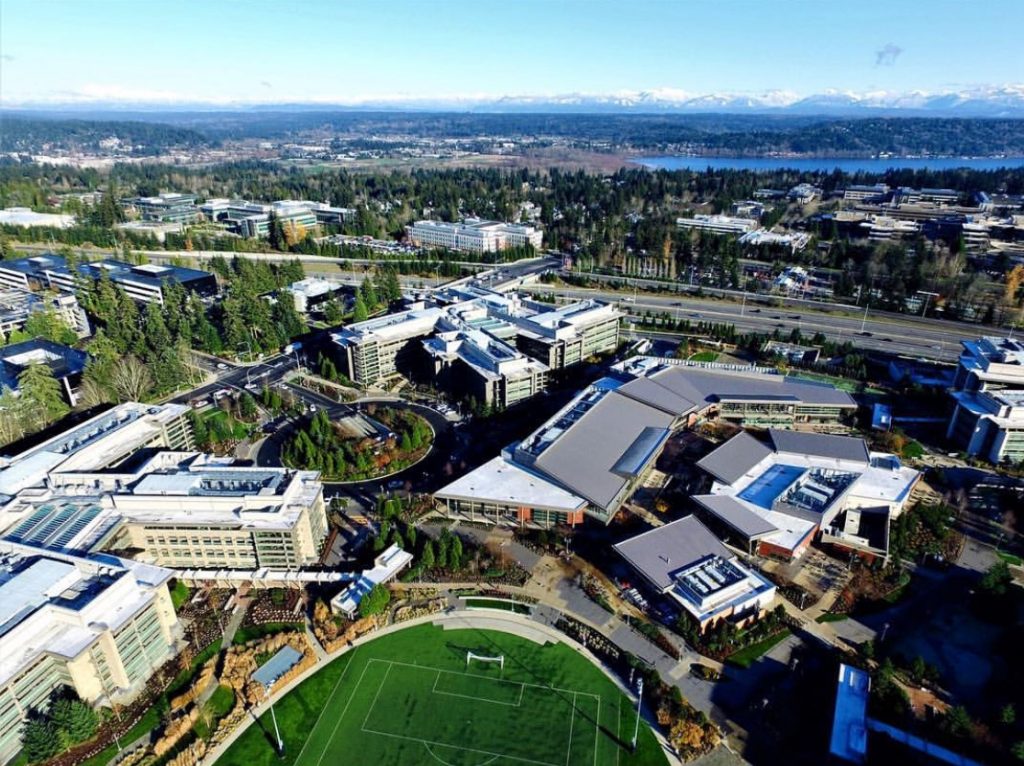 At 150,000 square feet, "The Commons" is a medley of restaurants and shops providing Microsoft employees with the experience of having their own mall on campus.
The Commons ensures employees have (almost) everything one could need on-campus, including mobile carriers, a credit union, a music shop, hair salon and an auto-body shop, ensuring picking up that last-minute capo or dropping a car before work is easy as pie.
Speaking of pie, the campus boasts an ungodly amount of places to grab grub. The Commons has coffee shops, gastropubs, MOD (made on demand) pizza, vegan and soup bars, and even a Pike Place operation. 
Recreational Spaces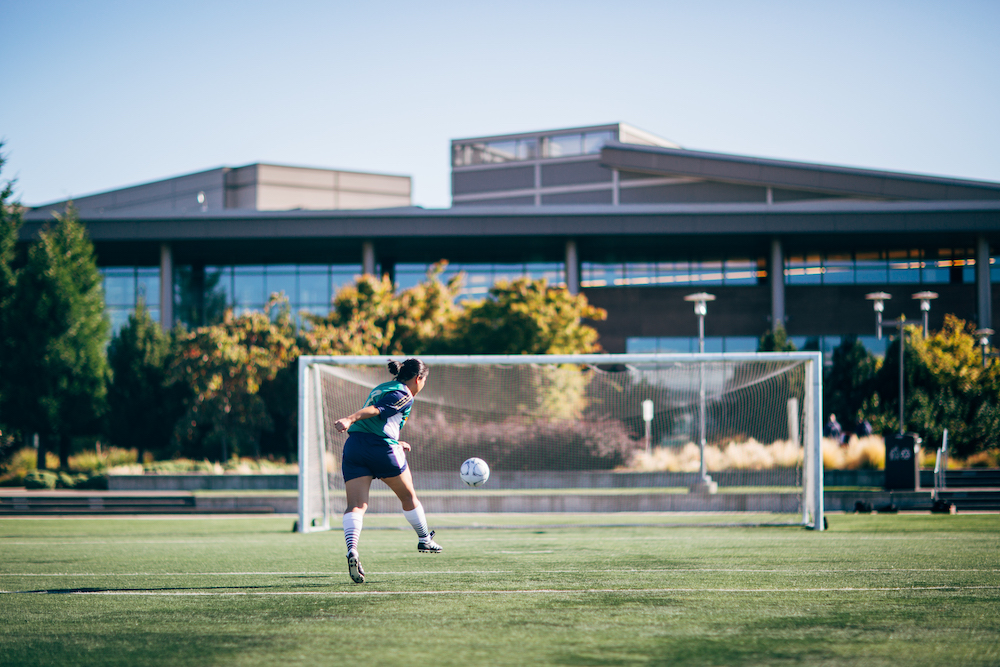 If you're worried about the well-being of Microsoft's well-fed employees, don't be. The campus features numerous spots for recreation, movement and exercise. Within the campus sits a full soccer field as well as bocce ball, basketball, softball and beach volleyball courts.
The campus also offers marked walking and running trails ranging from two to five miles. The central soccer field draws two corporate teams, one for men and one coed. With employees from all over the globe, its fitting the world's most popular sport is a hit at Microsoft.
Work Spaces
Before you say, "duh," keep in mind the Microsoft headquarters is obviously not your average corporate office. The campus boasts a seemingly endless number of spots for collaboration or solo work, letting employees switch up their environment whenever they like.
From the aforementioned tree houses and outdoor spaces to cafes and cozy corners away from it all, there's plenty of places to get things done on the Redmond campus.
Microsoft Going Forward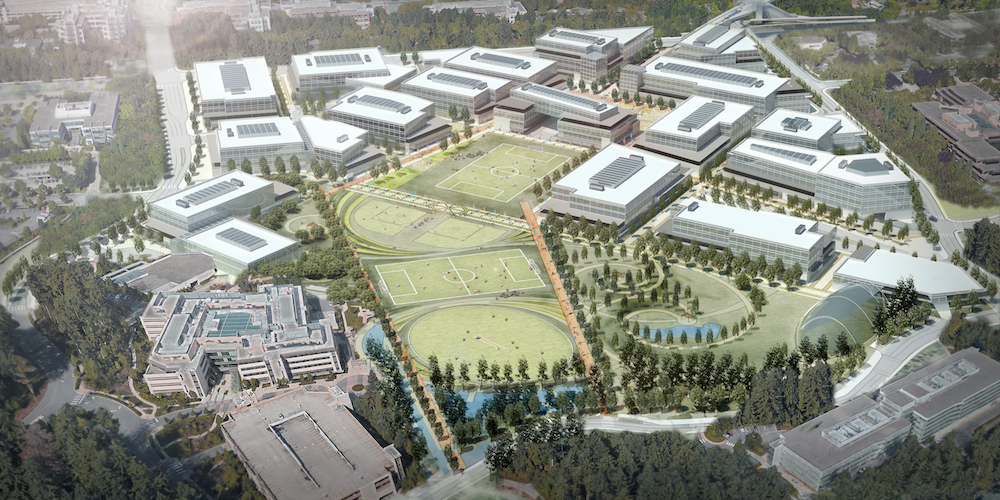 As Microsoft continues to innovate as a technology and software company, it's also decided to innovate its digs. The company announced plans for renovation of the Redmond campus in 2017. The plans call for the removal of some buildings, 18 new buildings, as well as 2.5 million new square feet, taking the building count from an already whopping 125 to 131.
In addition to new workspaces, the plans include a cricket pitch, a cross-campus bridge, car-free pedestrian zones, energy-optimized buildings and a 2-acre central plaza with a capacity of 12,000 people.