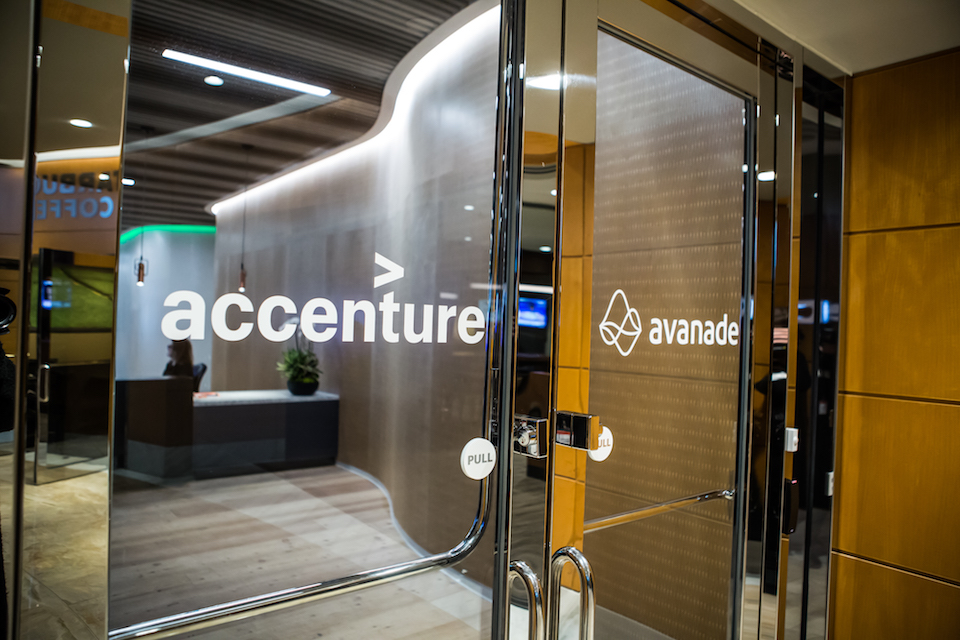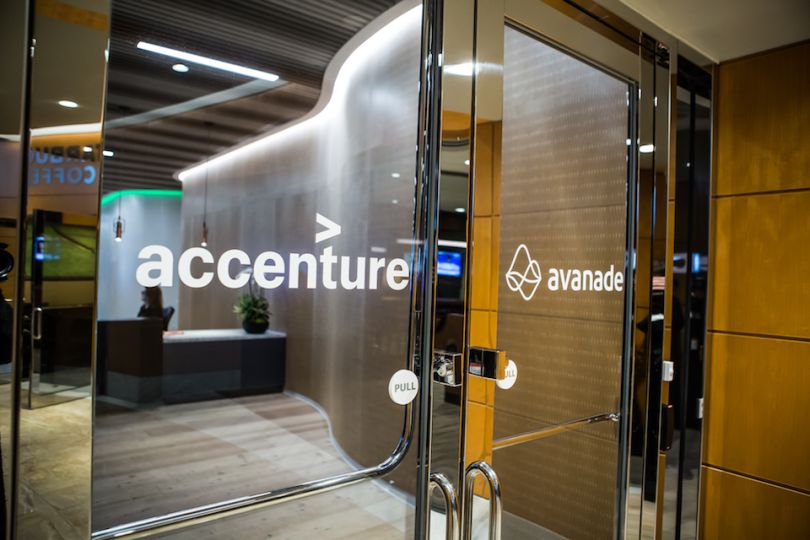 Silicon Valley tech giant Accenture and technological problem solver Avanade have officially opened a joint innovation hub at the corner of 2nd Avenue and Seneca Street downtown. As part of the official ribbon-cutting, attended by King County Executive Dow Constantine and a representative from Mayor Jenny Durkan's office this week, Accenture announced plans to hire up to 300 new tech workers in the Seattle area. That's in addition to the 1,400 people it currently employs here.
"We're creating a compelling place to work," Avanade's North America President Dave Seybold told Built In Seattle. "Of course you have to consider competitive pay and benefits and that sort of thing, but you also have to have elements that make you excited to come to work every day. That comes from a combination of the work you get to do, the people you get to work with, and the facilities and technologies you get to leverage each day."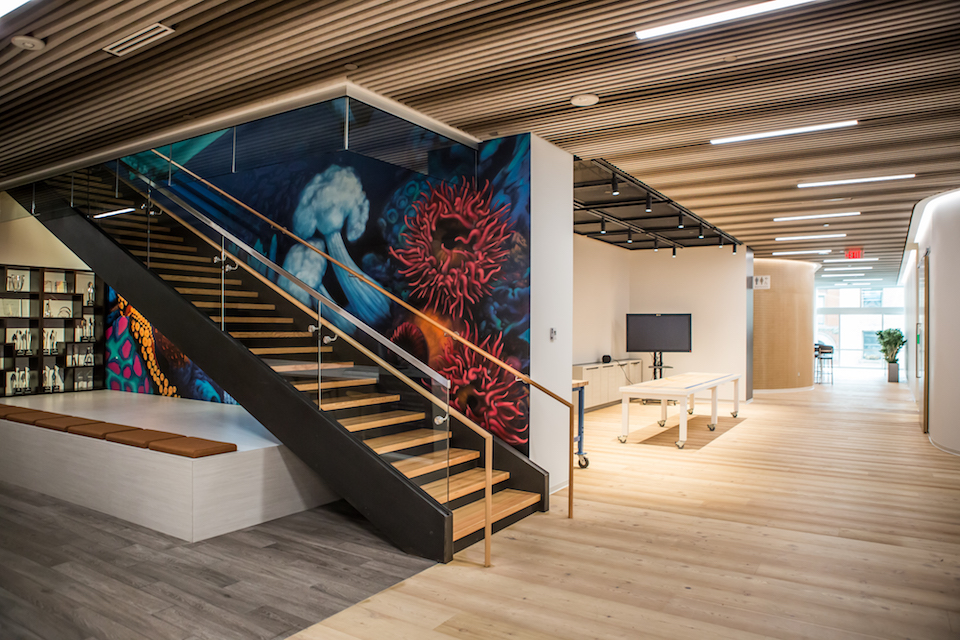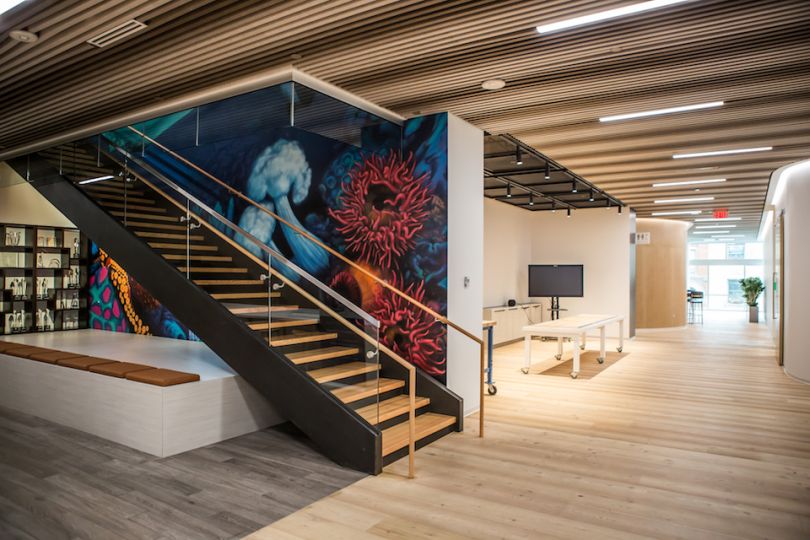 To that end, the new shared space sprawls across three brightly-lit floors, chock full of collaborative workspaces and demo areas featuring some of Avanade's most arresting projects to date.
In a series of demonstrations, Built In Seattle watched an end-around play from the perspective of an inch-high wide receiver darting across a table in augmented reality; loomed above an AR projection of an open pit mine like some bespectacled SimCity god; and had a computer tell us our age, mood and gender just by looking at our face — with somewhat unnerving accuracy.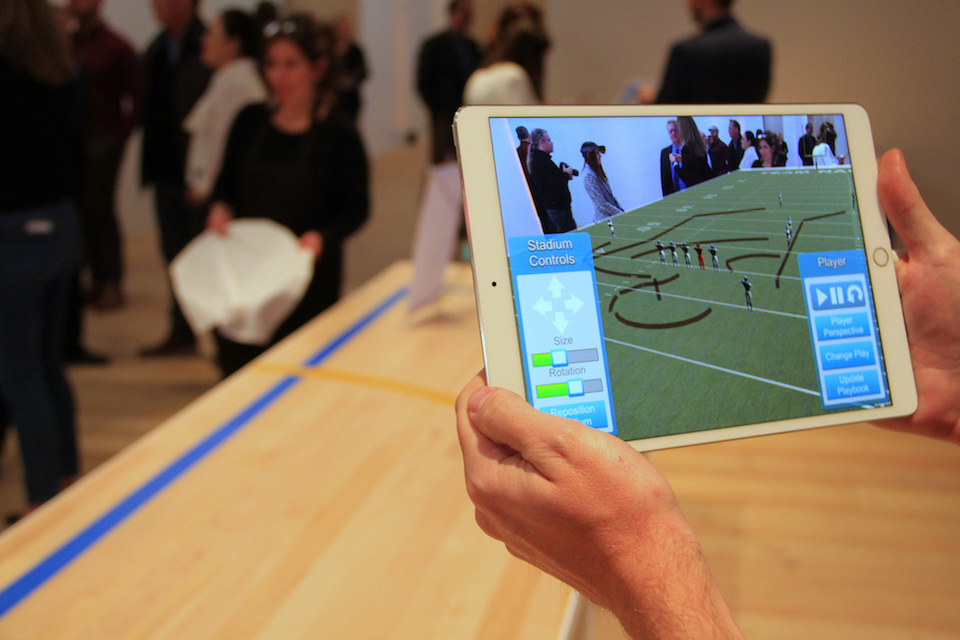 Avanade solves business problems using Microsoft technology and employs around 750 people in the Seattle area, many of whom work remotely. Accenture owns 80 percent of Avanade, while Microsoft owns the other 20 percent. The idea behind the new workspace is that bringing clients out of their usual environment will help them look at projects differently, or borrow ideas from other industries.
Accenture's managing director for Seattle, Gil Wootton, said the new space will be a base for Avanade and Accenture's Seattle teams, plus a design consultancy called Fjord.
"We're seeing more and more of our clients wanting to take a step out of their day-to-day," Wootton said. "We use these experience locations and our demos to excite, and create opportunities for imagination."
"It's almost like perfume," Avanade Chief Technology Innovation Officer Matt Joe said. "When you spray perfume, the molecules bounce — you need the collisions for the scent to expand. The space here facilitates that serendipitous bouncing off and running into people because you're always going to find work on the walls, you're always going to to see interviews going on."
"You get inspired by that, and the energy just grows and grows and grows," he added.
Avanade's global lead for the company's emerging tech group, Aaron Reich, said his team is currently focused on artificial intelligence, blockchain and IoT.
"What's important is not necessarily the individual technologies, but how they are related to each other in some way and build upon each other," he said. "You've got this AI wave that's just beginning, but there are also interesting things coming from biology. When the AI wave hits the biology wave, that's going to have significant effects on society. That's something that we're looking at and trying to understand, so we can guide our clients through it."