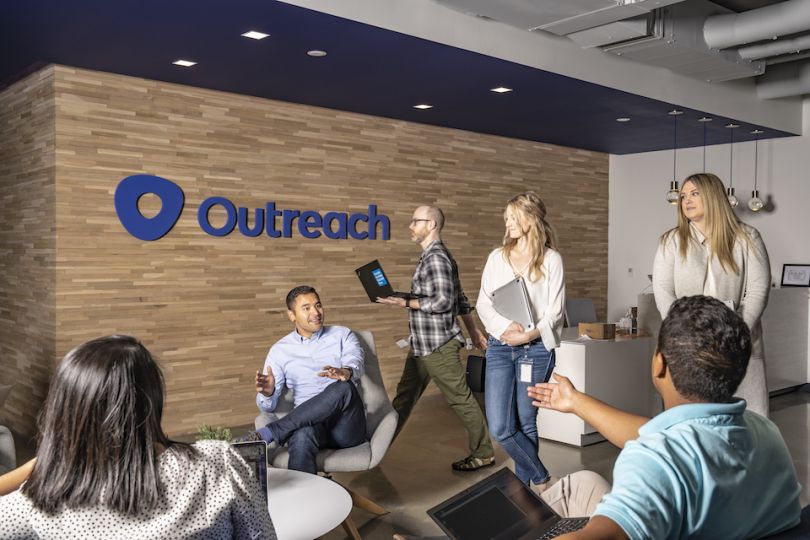 Hot on the heels of a $114 million funding round in which it was valued at $1.1 billion, Seattle startup Outreach is settling into a new office on the Queen Anne waterfront.
During a recent ceremony to celebrate the move, CEO Manny Medina hung out on a couch and watched ferries criss-cross Puget Sound with Fitzgerald, his pet Australian Labradoodle.
"This is our building, our signage is out front, this is our furniture, our carpet," he said. "Everything here is ours, and so it feels more like home after walking in the desert for so long."
The company previously resided in a Fremont building, which it leased from local software giant Tableau. Before its tenure on Tableau's turf, Outreach was headquartered inside the Brooks building at the base of Stone Way. Now, the sales engagement company occupies the upper three floors of a five-story building overlooking Elliot Bay.
"Grit is a part of our core values, and we never want to feel settled," Medina went on. 
The new headquarters sprawl across some 85,000 square feet, with room for around 530 employees. The company currently employs a little over 260 Seattleites, plus a further 60 or so spread across the United States.
Outreach's co-founders — Gordon Hempton, Andrew Kinzer, Wes Hather and Medina — met at Techstars Seattle in 2011. The team built a sales engagement software tool to help them get more meetings with prospects, but found that businesses were more interested in the tool than their recruiting solution. As a result, the team pivoted in 2014 and Outreach was born.
Outreach automates a wide variety of sales-related tasks like tracking down phone numbers and rescheduling meetings when an "out of office" notification pops up, along with analytics to show which techniques are working. Around 50,000 sales reps use Outreach at more than 3,300 companies worldwide, including Adobe, Microsoft, Cloudera, Zillow and DocuSign.
Medina said his team still has a lot of technical challenges ahead of it, like fine-tuning its data collection from voice mails, emails, chat boxes and so on, then piping it all into a standardized system that's readable for machines.
"That in itself is a challenge," Medina said, "and so is doing it at scale."
Outreach's other big technical project involves training natural language processing technology to understand the underlying sentiment of communications like email, as well as its literal meaning. The company is honing its technology's ability to tell whether an email has a positive or negative sentiment (or somewhere in between), and whether it's an appointment, a deferral or an objection.
If you come with a lot of passion, that goes a long way. We're a young company full of young people."
"Our solution isn't as useful to sales teams if it doesn't give you the flavor of what's happening in email chains across a sales team of 200 people — and thousands of individual pieces of communication," Medina said.
In addition to the company's own novel technology, Outreach leans on natural language processing research by the likes of Google, Microsoft and Amazon.
"They're creating models that allow us to easily transfer learnings from one model to another," Medina said. "That's relatively new — it didn't exist even 18 months ago, and it's all coming online now."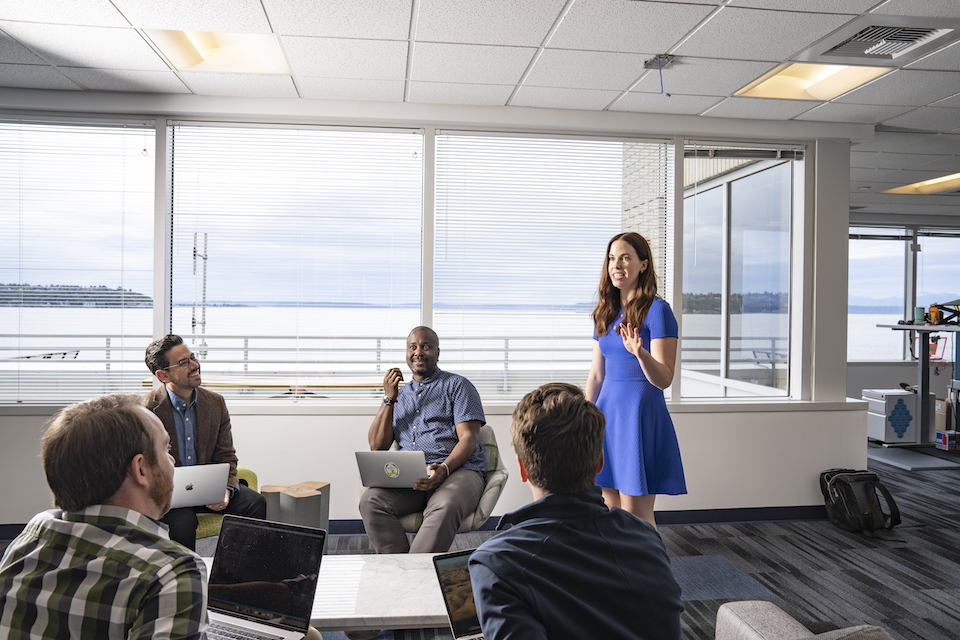 The company is hiring heavily to build out its machine learning, engineering, sales and customer success teams. In the search for tech talent, Medina said he values passion at least as much as experience.
"Your list of career experiences may not be very exciting or impressive, but if you come with a lot of passion, that goes a long way," he said. "We're a young company full of young people."
So what's next for Outreach? Medina appears set on going public at some point in the future, and has no plans to sell the business any time soon.
"It's a long road, but it's fun," he said. "I'm not a serial entrepreneur. This is my one good idea, so I'm going to stay with it until it runs out."