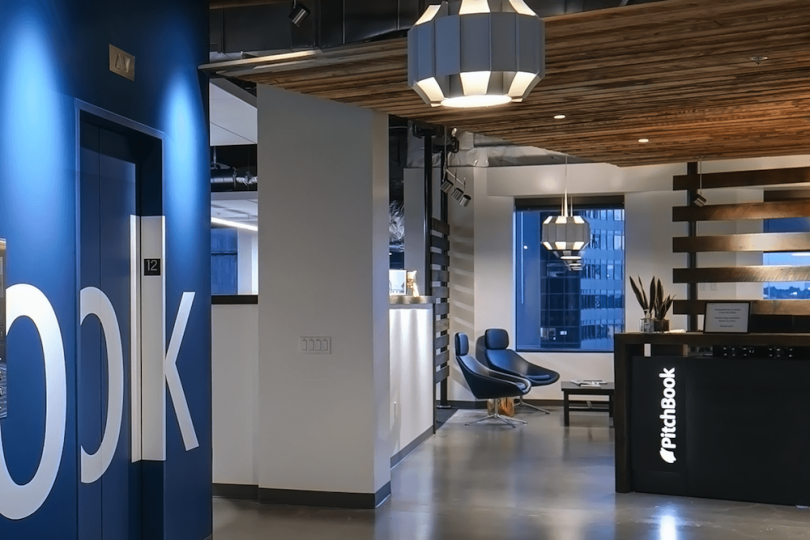 PitchBook started in a windowless office in 2007, with seven employees packed into a 200-square-foot space. Nearly 13 years later, PitchBook has grown to be an international company with a four-digit employee count.
But the company is not done expanding yet. Today, PitchBook has provided a snapshot of just how much it has grown and shared further plans for expansion.
PitchBook provides data about private and public equity markets. Its headquarters are located in Seattle, but the company has offices in New York, San Francisco and London as well. The company announced today that it has added an additional 50,000 square feet of space across all of these locations. This includes expanding its Seattle HQ from 51,000 square feet to 68,000 square feet. The office spans four floors in downtown Seattle.
As the corporate headquarters, this office is home to a variety of teams, including sales, customer success, marketing, business intelligence, product development, research, editorial and more.
PitchBook says it's expanding all of its offices to accommodate a rapidly growing employee headcount. The company has plans to hire more than 300 new employees globally in 2020 — at least 200 of these new hires will be based in Seattle or New York. After that, PitchBook plans to hire 200 more employees in 2021.
PitchBook has 1,200 employees worldwide, which is more than double what the company had in 2016. It has managed to maintain a 95 percent compound annual growth rate for the last 10 years, but 2016 is an especially important year for PitchBook because it was acquired that year by Morningstar for $225 million.
Since then, Morningstar has let PitchBook operate as an independent subsidiary. That said, the acquisition gave PitchBook the fuel it needed to grow rapidly.
"As our product user base nears 33,000 users and we look to accelerate our innovative roadmap, our operations need to grow and scale to support," John Gabbert, founder and CEO of PitchBook, said in a statement. "This rapid growth, especially in EMEA, is key as we work to add even more differentiated datasets and workflow tools that meet the needs of our global clients."