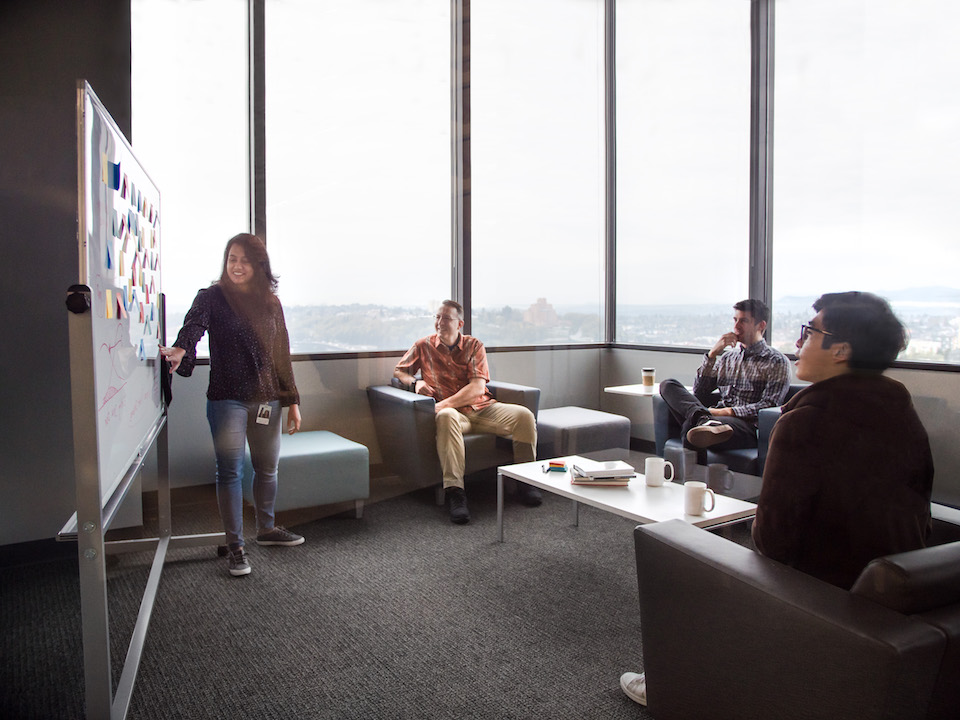 Let's not beat around the bush here: we pay far too much for healthcare in the United States. Who among us hasn't stayed at home — or even gone into work when they really should have been with their GP — simply because they couldn't stomach the cost?
According to a 2017 study by the Kaiser Family Foundation, 17 percent of women and 28 percent of men in the U.S. say they don't have a personal doctor. In Washington state, the percentage of doctorless men jumps to 31 percent.
But what if, for a small yearly fee, you could simply text with a physician, even if you couldn't make it into a practice or afford insurance? That audacious vision of the future is closer than you might think, as 98point6 today announced a $50 million Series C for a primary care platform that connects a team of laptop-side physicians and an AI assistant with the masses — all through our phones.
The Seattle company will use the funding to roll out new features and expand services across the country. The platform is currently available in 40 states, plus Washington, D.C., with plans in motion to cover the rest of the country by year's end.
To provide a service ... with a potentially permanent impact on healthcare — that absolutely drew me in."
Goldman Sachs led the round, along with several unnamed existing investors. The company — which Built In Seattle highlighted as one of our 50 Startups to Watch in 2018 — has now raised $86.3 million since it was founded in 2015.
98point6 Chief Medical Officer Brad Younggren said the new features would include 24/7 access and the ability to handle pediatrics cases.
"Pediatrics requires a bit of work because of the regulatory environment, in understanding how to deliver safe care to kids," he said in an interview with Built In Seattle. "So we've spent the last year figuring out, from a clinical perspective, how to deliver high quality care for families — and what product features will be required to support that environment.
"We plan to use a lot of the money to grow our product and physician teams," Younggren added.
Users of the 98point6 app answer a series of questions from an artificial intelligence-enabled virtual assistant, which then connects them with one of the company's board-certified physicians. The doctors can remotely diagnose, treat and write up prescriptions for patients — all through the app.
"We have around 16 doctors right now," Younggren said. "They're all employees of 98point6, and that's a specific strategy around ensuring that we can deliver very high quality care. We believe that because the platform is such a unique experience, it's best for us and for the physicians to be employees of our company."
The company says it has remotely treated patients texting in from airports, coffee shops, at work and in transit, with a 97 percent resolution rate.
Younggren said 55 percent of the platform's users are aged 25 to 55, while 15 percent are aged 55 and older. 58 percent of users are female, and 25 percent have used the platform at least twice since it launched in May. The app is available to anyone over the age of 18, regardless of insurance status, and costs $120 annually — with an introductory rate of $20 for the first year.
Younggren has worked for a variety of healthcare-related organizations, including hospitals, biotech and medical device companies, nonprofits and the U.S. Army, where he worked as a surgeon during the occupation of Iraq. He said he'd been drawn to the 98point6 by the "audacity of the mission."
"It was incredibly compelling," Younggren said. "To provide a service of high quality with extremely low cost, and increasing access to healthcare right now... with a potentially permanent impact on healthcare — that absolutely drew me in."