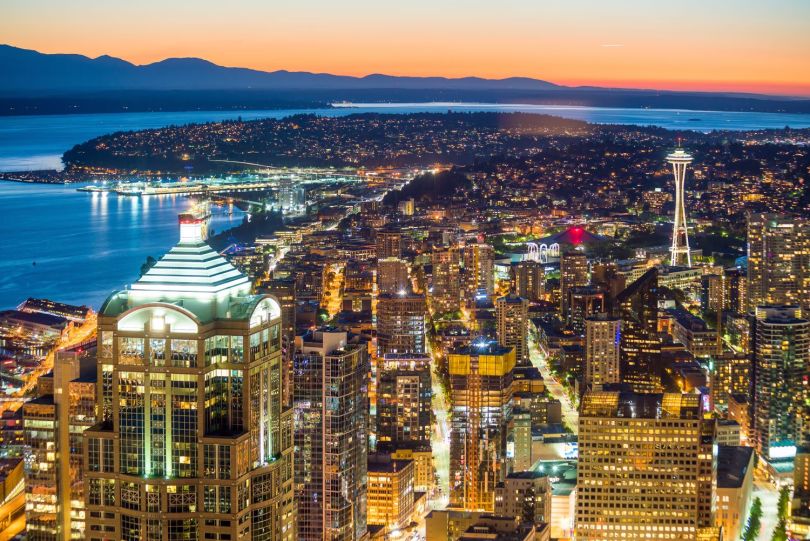 Inc. released its latest ranking for the 5,000 fastest-growing privately owned businesses across the nation on Tuesday. In industries across the board, 100 companies based in Washington State made the list with 11 businesses ranking within the top 500. Of the 81 Seattle-area companies included, several of them operate within the technology sector.
The businesses that made Inc.'s list are ranked by their percentage revenue growth between 2017 and 2020. Companies included span industries ranging from retail and human resources to software and engineering.
This year, the Seattle metro had 32 repeat honorees, including digital rewards company Tango Card, which came in at no. 1,815 nationally. Additionally, 13 of the honorees are newly founded startups. Collectively, the Seattle-area businesses included on the list added 7,530 jobs to the scene and reported a median three-year revenue growth of 208 percent, according to the magazine. Total revenue on the Puget Sound totaled $3.5 billion.
Listed below are the five Seattle-area companies that Inc. ranked the highest this year. Check out how much the city's tech scene has changed since last year.
Rank #369
Knock is on a roll. The proptech startup experienced its "best year ever" in 2020, and has seen its business grow a reported 1,307 percent over the past three years. The company offers a CRM platform that is specifically built to help property managers manage their tenants, much like an enterprise company would use Salesforce to manage their customers and prospects. The company has raised $47 million in outside capital to date and is now looking to invest in developing new products to meet its surging demand.
Rank #360
Amperity offers a customer data platform that helps brands organize and use all the information they have about their customers and use it in a more productive way. The company uses AI and data science to make sense of a brand's customer profiles and more. Following a $100 million Series D funding round closed last month, the new unicorn is investing in R&D and eyeing international growth as it looks to build on its reported 1,319 percent growth over the past three years.
Rank #314
This software company provides business in the cannabis industry with tools for compliance, inventory management, analytics and sales. Growflow Corp's business management and compliance platform currently serves 1,498 cultivators, processors, distributors and retailers, according to the company. Over the past three years, it's undergone 1,467 percent overall growth.
Rank #277
Specializing in designing apparel for babies, children and mothers made from natural materials like cotton or bamboo, Kate Quinn operates an online marketplace platform that also offers bedding and accessories. The Lynwood-based retail company recorded 1,680 percent growth between 2017 and 2020.
Rank #40
With its headquarters located in University Place, Actriv Healthcare provides a staffing platform that connects healthcare professionals with medical facilities that need on-demand coverage, as described by Inc. Its platform has seen recent growth of 7,717 percent. It aims to provide clients and candidates with services and solutions that facilitate efficient patient care.