39 Software Companies Around Seattle You Should Know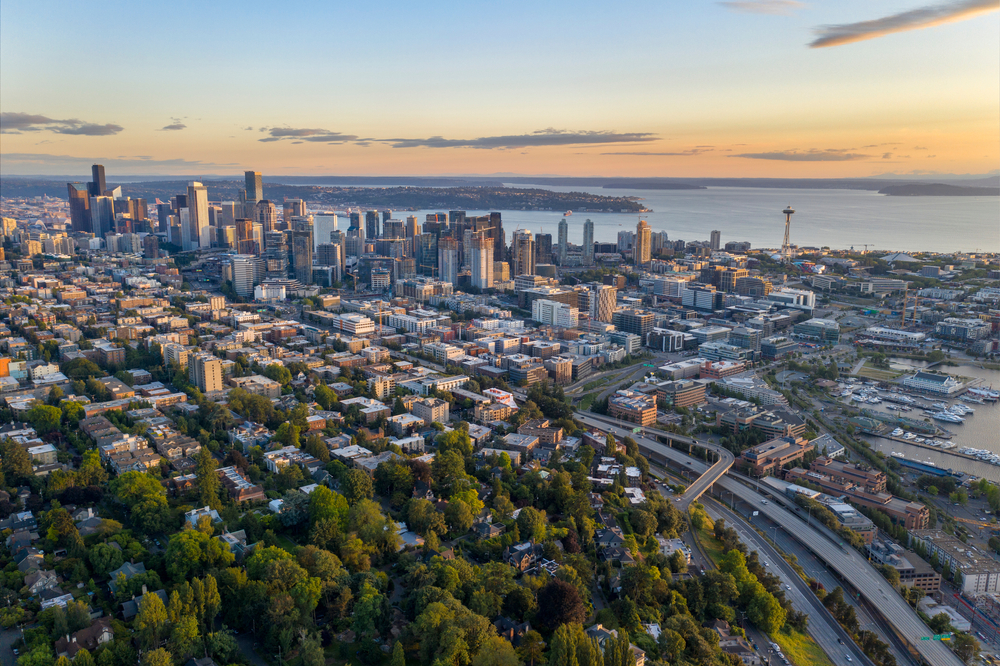 Since the 1970s, Silicon Valley has been regarded as the center of the tech universe, but in recent decades, Seattle has emerged as a contender in the software and tech space. The Emerald City is known for heavy-hitters like Microsoft, Amazon and Zillow as well as hundreds of software companies within the greater metro area.
Top Software Companies in Seattle
NYDIG
Pitchbook
Outreach
Auth0
EagleView
Limeade
ServiceNow
Karat
Smartsheet
UiPath
If you're looking to familiarize yourself with the key players in Seattle's tech scene, these companies are a great place to start.
Seattle Software Companies to Know
Founded: 2002
Qualtrics focuses on experience management, providing businesses with software that helps them better serve both their customers and employees. Its solutions can be used to improve the customer contact center experience, conduct market research, identify ways to optimize the customer journey, enhance the employee experience, deliver quality digital experiences and devise a competitive product strategy. The company's global presence includes an office in Seattle.
Founded: 2010
Headquartered in downtown Seattle, ThousandEyes provides cloud and internet intelligence for digital experiences. Its services give clients insights into how their digital ecosystems are functioning and where they need to troubleshoot or optimize. Its SaaS annual subscription model bases pricing on a client's actual visibility needs — there's no fixed pricing at all.
Founded: 2005
Bellevue-based Smartsheet is a SaaS platform for managing and automating collaboration. The company offers customized software solutions to help a myriad of industries automate processes like managing customer experiences, budget planning and marketing campaigns. Smartsheet has helped global brands like Cisco, Netflix and Hilton hotels manage their collaboration automation.
Founded: 2012
Highspot combines AI-powered search, analytics and guided selling to help sales reps and marketing teams achieve their conversion goals. It offers a wide-range of software for sales and marketing teams to help train and better engage customers and employees. Global brands like Starbucks, Twitter, Zillow and Red Hat all use Highspot for training their sales and marketing teams.
Founded: 2007
Bringing together doctors, nurses, and other care specialists, Accolade is delivering a holistic healthcare experience. Patients can access high-quality doctors, mental health services, benefits information, and more through a single platform. Receiving proper treatment becomes a convenient experience, thanks to Accolade's streamlined solutions. The company wields cloud-based technology to create an intuitive patient platform. From virtual primary visits to expert medical opinions, people can find the advice they need with a few clicks.
Founded: 2017
NYDIG offers financial services, asset management capabilities, brokerage services and mining services to institutions, companies and high-net-worth investors dedicated exclusively to growing the future of Bitcoin. The company also offers end-to-end integrations that help financial and tech partners provide Bitcoin services to customers, including derivatives, financing, custody, execution and advisory capabilities.
Founded: 2007
The PitchBook Data platform makes it easier to research and understand where a company lands within the private investment lifecycle, with insights on deals, funds, investors and service providers all featured within the platform. PitchBook's powerful data can be accessed via a desktop site, mobile app, Excel plugin, Chrome extension, CRM integration or through direct data, presenting powerful investment data in the ways most accessible to its users.
Founded: 2013
Outreach is a sales engagement platform that uses machine learning to manage all customer interactions and guide sales teams in taking personalized actions. The Outreach platform assists sales teams in optimizing workflow, orchestrating email and social outreach, building pipelines and building analytics reports. The teams at major tech companies like Docusign, Okta, Adobe, and Microsoft use Outreach's platform to enhance sales engagement.
Founded: 2004
ServiceNow provides cloud-based SaaS solutions that manage and automate enterprise operations. Publicly traded ServiceNow offers a plethora of software solutions for IT, security, HR, customer service and engineering teams. The company's platform helps businesses do everything from automating workflow processes to integrating AI-powered chatbots throughout the enterprise.
Founded: 1994
Ookla provides software designed for internet testing, data and analysis. The company's platform provides dashboards that display metrics and rankings for where certain websites or applications stand on internet quality. The company's Speedtest provides insights into mobile and broadband connections, including download and upload times. The company also has tools dedicated to testing the internet quality of apps for phones and televisions.
Founded: 2006
Limeade is an employee engagement platform for strengthening culture in the office. Limeade uses social activities, personal challenges and interactive learning to improve well-being and boost engagement. Unlike many software companies out there, Limeade makes software with a focus on improving work life for employees. Many leading brands are using the platform including Kohl's, The North Face, Chili's and Jamba Juice.
Founded: 2010
Tango Card Reward Delivery Platform delivers e-gift, prepaid and non-profit donation cards. Tango Card has built a Rewards-as-a-Service (RaaS) platform for companies to improve their digital rewards programs. The company currently has over 1,000 companies using the platform to build a digital rewards database and draw in more customers with new perks and benefits.
Founded: 2013
Skilljar is a customer training platform for companies looking to accelerate product adoption and grow customer bases. Skilljar's software offers a multitude of tools for customer training, including flexible content, full-customizable training portals and an analytics database to reach more customers. Cisco, Verizon and Spotify are just a few of the major global brands using Skilljar to update customers on their newest products.
Founded: 2013
Karat performs first-round technical interviews for companies seeking software engineering talent. Karat recruits and trains software engineers to conduct predictive interviews for clients. By performing first-round technical interviews, Karat is able to save companies, like Pinterest, Intuit and the Pokémon Company, hundreds of hours a year, while filtering for engineers that fit each company's specific need.
Founded: 2006
Nintex makes workflow automation software for a variety of industries, including government, energy, finance and healthcare. The Nintex platform automates workflow processes, generates customizable mobile apps and even contains a data dashboard for gathering insight into business processes. The Insurance Fraud Bureau has used the platform to reduce its handling time, while the Government of Abu Dhabi has used Nintex in its documentation processing.
Founded: 2007
Bellevue-based Apptio is a provider of SaaS Technology Business Management solutions in business and IT. Apptio's finance-based solutions include specialized products for CIOs, CFOs and for the entire IT enterprise system. The company has provided IT and finance management software tools to some of the largest companies in the world, including AT&T, Starbucks and FedEx.   
Founded: 2013
With the goal of replacing bullets, Axon has developed nonlethal tools to resolve conflicts without loss of life. The company also produces body cameras and other equipment to improve training for law enforcement groups. Axon provides a suite of tools to enhance public safety. From personal safety tools and cameras to drones and tasers, Axon works to provide confidence in high-pressure situations. Meanwhile, Axon-sponsored training courses give law enforcement workers the knowledge needed to protect themselves and others. 
Founded: 2011
Pushpay provides SaaS tools that facilitate non-point-of-sale payments. Pusphay's mobile giving platform has helped more than 14,000 churches and community organizations collect and process donations.
Founded: 2010
VCita's software is a comprehensive application for small-business management. The company's software helps small-business owners manage everything from scheduling to marketing and billing. The product integrates with platforms like Google, Facebook, PayPal and Quickbooks, which allows for all management data to be viewed under vCita's platform.   
Founded: 2005
Subsplash helps churches better communicate with their communities. Subsplash focuses on revolutionizing an often overlooked community utilizing tech — churches. A leader in producing unique technology that extends gatherings beyond what happens between walls, Subsplash offers an app for connecting neighboring and global ministries, a customizable digital media platform and even on-demand content for television.
Founded: 2008
EagleView Technologies uses proprietary software for aerial imagery and mapping in the insurance, government, roofing and energy sectors. The company's aerial imagery, 3D models and analytical software tools help governments and companies assess damage, map out cities and assess risk. EagleView's georeferencing imagery was recently used to assess loss after hurricane Michael.
Founded: 2009
Icertis is a cloud-based contract management platform for businesses and organizations in multiple industries. The flexible and configurable solutions can be used for any contract, in any industry and can even be used across geographies and markets. Icertis simplifies the contract management process and is straightforward enough for any employee or organization member to use.
Founded: 2013
Auth0 provides a universal identity platform for mobile, web, internal applications and IoT devices. Auth0 creates identity platforms that ensure security. Some of the company's tools include single sign on, universal login and even passwordless authentications. Auth0 has created personalized security protocols for Harvard Medical School, Nvidia and Siemens.
Founded: 2007
Zipwhip's texting-for-business software helps companies reach customers by text-enabling existing phone numbers. Zipwhip's software allows for conversational texting for a business' existing landline, VoIP or toll-free-number. The software features reporting analytics dashboards and auto replies, as well as, software integrations so all conversational data can be kept in the same business ecosystem.
Founded: 2006
LiquidPlanner is an online project management platform. The software features predictive schedules, planning, cross-project visibility and collaboration tools. LiquidPlanner's solutions help a variety of teams like manufacturing, IT, software and product stay organized and on track.
Founded: 2002
Shiftboard is a cloud-based workforce management software that automates scheduling and gives employers analytical insights into its employees. The company's software helps employers with scheduling, attendance management and applicant onboarding with a real-time data analytics platform. Yale University, 3M, Harvard, Salesforce, MLB and Stats all use Shiftboard's workforce analytics software to improve scheduling and hiring.
Founded: 2009
TUNE's SaaS platform helps marketing and advertising teams build and manage their most vital network connections and databases. TUNE's platform is fully customizable for advertisers, meaning that everything from dashboard to reports are tailored to the individualized need of each marketing team. The software also automates workflows and offers real-time data insights to help marketers make the most informed decisions. The teams at well-known brands like Chewy, Groupon, Shopify and FabFitFun all use TUNE's platform to manage their marketing strategies.
Founded: 2002
PayScale's software provides compensation data and payment tools for HR teams. PayScale is a software tool dedicated to research and quantification of salaries. The tool offers HR professionals insights into fair compensations and industry trends for a myriad of different roles in different industries.
Founded: 2005
Bellevue's UiPath develops process automation software for robots and machines. The company's Robot Process Automation (RPA) technology configures computer software to imitate actions of a human being to speed up business processes. The RPA-enabled robots assist enterprises in everything from accounts payable to customer service center automation.
Founded: 2003
Projekt202 conducts research for development of mobile, web and workplace software. The company uses strategy, interviews and marketing insights to develop overhauled softwares for businesses. Projekt202's research leads to everything from personalized UX designs to updated concept storyboards. Samsung, Dell, 7-Eleven and Mercedes-Benz have all partnered with Projekt202 to update their software.
Founded: 2015
Polly is a software survey solution for Slack and Microsoft Teams. Its SaaS tool allows for polls that are fully customizable, can be made anonymous and Polly's AI analyzes the results in real-time.
Founded: 1985
Seagull Scientific is a software company that creates and automates labels, RFID tags and bar codes for companies. The Seagull Scientific BarTender software helps businesses create scannable, traceable labels for thousands of products over a myriad of industries. The food, logistics, pharmaceutical, retail and aerospace industries have all used the company's software to organize their products with labels.
Founded: 2010
Sprout Social is a social media management software platform that offers users advanced insights analytics. Its software has an extensive list of features to assist social media managers and marketers in reaching wider audiences. Included in the company's platform is a smart inbox, engagement analytics and automated response chatbots. It integrates with all major social media platforms, including Twitter, Facebook, Instagram and LinkedIn.
Founded: 2010
Kirkland-based Dev9 builds custom software, with a particular focus on cloud-based solutions. Its offerings also include test automation, platform modernization and support for companies looking to adopt cloud infrastructure and upgrade their e-commerce platforms.
Founded: 2007
Chronus is a mentoring software used by leading global companies and organizations like MetLife, Big Brothers Big Sisters, University of Washington and Bridgestone. Chronus enables organizations to craft successful mentoring programs with features like fast automations, tracking, reporting, participant matching and easy configurations.
Founded: 1996
Edifecs develops solutions to streamline the information exchange between health systems and healthcare providers. The platform drives revenue growth, simplifies administrative data tasks and allows providers to give care at lower costs.
Founded: 2000
Groundspeak is responsible for the treasure-finding app Geocaching. Enabling users to track and find small items left by other enthusiasts, the app has millions of geocaches waiting to be discovered across 190 countries. The Geocaching app is all about exploration and adventure, whether hiking in the mountains or just walking through your neighborhood.
Founded: 2000
Xevo creates smart user experiences for the auto and cruise line industry. Some of Xevo's features include connected car technology and content management platforms for cruises. Xevo changes the way leading companies like Toyota, Carnival Corporation, Lexus and Panasonic create and operate.
Founded: 2010
Zenoti provides software that enables companies in fitness, beauty and wellness to grow and manage their business. The platform handles tasks like online bookings, billing, marketing, employee management and inventory. Zenoti is built with specific businesses in mind, providing tailored needs for a variety of establishments from salons and spas to yoga and fitness studios.