Sometimes, when it comes to a job, it's the nuts and bolts that matter. What are the perks? What technologies will I be working with? Who is the company looking for, and do I fit that description?
These five Seattle-based companies are looking for the Emerald City's best tech talent across a range of skill sets. If you're looking for a new challenge, the search starts here.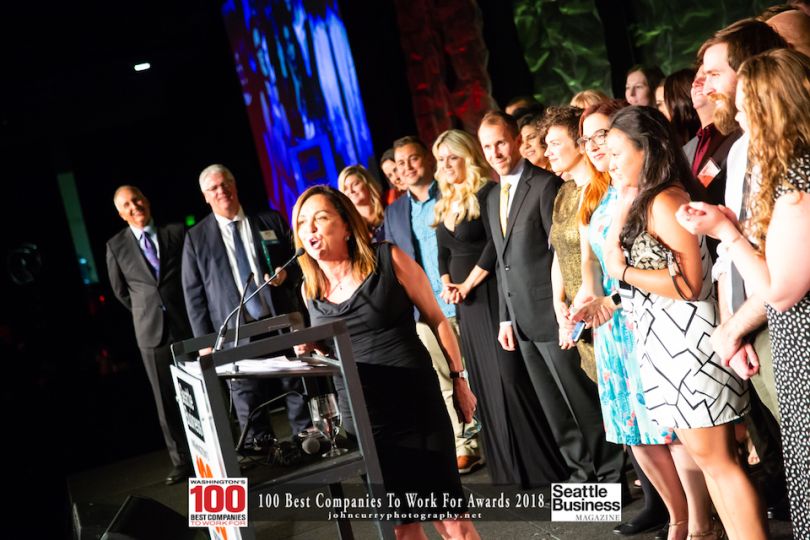 PayScale's tools help employers configure their pay grades to attract the right candidates, and communicate effectively about salaries and wages across the organization. Founded in 2002 and acquired by Warburg Pincus in 2014 for $100 million, the company was one of the first in its field to use big data and matching algorithms.
Headquarters: 1000 1st Avenue S, Seattle
The perks: In addition to unlimited PTO and 100 percent company-paid medical, vision dental and prescription premiums, Payscale offers: seven weeks of paternity leave and 12 weeks of maternity leave; office closure over the week of July fourth; 401(k) matching; an onsite gym; weekly onsite yoga classes; storage and an annual tune up for employee bicycles; a dedicated mothers' room; and Fido Fridays, where employees' dogs join the team in the office on the first Friday of each month.
Tech toolbox: PayScale's tech stack is a services-oriented architecture, composed of services written in .NET, Python and Node. Most of their backing store is in SQL Server and Postgresql. Their front end is a combination of React, Express and ASP.NET. They run services both on-premises and in the cloud.
Who they're looking for: "Here at PayScale, we call our employees 'Purple Squirrels' because they're a truly unique group of tech talent!" said Senior Talent Acquisition Partner Caitlin Williams. "We search for mission-driven candidates who want to help build something new, which ultimately has the potential to impact individuals and employers across the world. We look for people who care deeply about the customer, who have an insatiable appetite for innovation, and thrive in an ever-evolving environment. We take our work very seriously, but never take ourselves seriously… so we look for candidates who want to have fun with us!"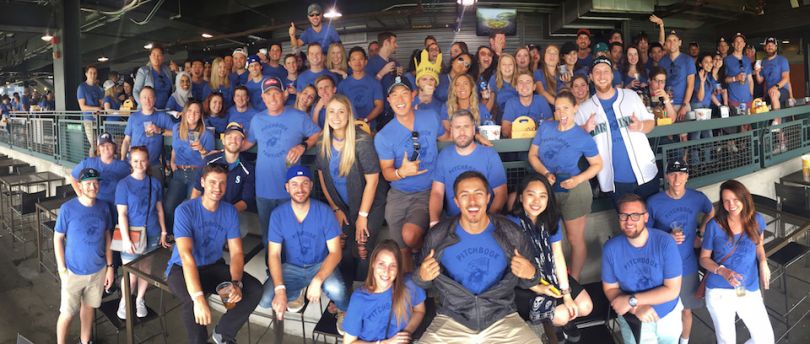 PitchBook is tech's preeminent private capital database, extensively tracking the private and public equity markets, including venture capital and M&A. The company's web crawlers scan the internet for relevant information, then use natural language processing and machine learning to filter and organize it. PitchBook was acquired by Chicago investment research company Morningstar in 2016 for $180 million, and remains one of the industry's leading sources on financial information.
Headquarters: 901 5th Avenue, Seattle
The perks: Among the usual suspects, PitchBook employees also get retirement plans with a substantial company contribution; commuter assistance; VC, PE and M&A industry training; tuition reimbursement programs; an annual education stipend; sponsored volunteer opportunities; and referral bonuses.
Tech toolbox: React, Java, Python, Scala, Spring, RabbitMQ/SQS, Postgres, MSSQL, S3, AWS, GCP, Rackspace, Jenkins and Microservices.
Who they're looking for: "At PitchBook, we are on a mission to deliver meaningful insights into evolving capital markets, and we have big things to accomplish, said VP of People Amy Whaley. "Our success is rooted in having great people on our team who have high standards, embrace and drive change, focus on helping our clients succeed and who want to have fun while working hard. We pride ourselves on the opportunities available at PitchBook for individual career growth and seek out people who want to continue learning and growing on their professional journey. We live, eat and breathe our values at PitchBook and believe each person who joins us will contribute to our extraordinary culture."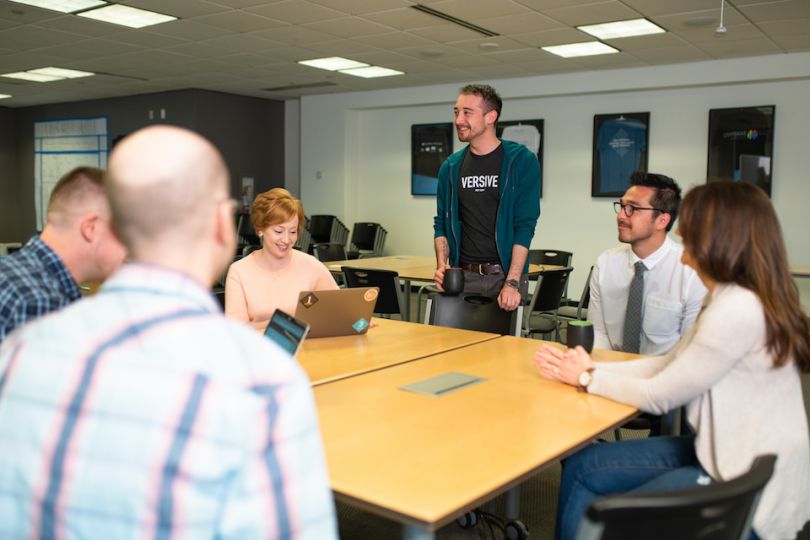 Versive's VSE platform uses artificial intelligence to monitor networks for signs of reconnaissance, collection and exfiltration — telltale indicators that hackers and other nefarious nogoodniks are circling. Founded in 2012, the company has raised over $57 million in six rounds from backers including Madrona Venture Group, Goldman Sachs and Paul Allen's Vulcan Capital.
Headquarters: 999 3rd Avenue, Seattle
The perks: Versive employees get a lump sum that they can allocate to their 401(k), transit costs, childcare and so on; company stock options; flexible policies on working from home, standard company holidays and PTO; and free meals three days per week at their office near downtown's atmospheric Pioneer Square.
Tech toolbox: Versive builds automated machine learning pipelines and models on enterprise security log data, based on a Spark and Hadoop stack. Their developers mainly live in Python and Scala, and automate their build and test with Jenkins workflows that keep them shipping quickly.
Who they're looking for: "We all know that AI is the future of business, but we're not in it for the hype — there are still a lot of very hard problems to solve in order for AI to actually deliver value to enterprises," said VP of Engineering Matthew Vanderzee. "We look for resilience, drive and determination in candidates — people who thrive on challenges and want their work to have real world impact. But how you solve the problems is just as important — the sum is greater than the parts, and willingness to collaborate with other smart people is critical to success."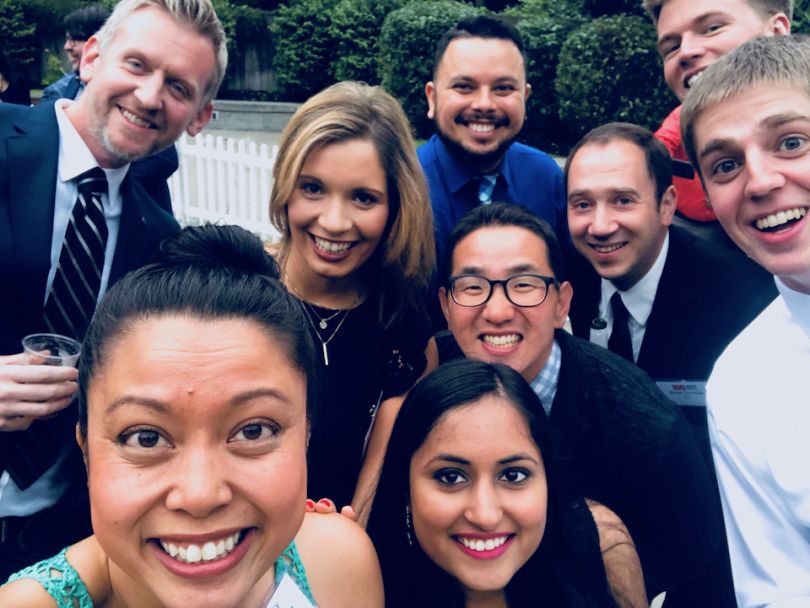 Hiya guards tens of millions of phones worldwide from the modern scourge of spam and robocalls. Hiya must evolve its blocking capabilities as spammers shift tactics, and the company is constantly working on new updates. Hiya also provides caller ID information, partnering with some of the world's largest smartphone manufacturers and service providers.
Headquarters: 1301 5th Avenue, Seattle
The perks: Hiya employees get all the usual perks, along with an unlimited PTO policy; 100 percent covered medical, dental and vision; stock options; charitable matching; commuter benefits; lunch or happy hours every Friday; and paid parental leave. Oh, and onsite massages. (You read that right.)
Tech toolbox: Hiya uses a variety of technologies. On the server side, they use Kubernetes, Akka, Kafka, Scala and many varieties of database technology. On mobile they use Kotlin, Java and Swift.
Who they're looking for: "We're looking for people who are naturally curious, eager to build something meaningful and who feel pride in their team achievements," said CTO Marcelo Calbucci.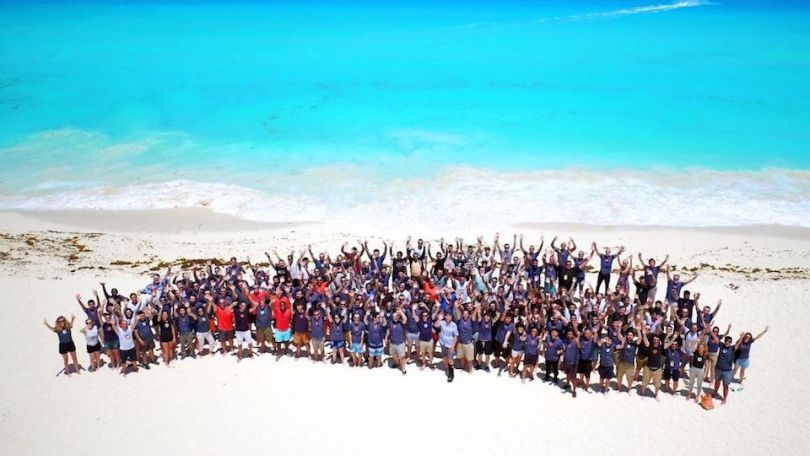 Auth0's "identity-as-a-service" provides seamless authentication and security for more than 50 million logins per day. The platform simplifies the tedious process of setting up logins, enterprise integration, devices, social logins, user management, API security and two-factor authentication — users just choose their APIs, SDKs and the identity providers they need, and Auth0's globally distributed team takes care of the rest.
Headquarters: 10900 NE 8th Street, Bellevue
The perks: Auth0 employees can take advantage of a remote-friendly culture; 401(k) matching; free parking at the company's Bellevue headquarters; an onsite gym; company equity; an unlimited PTO policy; and beer on tap.
Tech toolbox: Auth0 works primarily with React, Redux, Node, JavaScript, MongoDB and AWS.
Who they're looking for: "Auth0 looks for people who can solve hard technical challenges today and also have the ability, grit and curiosity to solve the unknown challenges of tomorrow — while matching the core values that make Auth0 such an amazing place to work," said VP of Engineering Christian McCarrick.